APF bestows orders on two senior lawmakers, two advisors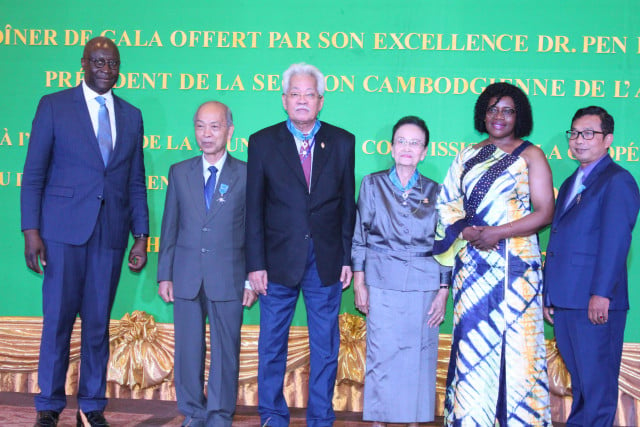 Thmey Thmey
May 4, 2019 12:50 AM
Phnom Penh, Cambodia--The Francophone Parliamentary Assembly (APF) bestowed orders on a senior member of the National Assembly, a senior senator and two parliamentary advisors on Friday.

Gabonese lawmaker Angelique Ngoma, chair of the APF Cooperation and Development Committee, conferred Orders of Francophonie and Cultural Dialogue with the rank of commander on senior lawmakers Pen Pannha and Ty Borasy.
Pen Pannha is chairman of the National Assembly Commission on Legislation and Justice who also chairs the the Cambodian section of APF.
Between 1988 and 1993, he was vice minister for agriculture, forestry, hunting and fisheries as well as deputy editor in chief of Procheachun, the official organ of the Khmer People's Revolutionary Party which later became the Cambodian People's Party.
Ty Borasy is chairwoman of the Senate Commission on Foreign Affairs, International Cooperation, Information and Media who is also a deputy chair of the Cambodian section of APF.
She was vice minister for foreign affairs between 1979 and 1990. Ty Borasy also served as ambassador to the Soviet Union, Bulgaria, Poland, Mongolia and other countries between 1990 and 1994.
Ngoma, who also chairs the Environment and Sustainable Development Committee the National Assembly of Gabon, bestowed the same orders on parliamentary advisors Khim Chhuny with the rank of officer and Heng Ratha with the rank of knight.
Khim Chhuny serves as National Assembly legal advisor and is also advisor to the Cambodian section of the Paris-based organisation.
Heng Ratha is advisor to National Assembly First Vice President Nguon Nhel and administrative secretary to the Cambodian section of APF.
The evening ceremony in Phnom Penh came at the end of the first day of a three-day gathering of the APF committee.
The meeting involves lawmakers from Cambodia and 15 other parliaments — Burkina Faso, Cameroon, Canada, the Central African Republic, Chad, France, Gabon, Laos, Mali, Morocco, Niger, Quebec, Romania, Senegal and Vietnam.
Related Articles