App Expands Reading Choices for Young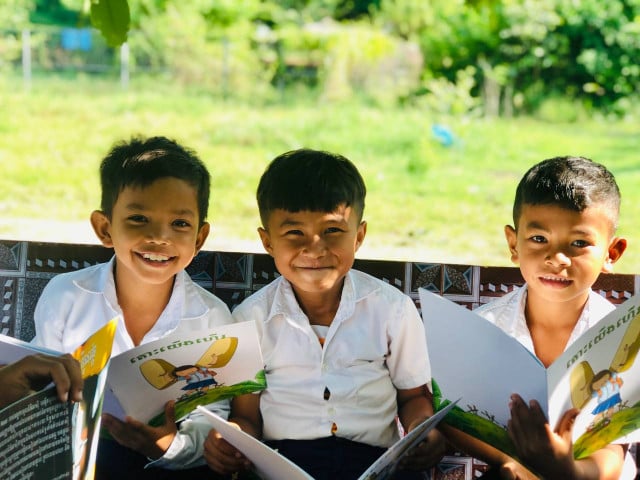 PHNOM PENH – Ten more children's books are to be published in an app called "Let's Read – Digital Library" that allows children to read educational books in many languages, including Khmer, online and offline.
The digital library aims to promote a reading culture among children.
The books will be introduced in the annual BookLap workshops on Sept. 17 and Oct. 1-2, focusing on the themes of waste and finance literacy, said Sor Virakdara, program officer for the Let's Read Program. The program team aims to publish 10 books or more each year, with different themes.
"The users can download books for free on our Let's Read – Digital Library app to read later offline. It is one of the benefits the app provides," he added.
"Another benefit is that the parents can set a preferable time for their children to read, so when it's time, the app will notify them."


Sor Virakdara (far right) is program officer for the Let's Read Program. Photo provided

Established in 2016 by the Asia Foundation, the Let's Read – Digital library app provides educational books on topics such as gender equality, environment, and climate action, diversity, understanding and empathy, and science, technology, engineering, arts and mathematics (STEAM).
Every book can be downloaded and printed. There are more than a thousand books available in English and other languages and 523 books available in the Khmer language.
The Let's Read App
To make it more attractive to children, there is a congratulatory message when they finish reading the target stories to encourage them and make them feel rewarded, said Virakdara.
The app also has audiobooks that allow parents who cannot read to learn with their children. The audiobooks have the app reading for them and the parents can read along to their children, or let their children listen to the audiobooks.
"We have received many positive comments from the children's guardians, saying that their children do not only love the stories but also the artwork in the stories as well," Virakdara said.
"They want us to keep publishing more stories, and some of them even want a series for the stories."
Even though the program wishes to promote digital reading, there are hard copies to donate to libraries in public and private schools.
Sat Dich, 29, is a teacher and a writer who has an 8-year-old niece in 3rd grade. Dich knew of Let's Read – Digital Library through posts on social media and installed the app on his phone.
"She has been using the digital library for 5 months," Dich said. "It has become very useful for her to learn, including the variety of educational stories in many languages, providing both entertainment and education. Each book has beautiful artwork, attractive to not only children but also to me."
Dich decided to let his niece use the digital library because she is old enough to control herself over the use of a smartphone, on which he allows only educational apps that do not harm children's minds as much as social media.
Dich made recommendations for the Let's Read program to include, such as videos or competitions that can boost the awareness of this app among people, especially parents.
Nevertheless, for children, look at a phone screen for too long is harmful, and Dich added that he does not generally encourage kids to look at the phone's screen for too long.
He would rather buy books for them because paper is healthier for their eyes. However, the app is good and useful that parents can have for their children who are big enough and are not sensitive to a phone screen.
The process to publish stories in the app
According to the program officer, it takes nearly three months to publish the stories, starting from selecting applicants who submit their original stories to the program to finalizing the stories, including revising and working on the artwork.
The team chooses the top 10 contestants each year to publish their stories. They have a three-week workshop – a workshop per week – to train writers or artists who have little experience and want to learn from seniors or consultants about children's books, Virakdara explained.


The Let's Read program is also working with the Ministry of Education on including its stories into the kindergarten curriculum and creating more materials related to education. The stories are approved by the ministry before publication.
"So now, we have both digital library and materials in a curriculum that allows children to learn more about the Khmer language besides educational content in the stories," Virakdara said.
The challenges in promoting the app
Reading through a phone screen for too long can affect kids' eyesight. However, the Let's Read program expects the parents to be aware of this factor and sets the duration for their children to read each day.
"To respond to this problem, in the future, we might consider installing a function on the app, which provides recommended duration for reading to avoid getting affected by the screen on their eyesight," Virakdara said.
Another challenge was that the app is not accessible by everyone because some people, especially in rural areas, do not know about this app or do not have a good internet connection or device to access it.
"That's why we are trying to provide free access to reading by cooperating with our partner local organizations to create outreach activities in the community to promote and teach them how to use the app more effectively," Virakdara said.
He added that even though they cannot reach out to them in all areas, with the increasing use of technology, the team is hoping that more parents will be able to access the app for their children in the future.
Another challenge is trying to spread the awareness of the benefits of the app to parents as much as possible, as some parents are careless about their children's use of smartphones, like using social media, while smartphones can be more beneficial than that.
"We want parents to be aware of ways to teach their children to use their smartphones for benefits – not just entertainment or social media like TikTok or YouTube.
"Smartphones can be more beneficial than we think if the parents let the children use it in the right way. We are trying to spread the awareness of beneficial app for their children," he said.
Related Articles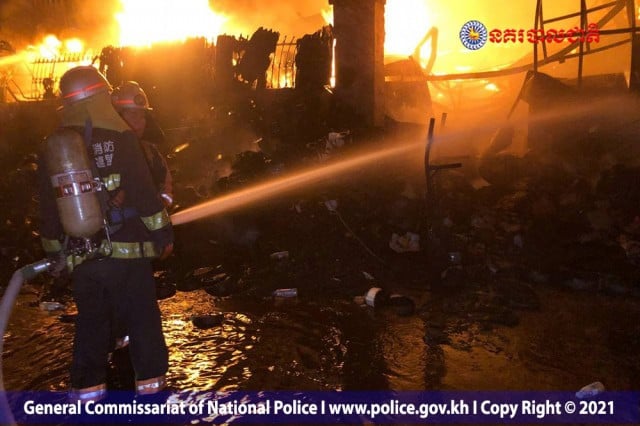 January 29, 2021 10:20 AM