Arbitrary Detention of Community Leaders Condemned by 201 Organizations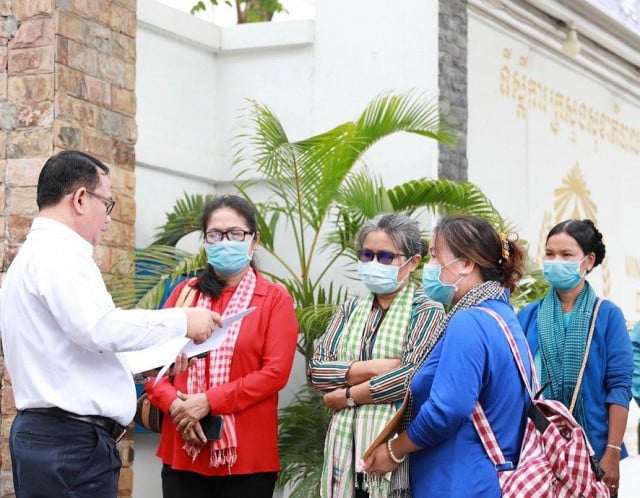 Phoung Vantha and Gerald Flynn
May 4, 2020 12:00 PM
Nine community representatives were detained while attempting to submit a letter of recommendations to the government on April 28.

PHNOM PENH--Following the detention of nine community representatives on April 28, a statement released today (May 4) and signed by 201 organizations and communities has called for an end to such harassment. The detention and subsequent interrogations have been decried as "insulting" in today's statement.

The nine representatives of communities were detained at the Khan Doun Penh office on April 28 from around 3 p.m. until 10 p.m. according to Bou Sokhom, a representative of the community in Phnom Penh.

Sokhom said that the group of nine community representatives were called by the local authorities after attempting to submit a letter of recommendations.

Such recommendations included the provision of medical supplies to the vulnerable, a freeze on rent, business tax and microfinance debt repayments as well as stay-at-home payments for those who had lost jobs or income.

The group attempted to submit their recommendations to the Ministry of Economy and Finance; the Ministry of Health; the Ministry of Agriculture, Forestry and Fisheries; the Ministry of Land Management, Urban Planning and Construction as well as the Council of Ministers, but only made it to three institutions before they were summoned to Khan Doun Penh for questioning.

"During this process, community representatives were repeatedly asked by authorities, including police officers, what organizations were 'behind' this petition, who authored the petition, and were questioned about whether they really faced the problems listed," today's statement read.

The statement, which was signed by 201 communities, human rights organizations and other civil society groups, said that the detained community members were interrogated before being forced to hand over and unlock their phones. After more than seven hours of detention, the nine representatives were only released when they agreed to sign documents that "seek to restrict their right to continue advocating on behalf of their communities."

At least two community representatives were additionally summonsed and harassed after they returned home to their communities by local authorities, according to the statement.

Adding that the community representatives only intended to inform their elected representatives about the problems their communities faced during the Coronavirus Disease 2019 (COVID-19) pandemic, the statement strongly condemns the government's approach.

"These community representatives should have been welcomed by their government and treated with dignity while they shared the legitimate concerns of tens of thousands of community members across Cambodia," it read.


Related Articles