Architecture Student Finds Passion in Writing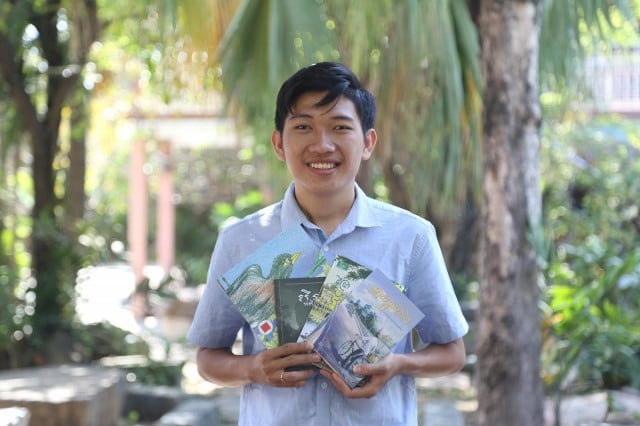 One young Cambodian hopes to help foster a passion for reading through his relentless writing.
PHNOM PENH--The COVID-19 pandemic has affected Cambodians in a range of ways, but for 22-year-old Suy Linpao, a fifth-year architecture student at the Institute of Technology of Cambodia, it has provided him with the inspiration to write. Now, Linpao is seeking to help rebuild Cambodia's culture of reading.
After posting his writing online, Linpao said he has received lots of encouragement and hopes that his works can make a contribution to inculcating reading habits among Cambodian people.
Linpao has been writing for three years already and, despite his young age, has already composed novels, children's books and an ever-growing number of short stories. He continues to write short comedic stories which he publishes on Facebook.
However, he didn't expect to become a writer, Linpao said. It was only upon coming across Winter, a novel by Sok Chanpal, that Linpao decided to embark upon his first novel, Your Rooftop.
In late 2017, encouraged by his friends, Linpao decided to​ apply for a writing training course by submitting his first novel.​ Fortunately, he was selected as a trainee for nine months during which he has improved his writing skill and techniques.
Following his successful completion of the training, Linpao and his nine trainee friends formed a young author group called "Tospakka" and the group has been supported by his trainer.


"I think this paved the way for me to enter into the ​field of composition," said Linpao.
Although his career as an author is somewhat accidental, he devotes his efforts to enhancing his writing skills by participating in various competitions, hoping to expand his knowledge as well as accumulate new experiences.
Having been intensely engaged in his writing, the 22-year-old author said he is deeply enamored with writing, believing that this work has surely catered to development in Cambodian society, particularly in education sector.
Linpao said, "if one society is flooded with readers, that society will be rich in intellectuals."
As an author and the next generation of Cambodia, Linpao encourages young people to read more, claiming that only reading enables people to broaden ideas and deepen their abilities.
"Any type of reading is good, be it reading news, novels, or philosophical articles. I consider it very important and necessary. It does not only help us write Khmer words correctly, but also give us back education, morals, life experiences, entertainment, or a path to betterment," claimed Linpao.
Linpao will soon graduate with his bachelor's degree in Architecture as it takes five years to complete.
After graduation, he said he would start working as an architect. However, he pledges that a writing career will continue to be a part of his life as he desires to help the reading culture of Cambodia flourish.
Related Articles