Art in the Park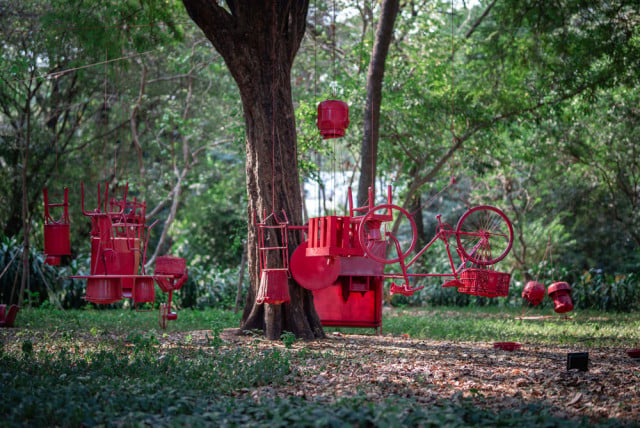 Jazmyn Himel
March 5, 2020 9:41 AM
The French Embassy exhibits Cambodian artists' works in its garden
PHNOM PENH—The public is invited on Saturday to tour the vast gardens of the French Embassy in Phnom Penh in which some of the country's most famous artists have installed works they created for the occasion.
The eight Cambodian and one French artists were given total freedom to create the artworks they wished and to pick the location in the gardens where they wanted them displayed, said French Ambassador Eva Nguyen Binh.
So the works are as diverse as the artists themselves, reflecting their passions and concerns.
Leang Seckon, who has called on people for years not to pollute rivers and the landscape with plastic and other garbage, sculpted a large dragon out of colorful hand-sewn plastic.
Sculpture made of recycled plastic by artist Leang Seckon. Photo Joty Mousar, Institut francais.
His goal is, he said, "for people to see a beautiful thing in nature, but to think 'oh wow! Plastic is dangerous for the environment.'"
The project's only challenge for the artist was time, Seckon said. "What my brain thinks, my hands can do well. The biggest challenge was having the sculpture ready for the exhibition," he said.

In another section of the gardens, Meas Sokhorn's series of painted red items and objects hang or are laid out around a tree. At closer inspection, the items are those used by street vendors and hawkers: plastic chairs, umbrellas, cooking materials and street carts.
"I had this concept a long time ago," he said. "I wanted to create a story/dialogue that tells about the parity of struggle, about depression. Most of the hawkers and street vendors walk to find customers, they don't wait for them to come.
"I used to be in this type of life, I used to sell when I was younger, which is why this brings back memories," Sokhorn said. As for setting them in a park among trees, he said, "most of [those sellers] are abandoned in the jungle," he said, forgotten and ignored by society.

A little deeper in the park lies Sopheap Pich's towering bamboo sculpture, a set of bamboo poles supporting the branches of an old tree.
The challenge was, he said, to "deal with the tree in a meaningful way, to come at the tree from the tree's perspective."
Bamboo sculpture by artist Sopheap Pich. Photo Joty Mousar, Institut francais.

"It's what the tree wants from me," Pich said. "I'm thinking: I don't want to put anymore weight on the tree, I don't want the tree to suffer." So he conceived the work as a way to help that tree, making this work functional art, he said.
A broken wing on the right of the tree may heal with the support of Pich's bamboo art installation, he said. Inspired by Japanese techniques to conceive this work, he said, "I am not an arborist: I'm not trying to save everything about the tree. [However] maybe someone else can take on this idea, that they can do this for some other tree."

Art and press photographer Mak Remissa's work is set in a sea of fallen tree leaves.
His photographs printed onto large canvases highlight the different aspects of nature that each one captures: They showcase animals and insects busy with their lives.
Photos by art and press photographer Mak Remissa. Photo Joty Mousar, Institut francais.

"Each picture is like a human family: It looks like people are working and looking for food," Remissa said. "The message is about family and nature, but I used animals to represent people.
"The whole story is about humans…how they work, how they help each other when something bad happens," he said.

French artist Gregory Gosselin turned to carbon steel to create his artwork, but a high-quality steel meant to remain in a park and slowly acquire a rusty patina in the sun and rain.
Steel artwork by French artist Gregory Gosselin. Photo Joty Mousar, Institut francais

Since he moved to Phnom Penh about five years ago, Gosselin has gone from working metal for architects to creating art pieces.
For the exhibition, he created a four-sided works. Viewed from the front, one sees an Angkorian-era hunter with bow and arrow taking aim at a deer in a forest. Viewed from the side, only foliage appears.
The rusty patina was created through natural process and a touch of vinegar and acid, Gosselin said. "Rust is a texture that evolves over time," he said.

The French Embassy's park will be open to the public from 8 am to 4 pm on Saturday. Admission is free.
Food, drinks and bulky bags are not allowed on embassy grounds.
Michelle Vachon contributed to the story.
Related Articles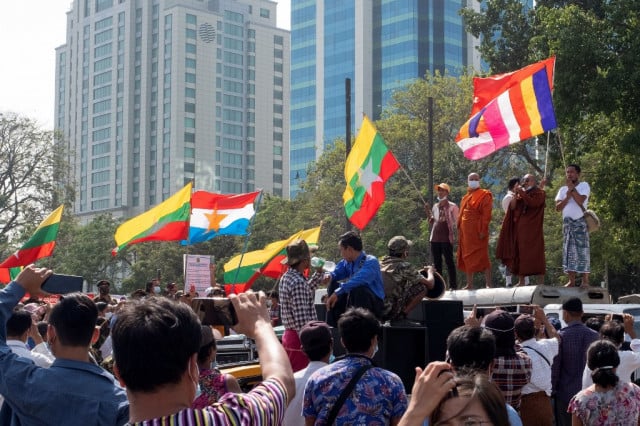 February 1, 2021 10:02 AM