Art Organizations Struggle to Recover from Two Years of COVID-19 Pandemic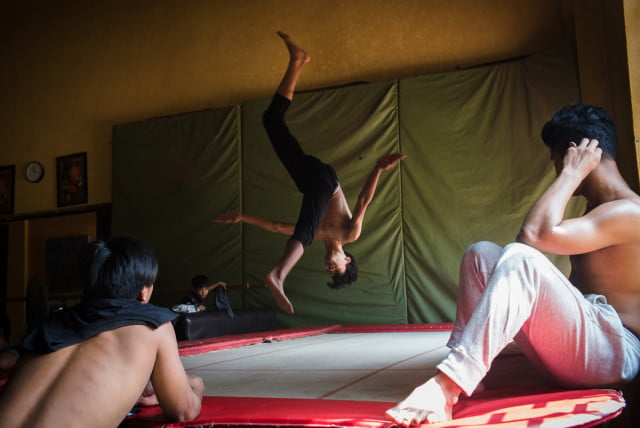 After going through several stop-start episodes, which affected moral as well as budgets, they are determined to continue their programs, Omicron variant or not
PHNOM PENH--The first case of coronavirus was confirmed in Cambodia on Jan. 27, 2020. Over the following months, this would lead to schools closing throughout the country, and all economic sectors being affected.
Two years later, the arts organizations and artists, whose livelihood is in large part linked to tourism and the free flow of visitors in the country, were recently gearing to truly relaunch their activities until the Omicron variant appeared, forcing them to put their projects on hold as measures had to be taken to curb its spread.
Hopefully not for long. Because some of the organizations have had a hard time making it so far.
The two years of COVID-19 outbreak put the survival of the Phare professional circus, which is based in Siem Reap City, at risk as entertainment venues were ordered to close in early 2020, said Craig Dodge, director of sales and marketing at the Phare circus. The drop in the number of tourists who are the circus's usual audience has put the company in jeopardy.
With little revenues over the last two years, Phare, the Cambodian Circus, has fallen into debt despite its regular performances as the domestic demand is not enough to cover costs, Dodge said.
And the recovery of international tourism looks as if it may be painfully slow, he said. "We're looking for a miracle to keep going in the meantime. If we can't find additional financing soon, we will have to suspend shows again until such time there is enough demand to fully cover costs."
But for the time being, the organization hopes to keep the weekend shows, Dodge said. Phare the Circus is also holding off-site corporate and other private event bookings, while the Phare Creative Studio works on projects. "It's human nature to be active," he said. "We keep going or perish: It's a matter of creativity, finding opportunities, and watching for a sign of post-pandemic recovery."
Yet, Cambodia has many assets on its side for recovery, Dodge said. The lift of overall quarantine upon arrival in the country and Cambodia's high vaccination rate are playing a role in the resumption of activities as this assures travelers that Cambodia is a safe destination.
Airlines such as Singapore Airlines and Vietnam Airlines have resumed direct flights to Siem Reap City and Phnom Penh. "The ASEAN Tourism Forum put the spotlight on Cambodia with the message the country is open for tourism," Dodge said. "Businesses in town are slowly re-opening and everyone is working hard to promote Siem Reap."
Resuming the performances after a long shutdown, however, was not easy. This has meant sprucing up the circus facility, getting staff back up to speed in order to put on the show and catching up on new developments, he said.
"Everyone is so excited to get back to work and provide entertainment," Dodge said. "Before the first night of the special Water Festival performances, the artists gathered backstage as they always do to get fired up before going on stage, and they were so emotional about getting back on stage, many cried."
Performances still do not attract many Cambodians and people based in Cambodia. "We still have not been able to make that happen," Dodge said. "We hope to find a way to turn that around."
Phare Ponleu Selpak
The profits generated through the activities of Phare the Circus, which is a social enterprise, help support the programs of the NGO Phare Ponleu Selpak in Battambang City.
So due to the pandemic, Phare in Battambang has been in difficulty as 60 percent of its operating budget comes from the circus shows in Siem Reap and those held by students of the circus school in Battambang, said Osman Khawaja, executive director of the NGO.
"With donations and grants from our supporters and donors we have survived so far and kept school activities going and all staff on some level of play," he said. "This year, we will still need to rely on donations again to keep the school open. We need to raise $350,000 to make it through with all the school activities opening."
To help raise funds, the artists of Phare, The Cambodian Circus, were to perform in Phnom Penh in February 2022 at the big top of the Ministry of Culture and Fine Arts, which is located across the street from the National Assembly. Unfortunately, the performance was called off by the ministry due to the Omicron variant that has been spreading in Phnom Penh.
Since the start of the pandemic, the weekend show hosted by the students of Phare in Battambang has not taken place as there have hardly been any tourists—the show's usual audience—in Battambang Province, Khawaja said. "When we tried opening for local tourists, there were not enough attending and, at the local price of $5, we could not even cover our show costs," he said.
However, the school has fully reopen; There are 170 new enrollments in the art-based kindergarten and 300 students have enrolled in the visual arts leisure classes, Khawaja said, adding that many students may have been eagerly waiting for those classes since they graduated from high school over the last two years.
"We have our largest ever vocational training intake at the visual and applied arts school with 33 students—normally we only had 22-25 per intake," he said.
The restart was easy as the organization was not completely closed," Khawaja explained. The staff and teachers were still engaging in projects despite pay cuts, while students kept on practicing and working on projects but in small groups in accordance with COVID-19 measures.
Khawaja said he hopes that the Cambodian public would recognize the importance of the arts and culture, and the artists and creators in Cambodia to help them and the arts and culture sector grow. This sector has been dependent on foreign tourists and ex-pats as only they are willing to pay for art and cultural events and performances, he said.
"In Cambodia, we need private companies to invest in the arts, to more actively sponsor shows and performances and [people and businesses to] buy artworks from Cambodian artists," he said. "We also need the general population to have greater engagement in cultural activities with their families and friends, and be willing to pay for art and cultural events and performances."
Cambodian Living Arts
Despite the COVID-19 difficulties, Cambodian Living Arts (CLA) in Phnom Penh managed to keep its core programs running, which included scholarships, training, leadership programs, grants for artists and so on, said Phacdey Phary, development coordinator at CLA.
Most of the activities were conducted online to respond to lockdowns, mandated curfews and the closure of cultural institutions due to the pandemic, he said.
"We didn't stop operating our programs," Phary said. "We changed our way of working: our staff working from home when needed and managing our programs virtually. We have held online performances, worked with artists to create dance and music films, and we have organized training and networking online."
Coming into 2022, the CLA team is feeling very positive as the team used the extra downtime during the outbreak to focus on strategic planning and reflection, he said. Moreover, some new programs such as grants for artists and supporting a new association for cultural and creative industries, called CICADA, have been set up," he added.
In January and February 2022, CLA held its third edition of the Cultural Season in Phnom Penh, which is being followed by a tour of four provinces during March. The theme of the Cultural Season is "Action Today, Consequences Tomorrow."
In addition to this Cultural Season, CLA is managing its ongoing programs such as, Phary said, "fellows' program, scholarships, the Khmer Magic Music Bus [that tours the country], providing commissions and grants to the artists and people working in the arts." Phary said, adding that CLA has been excited to turn on the lights on the stage to present this Cultural Season to their audiences through in-person performances and digital screenings while abiding by the latest Omicron variant measures.
"Over three months, we are offering a platform for artists to share newly-created works of dance, theater, music, writing and exhibitions," Phary said. "We also present talks and workshops where artists and cultural leaders, together with audiences, can exchange ideas and take part in creative activities."
The next new program is a grant program called "Thrive," which supports arts and culture entrepreneurs developing sustainability in their initiative, he said. "We have launched this now thanks to a partnership with the Swedish Embassy, which is supporting us to expand our programs."
Seeing that artists and other workers in the cultural sector needed support and resources at first to make this happen, CLA decided not to stop their core programs in the early stages of the pandemic, Phary said.
"That's why we continued to run workshops and provide grants throughout COVID-19, and we continued with our plans for performances, and just made sure we had a back-up plan so we could go virtual," he said. "We also have been happy to see that local audiences want to come and participate and support the arts. It's great to have activities available for people to come and enjoy and to think and talk with friends."
Through its Cultural Season, CLA wanted to send a message to the public that every action, big or small, makes an impact. And so far, the organization has received positive responses from audiences and hopes that more people will come to join, Phary said.
"We believe arts and culture are at the heart of a vital society. And so, coming to an arts event is a great chance to connect with friends, to have a new experience, and to take time out to reflect on your life and the society around you," Phary said.
Epic Arts
Like other organizations in the field, Epic Arts, an international and inclusive arts organization based in Kampot City, had to take some cost-cutting measures in response to the COVID-19 crisis in order to survive, said Onn Sokny, country director of Epic Arts.
Their normal activities such as dance performances and dance workshops had to be suspended when the COVID-19 outbreak was at its peak and government measures in place to curb the spread of the disease, she said.
"We started to reduce our artistic activities in March 2020, firstly with performers and all staff working from home," Sokny said. "Then sadly, in late 2020 because of the economic climate and lack of opportunities for the arts, we made the difficult decision to reduce the number of performers by about 40 percent. We were able to support those made redundant in other forms of employment."
With these and cost-cutting measures, Epic Arts managed never to halt its activities completely to remain focused on its mission, which is supporting people with disabilities, Sokny said.
"The core of what we were doing throughout the last two years was always about supporting people with disabilities," she said. "We just had to learn a new way to do that."
Despite the difficulties, Sokny is looking on the pandemic as having led to some positive outcome such as giving Epic Arts the opportunity to strengthen its social work and work closely with the artists to assist those in need by distributing emergency food and hygiene packs provided by donors.
"Slowly our artistic output is increasing, but still we continue to be impacted by COVID-19," she said. "We were due to fly to the Hong Kong Arts Festival and the Ricca Ricca Festival in Japan in early 2022. But because of the Omicron disruptions on travel, we couldn't attend in person. But we worked with the festivals to be involved digitally."
Regarding the activities planned for 2022, Sokny said she did not want to disclose too much yet, but the organization was looking forward to some new art projects that are already in the pipeline.
"We hope to make a new contemporary dance performance, take part in a few festivals around ASEAN, and we're also looking forward to celebrating our 20th anniversary with some public performances around Cambodia," Sokny said.
Resuming activities has not been easy for Epic Arts as the organization has gone through some difficult times during the COVID-19 outbreak. However, Sokny said, with the hard work and commitment of the team, this has been done well.
During this pandemic, she said, "[i]t's been difficult to manage constant changes to plans and feeling like we have little control over activities: It's almost like we only know a few days ahead of time that something will happen…We're extremely lucky to have an incredible team of performers and support staff who've continued to work with Epic Arts through the pandemic."
Sokny hopes that the arts will be widely embraced by the public as she said self-expression through the arts or even experiencing the arts will be a key tool for people to escape the troubles of the last few years, even if it's just for a few hours.
The Bophana Audiovisual Resource Center
At the start of the pandemic in 2020, exhibitions, film screenings, training and filmmaking sessions at the Bophana Audiovisual Resource Center in Phnom Penh were stopped and its library of audiovisual archives on Cambodia closed to the public. "During the first six months of the pandemic, we faced difficulties, but we found a way to work to make sure the activities would go on," said Chea Sopheap, executive director of the center. This involved developing ways to work online, he said.
Then in 2021, the Feb. 20 community outbreak of COVID-19 forced the Bophana Center to again suspend its physical activities.
Whenever the center could not fully carry out its activities, funds generated through some of them were affected, Sopheap said. But fortunately, funds were provided by local supporters and former students, he said.
"We resumed the activities in person once the COVID-19 situation had improved," Sopheap said. "We started to screen films in the open-air space of our center, strictly following the country's health measures.
"Training has also resumed," he said, referring to the filmmaking training offered in Phnom Penh and also to indigenous people in the provinces.
Despite the challenges, the Bophana Center, whose main purpose is to offer young people knowledge and support, has managed to do so.
"We are happy that we can work together in person again," Sopheap said. "But the challenge is that we cannot welcome many guests like before. We used to welcome 300 guests, but now we can welcome only 50 to 60 guests."
So, as Sopheap pointed out, the center makes sure to abide by Cambodia's health measures to make sure that the COVID-19 disease will not spread any further and normalcy can one day return.

Meta House Goethe-Center

Meta House, a Cambodian-German Cultural Center hat holds live arts events in Phnom Penh, has been struggling for two years due to COVID-19 with its activities drastically affected, said Nico Mesterharm, director of Meta House.
Meta House resumed its activities around Dec. 1, 2021, when the Cambodian government announced that normalcy was returning to the country, hoping that the COVID-19 situation would not be exacerbated and force planned events to be put on hold.
"We've started to operate again on Dec. 1 [2021], and in Jan. 29 [2022], we celebrated our 15th anniversary," Mesterharm said. "[T]hat was two months after the soft opening…Possibly, it was the biggest event that we had in two years, with around 200 participants."
On Tuesdays, Meta House usually holds a visual art-related event, while events such as debates, live music and film premieres or screenings are held on the other days of the week. But due to COVID-19, events are now held four instead of five days per week, Mesterharm said.
"[T]he purpose of the cultural center is to stage events, inter-generate the dialogue with Cambodians, foreign artists, foreign filmmakers, and foreign audiences…So, to me, dialogue happens best if it's in person. At the end of the day, we want to have a live audience and live events," he said, adding that the German-language school is still operating online.
Mesterharm is concerned about the lack of art markets in Cambodia, which affect many artists and art spaces. The artworld of the 2000s saw activities slowly grow and, mainly through private and NGO initiatives, expand and draw increasing attention in the 2010s, although it remained limited, he said.
"It needs a system, and if the system doesn't come from the state, this system has to come from the audience," Mesterharm said. "Up until now, a proper art market has been lacking. In the past, most contemporary artworks were [acquired by] foreigners. So, the moment the foreigners leave and there are no more tourists [as during the pandemic], this tiny art market comes to an end."
As it did during the pandemic. When international visitors stopped coming in the past two years due to the COVID-19 outbreak, most of the artists were not able to work, some trying to find any job they could to survive and, in some cases, having a hard time to find a place to live as they could no longer afford their rent. This has been the more difficult that government aid usually did not extend to art organizations or artists.
"At the moment, the most challenging part is not to stage events but to find a larger audience," Mesterharm said, in the country. "First, people need to understand the effect of COVID-19 on the economy and the art sector, which probably is greater than what they think."
Mesterharm called on Cambodians who can afford to purchase artworks from art spaces and artists to do so, which will enable artists to continue their work, and to also help by investing in the art sector and art spaces so the sector can survive the pandemic and grow as a national—and not only international—market.
"Without a healthy art market, it's hard for the organizations and artists to rebuild and recover," he said. "So, this is what, we, the artists and art activists should care for. Stand together and make it work…The focus of this moment, it's on the audience and how willing they are to support and able to support [their artists] after COVID-19 in Cambodia."
The French Institute of Cambodia
The French Institute of Cambodia was closed due to the lockdown in April 2021, but never completely stopped its activities, said Marion Nollet, communication manager for the institute.
Activities have since resumed to a point, she said: French classes are offered online, workshops are limited to six persons, and events that would attract a large number of people have been avoided, the institute focusing on online events.
"We've never truly stopped as our activities simply slowed down or took another form," Nollet said. "We're now operating at full capacity, and we're slowly getting our students back with each new session."
The institute—which was called the French Cultural Center for many years and is supported by the French government—is celebrating this 30th anniversary in Cambodia this year and plans to hold special events to mark this, she said.
"January and February saw a series of events around architecture and sustainability, and we worked closely with the National Museum as well as the Royal University of Fine Arts to offer exhibitions to the public at multiple locations," she said. "March is the start of a new season dedicated to books and graphic novels, as well as the anniversary celebrations…scheduled for March 18 through 20."
With a high vaccination rate and the embrace of the "new normal" amid the pandemic, the institute has resumed all its activities while implementing a strict health protocol, temperature screening, and compulsory mask, Nollet noted.
"It's always a hassle to cancel and reorganize events, but our staff and performers have been amazing," she said. "We've managed to reschedule all the events that had been canceled because of the pandemic. The French Institute kept its entire staff throughout the sanitary crisis, and everybody was very eager to go back to work after weeks of lockdown and temporary closures."
Activities have resumed in October 2021 after the government announced the resumption of gatherings, she said.
Three exhibitions opened in February 2022, and indoor and outdoor film screenings, dance performances, workshops, conferences and children's activities have resumed. There also is a graphic novel contest for young people 11 to 18 years old--Until March 14 - Graphic Novel Contest from young people from 11 to 18 .
"We've also launched new activities that have already found their public, such as yoga for kids 3-to-5 years old, introduction classes to Khmer language, African/Latin dances for adults, and book reading sessions for toddlers and parents between 0-to-3 years old," Nollet said, adding that the restaurant, which was most impacted by the pandemic, has now reopened.
Related Articles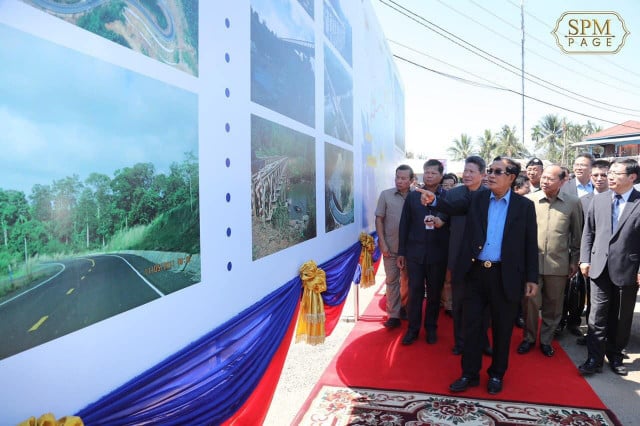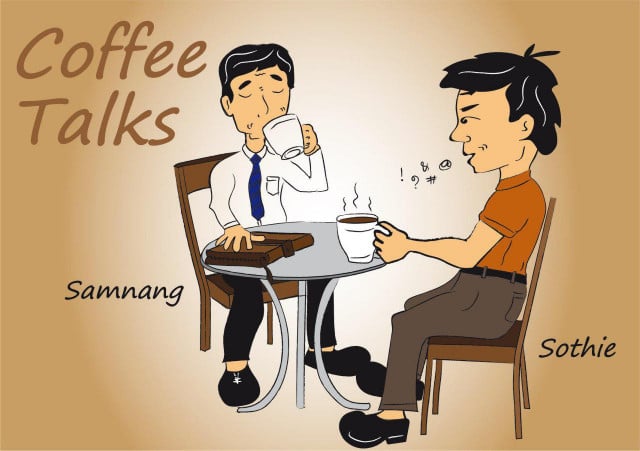 February 12, 2021 2:30 AM