Artist with Physical Disability Struggling through Pandemic, Remains Optimistic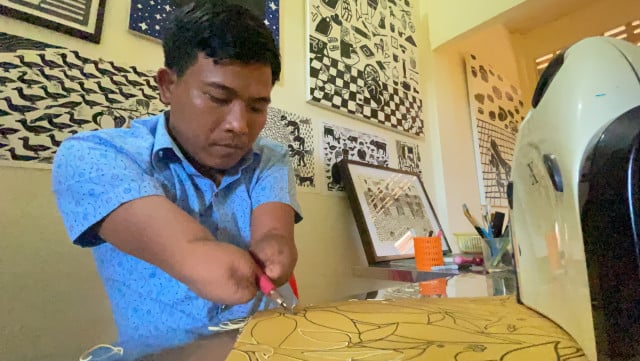 Having lost of both his hands, Morn Chear quickly made a name for himself as a successful artist, despite his physical handicap, but the COVID-19 pandemic has proved a challenging time
SIEM REAP--In 2010, Morn Chear was electrocuted while working. He had dropped out of school in the third grade to earn an income and support his family, but the accident saw both of his arms amputated at the elbow.
Born in Kampot Province, Chear's newfound disability led him to take jobs that were accessible to him—for a while he worked on a duck farm in Takeo Province and slept in the rice paddy—but eventually, his impairment led him to art, which he found through Epic Arts in Siem Reap Province.
"Arms are the most important thing for every artist, but that does not mean that a person who has no arms cannot be a painter," he said.
Now 31-years-old, Chear won the gold prize at the White Canvas Cambodia 2021 competition after having established his own style as a black and white block print artist.
"When I became disabled, I looked for skills that I could develop," he said. "Before, I could work as a construction worker, so I took up drawing, which I love."
Learning to draw was challenging given Chear's physical disability and learning to hold the pencil was not easy, he said.
"This work has helped me a lot, helped me to get rid of my worries, it relieves me and help to show people who think I can do nothing but beg people for money—I can prove [that I can do things]," he said. "Since I started this work, many people know that I have the skills and that I have resilience and courage."




Chear's work became iconic for its lack of colors, choosing only to work in black and white, but each idea, he said, comes from his own experiences, memories and imagination. He pointed to his painting of a group of people threshing rice—something he remembered from relatives and friends helping each other on the farm in the past.
Having lived in Siem Reap Province since 2019, Chear has collaborated with Open Studio to sell his paintings, the income from which has helped to make a living for him and his family. Now, his paintings are exhibited across the country and internationally, but most of his customers are Europeans, he said, noting that most Cambodians are unable to afford to purchase art and many of his paintings start at $50.
He said that many Cambodians do not understand art and, on top of this, the COVID-19 pandemic has seriously disrupted travel, meaning fewer international buyers have traveled through Siem Reap Province in the last two years.
Despite selling some of his work online, Chear said that he has seen a significant drop in the sale of his art—a trend mirrored across the arts and cultural sector in Cambodia—but he remains determined.
"Do not give up the struggle, we should find what we can do. If we cannot do this job, we must find another skill that can do," he said. "Do not rely on the fact that we are disabled and can do nothing but beg. We must not do that, we in life are still struggling for the future."


Related Articles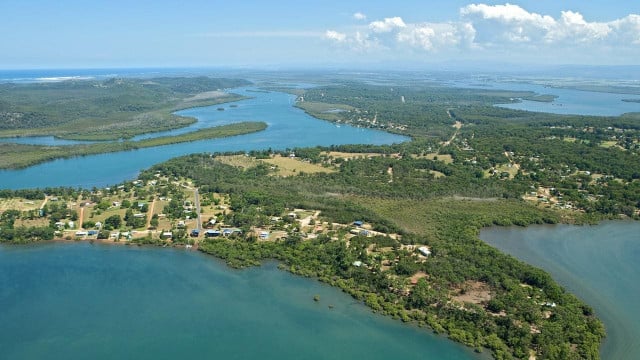 February 27, 2021 5:04 AM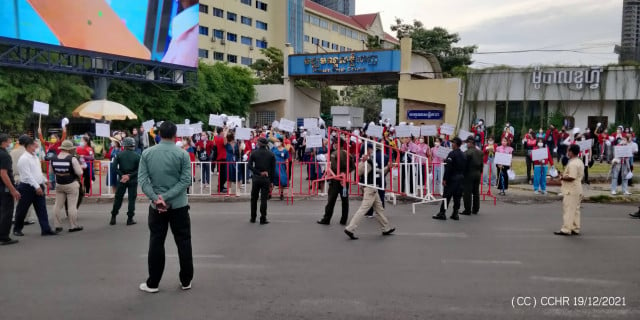 December 20, 2021 7:42 PM