As Cambodia Takes on ASEAN Chair, Challenges in the Region Abound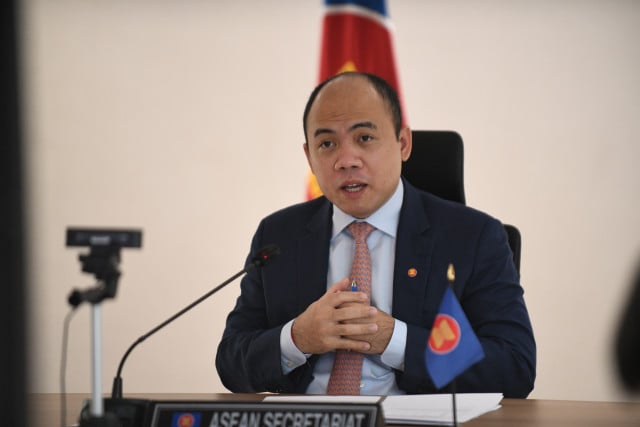 As the ASEAN Chair, Cambodia may need to focus on long-term projects that will shape the future of the region, says a Cambodian who served at ASEAN offices for several years

PHNOM PENH--As Cambodia is set to take the helm as the chair of the Association of Southeast Asian Nations (ASEAN), the country will have several pressing situations involving both short- and long-term issues to contend with, says Kung Phoak who served as deputy secretary-general of the ASEAN for Socio-Cultural Community from 2018 until a few days ago.
Brunei is set to step down as the ASEAN chair on Oct. 28, and hand over the chairpersonship hammer to Cambodia for the coming year.
During an interview on Oct. 11, Phoak pointed out that Cambodia will be faced with a series of short and long-term issues and priorities for the region such as the political situation in Myanmar, which is a member of ASEAN, the recent alliance created by Australia, the United Kingdom and the United States, and of course, the COVID-19 pandemic, to name a few.
He said people in Cambodia, especially the younger generations also need to strongly support the country's chairmanship as people's engagement and participation are the backbones of regional integration and success.
Strengthening Regional Management of COVID-19
According to Phoak, the main issue Cambodia will be dealing with is managing the pandemic. There already are frameworks in place, he said, and soon the region will have an ASEAN center for public health emergency and emerging diseases.
"We are going to have stronger and more comprehensive frameworks, which will allow ASEAN members to respond to COVID-19," he said.
Therefore, through its chairmanship, Phoak continued, Cambodia will work to further strengthen this framework, ensuring that all countries can work together to tackle the problems.
"[That] include procuring the vaccines together, strengthening the manufacturing base in the region, ensuring that we have enough PPE [personal protective equipment]," he said. "[S]haring data among countries will be effective: The surveillance system must be strong so that we can detect the outbreak early. And then, [do] capacity building for all those who are part of these responses."
Cambodia will also work on encouraging ASEAN economic recovery from COVID-19 as the pandemic situation has already affected many aspects of the region, disrupting social activities and trade relations, Phoak said.
"We have the ASEAN recovery framework," he said. "A number of key initiatives, for example, to allow our people to travel along the ASEAN travel corridor. We also discussed how we can strengthen intra ASEAN trade and so on," Phoak said.
In addition, he said, ASEAN members have been talking about building resilience in the regional supply chain as well as working together to reinvigorate the manufacturing sector.
"All of those things need to be strengthened under Cambodia's leadership," Phoak said.
Ongoing Support for Solution to the Myanmar crisis
The former deputy secretary-general of the ASEAN for Socio-Cultural Community also touched upon Cambodia's role in supporting Myanmar in dealing with its ongoing crisis following the military coup of Feb. 1, 2021.
Phoak noted that there is a lot of expectation regarding Cambodia assisting Myanmar, stressing that people need to keep their expectations in check. "It is not an easy issue, and it is not something that people can resolve in one day, and the issue of Myanmar is also addressed at multiple levels, at the global level as well," he explained.
As of now, he went on to say, there are more things that ASEAN needs to do to support Myanmar. As for Cambodia, he said, as the country has a great deal of experience in national reconciliation and so on, it will be useful in terms of sharing this with Myanmar as a friend, Phoak said.


"And of course, I believe that Cambodia will try its best to create an enabling environment on various platforms for different stakeholders to come together to find some compromises, at the very least to end the violence," Phoak said, pointing out that because of the COVID-19, the life of Myanmar people had severely been affected already, and that the violence and war just added to the pain.
"Therefore, I think those are some areas in which we want to make progress: bridging the gap, sharing experience, creating an enabling environment, introducing various platforms for different stakeholders to come together and cease violence on the ground so that people can cope with COVID-19 and so on," Phoak said.

Myanmar descended into violence and civil disorder after the military staged a coup to dispose of the civilian government on Feb. 1, 2021. As of Sept. 30, over 1,000 people were reported to have been killed by the junta while over 8,500 people have been arrested, according to the Assistance Association for Political Prisoners' report.
ASEAN, which was pressured to take action regarding this situation, agreed to meet with the junta leaders in April 2021 in an effort to end violence, ensure humanitarian-aid access and enable dialogue between the military and its opponents. As pressure mounted, ASEAN took the bold move of excluding Myanmar's military leaders from the upcoming summit taking place Oct. 26 through 28.
Coping with the Great Powers' Competition
One other issue that Cambodia will be dealing with is the newly-formed major-power body and any similar groups that may be formed and affect ASEAN members, Phoak said. As Cambodia will head the regional group, this may prove very challenging for the country.
Concerns were recently raised by the Cambodian government over the establishment of the trilateral alliance encompassing Australia, the United Kingdom and the United States, he said.
"We hope all the new mechanisms established by our partners will complement our own regional structures and platforms: We don't' want to see competition there," Phoak said, adding that any mechanism or project that goes against the interests of ASEAN and may potentially create division is not welcomed.
"So, what we are going to do is to continue to advocate with our partners that in what you do, you have to also think about ASEAN interests and its members, making sure that all the new mechanisms you are trying to put in place will complement and supplement the works that ASEAN is doing as well," he explained.
Moreover, as the chair, Phoak continued, Cambodia works in support of ASEAN, providing platforms for all partners, and especially those major powers, through which they can sit down and reconcile their differences while working together to address common problems.
Working for the future generations
Speaking of long-term projects, Phoak said he considers that, as the incoming chair, it is crucial for Cambodia to work on initiating long-term projects that will shape the future of the region.
As chair or a member of ASEAN, all countries are expected to put in place visions that will lead the countries for many years to come or set priorities that will shape the direction the region will take, he said.
Regardless of the size or resources a country has, it is the responsibility of each country to contribute as a member to the international community," Phoak said.
He then mentioned addressing the climate crisis as an example of long-lasting projects, which will benefit the younger generations.
"So, Cambodia may also want to put in place some long-term projects or initiatives—something that will continue to shape the region in the next 50 or 100 years, for example, the issue of climate change: why not an ASEAN Green Deal under Cambodia's chairmanship and so on," Phoak said.
Cambodia's Younger Generations Showing Support as the Country Leads ASEAN
With the country taking on the challenge of leading ASEAN during a pandemic, Phoak called on people in the country and especially the younger Cambodians to strongly support the country's chairmanship as people's engagement and participation are the backbone of regional integration and success, he said.
According to him, people can support ASEAN projects not only through platforms or activities that are set up in various sectors as part of the country's chairmanship, but also by taking part in activities and programs initiated by other ASEAN members in the coming months, he said.
"More importantly, it is crucial for them to also learn to appreciate our diversities, our uniqueness: the people, traditions and cultures," Phoak said.

Because at the end of the day, whether the ASEAN projects are successful or not really depends on whether the projects being implemented by regional groups have people standing behind them.
"[People] will stand behind them only when they know why it matters to do so and how they are going to benefit from it," he added, which is why it is important for young Cambodians to make that happen while Cambodia chairs ASEAN, he said.
Related Articles