ASEAN Chair to Phone Zelensky 'Soon'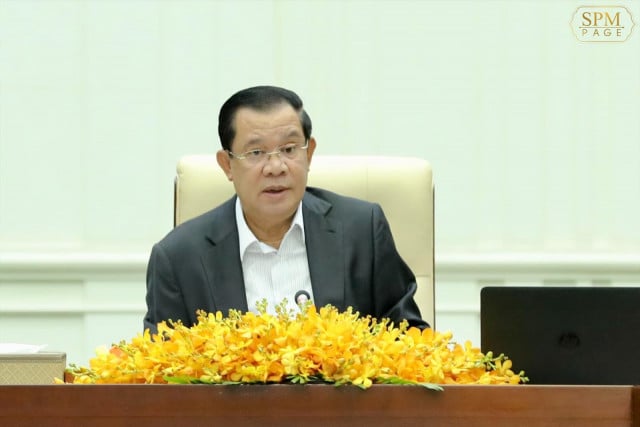 PHNOM PENH – Prime Minister Hun Sen said on Oct. 27 that he would talk on the phone with Ukraine's President Volodymyr Zelensky "in the coming days if there are no changes in diplomatic times."
He made the announcement on his Facebook page after he had met with people affected by floods in the provinces around the Tonle Sap Lake.
Analysts say the prime minister may use the role of the ASEAN Chair to comprehend the crisis in Ukraine and push for peaceful negotiations.
Vann Bunna, cofounder of The Thinker Cambodia, said the prime minister might want to understand the situation in Ukraine while Ukraine's president may want to discuss with the ASEAN Chair how the regional block could help bring back peace.
Bunna added that Zelensky might thank Cambodia for voting in favor of a U.N. General Assembly resolution condemning Russia's annexation of several Ukrainian regions, while other regional countries – Lao, Thailand and Vietnam – abstained.
Zelensky may also request ASEAN to support the country on the international stage, Bunna said.
"The Cambodian prime minister could also urge Russia and Ukraine to try to enter the negotiating table," he added. "So far, negotiations over the crisis in Ukraine have used only force, with no sign that the two leaders can enter the negotiating table."
"I think Hun Sen may urge the Ukrainian president to negotiate with Russia."
Cambodia was one of 143 countries that voted in favor of a resolution to defend the principles of the U.N. Charter on Oct. 12. Out of the world body's 193 members, 35 countries abstained and five voted against, including Russia, Syria, Nicaragua, North Korea, and Belarus.
Cambodia is also concerned about the global spillover effects of the Russia-Ukraine war, of which inflation has become a major issue for the country.
However, Bunna said that Cambodia could not use its military or political weight to put pressure on either of the two countries. But the ASEAN could use its platform to assist hypothetical negotiations.
He added that Ukraine could soon become an ASEAN partner after signing the Treaty of Amity and Cooperation in Southeast Asia (TAC).
"The process is on the way, but can't be confirmed at this stage," told Foreign Affairs Ministry's Spokesperson Chum Sounry on Oct. 27.
"The telephone conversation could happen before Ukraine signs the Treaty of Amity and Cooperation in Southeast Asia (TAC), a treaty paving the way for Ukraine to become a future ASEAN partner, a new development between Ukraine and ASEAN," Bunna said.
Ukraine may sign the treaty with ASEAN during the upcoming ASEAN Summit in Phnom Penh, which will be held from Nov. 8 to 13.
Established in 1976, the Treaty of Amity and Cooperation in Southeast Asia (TAC) is a binding agreement between states in the area and elsewhere and represents the universal values of peaceful coexistence and cordial cooperation among Southeast Asian States.
Related Articles