ASEAN City Chiefs Tackle Growing Pains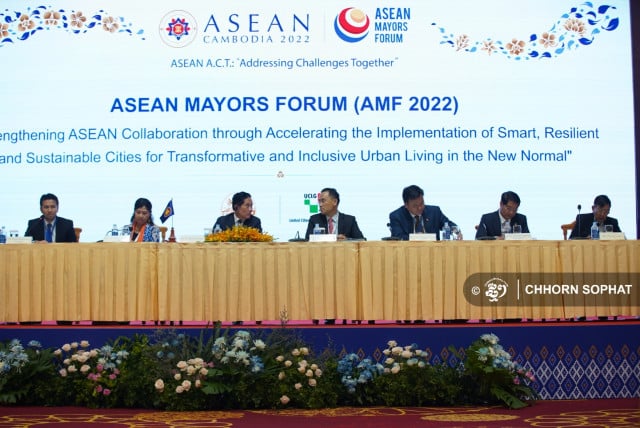 PHNON PENH – City officials from ASEAN states started a two-day summit in Phnom Penh on Dec. 2 to seek solutions to complex problems amid rapid urbanization and population growth across the region.
Another 1.1 billion people will live in the region's cities in the next 20 years, the Asian Development Bank says.
In many places, cities will merge to create urban settlements on a scale never seen before.
About 400 people gathered at the Sokha Hotel at the start of the Meeting Governors/Mayors of ASEAN Capitals 2022.
Opening the session, Prime Minister Hun Sen said, "Building smart and green cities with the use of digital technology is the most accurate direction for the present and future.
"Smart cities have great potential in addressing common issues of urban planning in an innovative way, strengthening resilience to various risks.
"Furthermore smart cities will become major poles for promoting stronger economies, business, trade and investment as well as providing job and business opportunities."
In a bloc in which two members, Thailand and Myanmar have experienced coups, he added, "Ensuring peace, stability and prosperity is the main and most important foundation for building smart, resilient and sustainable cities."
The most important goal in building a city or country was to improve people's quality of life.
"Building smart, resilient and sustainable cities required participation of all stakeholders, including local governments, the private sector, development partners, national and international institutions and especially the local people."
Prak Samoeun, director-general of the General Department of Administration at the Interior Ministry, told the gathering that rapid growth of cities came amid new challenges such as COVID-19, the Russia-Ukraine war, inflation and natural disasters.
He cited Cambodia's decision to decentralise power so that sub-national authorities are able to respond quickly to the needs of people.
Cambodia had started its own smart city initiative in 2018, he said.
The summit aims to promote city-to-city networks through sister-city partnerships and sub-national administration. Other aims are supporting investment toolkits and making available funds for smart, resilient, and sustainable initiatives.
Related Articles