ASEAN Door Stays Shut to Myanmar Minister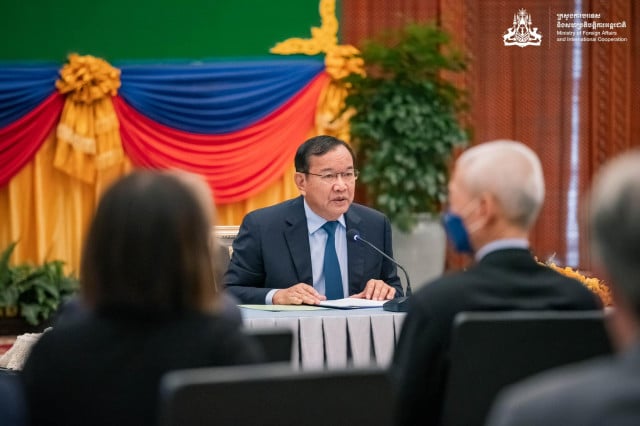 Envoy told of opposition atrocity allegations
PHNOM PENH – Myanmar's Foreign Minister U Wunna Maung Lwin will not be able to attend the upcoming ASEAN Foreign Ministers' Meeting in August due to the deteriorating situation in the country, says the Special Envoy of ASEAN Chair Prak Sokhonn.
Only non-political representatives of Myanmar could attend the meeting.
"This decision was made with regret but the current circumstance is not favorable for me to invite him to join the meeting," Sokhonn said in the briefing on his second trip to Myanmar.
"The nine ASEAN members have agreed so. As long as there is not enough progress, only a non-political representative is allowed to attend."
Sokhonn said that in his two-hour discussion with Myanmar's junta chief Min Aung Hlaing, the military leader gave an assessment that those opposing the regime and the opposition People's Defense Force​ were responsible for the damage to public property and the murder of government officials, teachers and volunteer medical staff.
Sokhonn said Cambodia condemned the killing of teachers and medical staff who were helping Myanmar people during the COVID-19 pandemic.
Violence was caused by the military and ethnic armed groups, while serious and intense violence was caused by the military and the People's Defense Force that was created after the coup in February 2021.
The relevant parties and the indigenous people had expressed their worries over the violence and the threats against civilians, Sokhonn said.
He said the ruling State Administration Council of Myanmar had showed a report on atrocities committed by the People's Defense Force. These included cutting off people's heads and limbs, murder, using bombs for revenge, and threats.
"This is affecting the daily lives of the Myanmar people, public service, and social infrastructure. The group also burned villages and obstructed the delivery of humanitarian assistance," said Sokhonn.
"This revenge circle can push Myanmar into civil war all over the country."
Myanmar also has the death penalty and PM Hun Sen has sent a letter to Min Aung Hlaing to consider withdrawing the penalty. Four people, two of whom are anti-regime activists, have been sentenced to death.
The Special Envoy reiterated his call for the cessation of violence and asked the SAC to support safe, timely, and impartial delivery of humanitarian assistance to hard-to-reach areas and the release of prisoners.
Prak Sokhonn urged the regime not to transfer detained former leader Aung San Suu Kyi to Nay Pyi Taw prison, but the junta chief refused to allow a meeting with Suu Kyi.
"The Myanmar crisis remains deep-rooted, and there is no easy fix, which would require time, patience, and compromise from all parties concerned," Sokhonn said.
"This visit may not have achieved substantial progress according to some, but my team and I sincerely believe that we have accomplished some progress," he continued.
Related Articles