ASEAN Economy Ministers Meet with Regional Trade Partners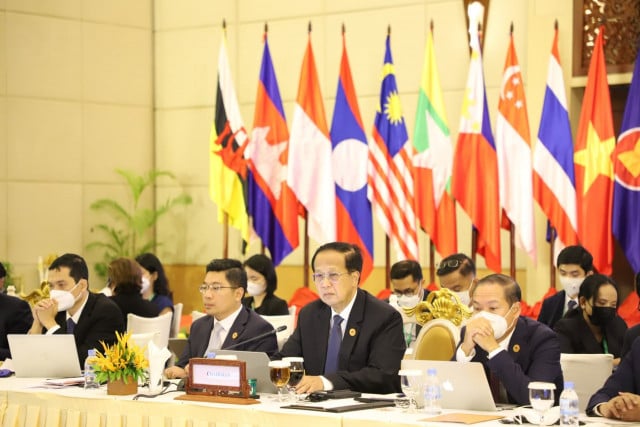 SIEM REAP - The Fifty-Fourth ASEAN Economic Ministers' Meeting and Related Meetings, which began on Sept. 11, ended on Sept. 18 following a series of meeting during which ASEAN ministers of commerce met their counterparts from countries across the world with which they have trade ties.

ASEAN ministers discuss with China the need to address post-pandemic recovery
ASEAN Member States (AMS) and China on Sept. 17 attended a meeting that was co-chaired by Cambodia's Minister of Commerce Pan Sorasak and Li Fei, China's assistant minister of commerce, according to a press release on Sept. 17.
As they mentioned during their discussions, trade reached $669 million in 2021, which represented an increase of 29 percent compared to 2020 as China remained ASEAN's biggest trading partner. Foreign direct investment from China to ASEAN amounted to $13.6 billion in 2021, which was nearly double the direct investment of the previous year.
According to the press release, ASEAN representatives expressed concerns that, in spite of the progress made, countries' economies remain vulnerable to global developments that may especially affect food, energy security, leading to inflation. Speaking of the need for cooperation between ASEAN and China to deal with those challenges, they endorsed the Joint Ministerial Statement by ASEAN and China on Cooperation for Post-COVID 19 Economic Recovery.
Regarding the ASEAN-China Free Trade Area (ACFTA), ministers of commerce endorsed a document to the effect that ACFTA needs to be expanded to better take into consideration mutual areas of interest such as digital economy, green economy, non-tariff measures and consumer protection in order to remain relevant to businesses.
During a press conference on Sept. 17, Penn Sovicheat, undersecretary of state and spokesman for Cambodia's Ministry of Commerce, said that China will provide ASEAN with about $7 million in technical assistance to improve the implementation of the ASEAN-China Free Trade Agreement (ACFTA).
"All economy ministers still consider the ACFTA to be the most important agreement for business and investment in the region, which requires effective implementation and regular reporting, monitoring and reviewing of the implementation of this agreement," he said.
Sovichet, who was spokesman for the 54th ASEAN Economic Ministers' Meeting and Related Meetings, said that this assistance was timely for ASEAN, especially as the countries members are still in the process of recovering from the COVID-19 crisis.
The 10 ASEAN ministers and China agreed to promote the use of the digital economy—steps toward a green economy and sustainable development—and to eliminate some measures that are barriers to trade, Sovichet said. They also discussed joint practices on competition, consumer protection and intellectual property, as well as promoting the growth of small and medium-sized enterprises in order to contribute to the economic development of ASEAN member countries' entire region, he added.
In 2021, free trade between ASEAN and China reached $669 billion, up 29 percent from 2020. Foreign direct investment in the region also rose by nearly 50 percent to a total of $13.6 billion.
The 25th AEM Plus Three Consultation
The ASEAN Economic Ministers (AEM) also met on Sept. 17 with their counterparts from China, Japan and the Republic of Korea, that is, South Korea. Trade between ASEAN and the three countries went up more than 25 percent, reaching $1.098 trillion in 2021 while foreign direct investment from these countries in ASEAN has been estimated at $32.65 billion, which represented 25.4 percent of total foreign investment.
Expressing concerns regarding post-pandemic recovery and the risks to global food and energy security as well as inflation, the ministers of economy agree to support ASEAN's recovery framework and plan of action to deal with the situation. They welcomed the establishment of the ASEAN COVID-19 Response Fund, the ASEAN Regional Reserve of Medical Supplies, and the ASEAN Center for Public Health Emergencies and Emerging Diseases that will help countries in the region take immediate action when need be. They also discussed the ASEAN Plus Three Emergency Rice Reserve meant to help cope with the effects of the pandemic in the region.
The ministers of economy also discussed the ASEAN Plus Three economic cooperation work program that is helping micro, small and medium enterprises in ASEAN countries, and the research project to close the digital divide of these more modest companies. They also stressed the importance of digital skills, tools and access, which are critical for post-pandemic recovery.
ASEAN Commerce Ministers Hold the Sixth Hong Kong, China Meeting
Commerce ministers from ASEAN and their counterpart from Honk Kong Algermon Yau said that, in spite of the pandemic, merchandize trade had increased by 18 percent in 2021 compared to 2020, reaching $132.9 billion. This set Hong Kong as ASEAN's sixth largest trading partner.
During their meeting on Sept. 17, the ministers noted that foreign direct investment from Hong Kong also went up 3.1 percent in 2021 compared to 2020, totaling $8.1 billion, making Hong Kong the fifth largest source of foreign direct investment in ASEAN.
Discussing the need to implement the ASEAN- Honk Kong free trade agreement, the ministers stressed that the pending issues on investment and legal modalities on new product specific rules must be handled without delay and incorporated into the trade agreement.
Thanking Hong Kong for contributing HKD 5 million (US$637,000) to the ASEAN ECOTECH Work program for 2022, the ASEAN commerce ministers said that, while Hong Kong had officially requested to be part of the Regional Comprehensive Economic Partnership (RCEP)—ASEAN's free trade agreement—it had already established free trade agreements with 13 of the 15 RCEP members.
The 54th ASEAN Economic Ministers' Meeting and Related Meetings concluded at the end of the day on Sept. 18.



Phoung Vantha contributed to this story.
Related Articles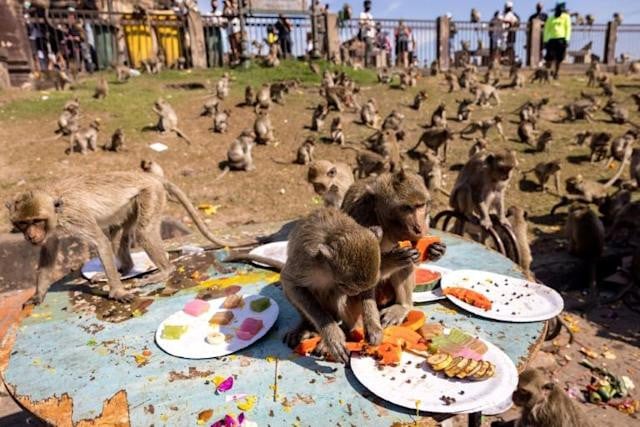 November 28, 2021 3:40 PM
December 25, 2019 4:57 AM