ASEAN Meeting Set Stage for Major Summits: PM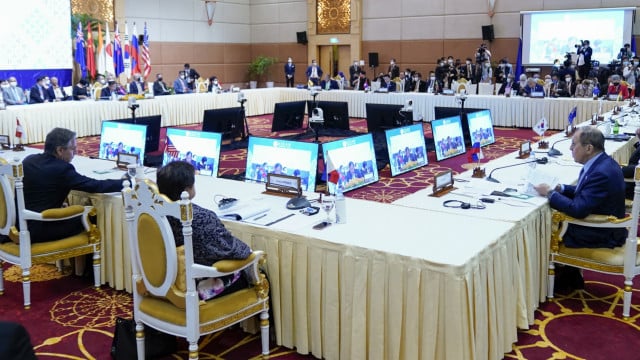 PHNOM PENH – Prime Minister Hun Sen says the ASEAN Foreign Ministers Meeting (AMM) this month set the stage for a major summit in November after host Cambodia overcame challenges to issue a joint communique.
The 55th AMM and related meetings, held from July 31 to Aug. 5 in Phnom Penh, drew top diplomats from nearly 40 countries including US Secretary of State Antony Blinken, Russian Foreign Minister Sergey Lavrov and Chinese Foreign Minister Wang Yi.
The Myanmar crisis, the South China Sea dispute, the Korean peninsula nuclear issue and the Russian invasion of Ukraine were on the table for discussion. Hun Sen said U.S. House of Representative Speaker Nancy Pelosi's visit to Taiwan almost derailed the talks in Phnom Penh.
"At a time when the world is in turmoil, we've invited our friends to sit down and talk and issue a good joint communique," PM Hun Sen said during a graduation ceremony on Aug. 17.
He praised the efforts of Foreign Affairs Minister Prak Sokhonn and officials to defuse tensions which arose, including over the seating arrangement.
Without naming countries, the PM said countries which were not on good terms sat down and exchanged views which led to the overall success of the meeting.
Hun Sen said the meeting set the stage for the ASEAN leaders summit in November as well as the G20 summit in Indonesia and an APEC meeting in Thailand. The ASEAN summit is scheduled for Nov. 11-13, the G20 on Nov. 15-16 and the APEC meeting on Nov. 18-19.
"Thus, starting in Phnom Penh, it will be possible to facilitate the November summit, and this will facilitate the G20 meeting and the APEC summit," he pointed out, adding that he will attend the meetings as guest of the chairs.
The PM also announced his itinerary for next month as he plans to address the UN General Assembly in New York.
He will then travel to Cuba for an official visit​ which has been delayed since 2020. The PM will also go to Tokyo to attend the state funeral of ex-prime minister Abe Shinzo who was assassinated.
Related Articles