ASEAN Ministers to Meet in Jakarta for Emergency Talks on Myanmar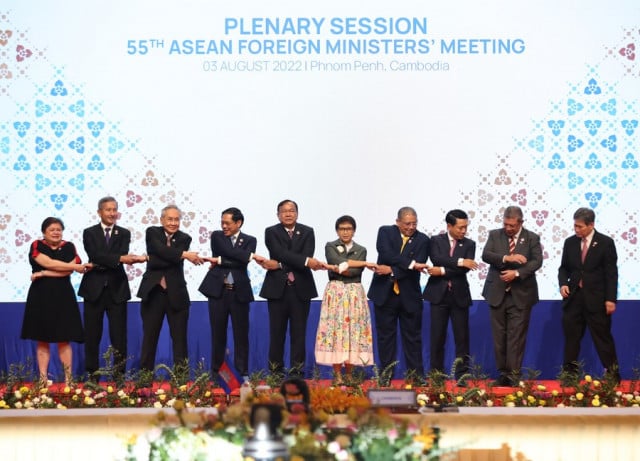 PHNOM PENH--Special Envoy of the ASEAN Chair on Myanmar Prak Sokhonn will travel to Indonesia to chair a special meeting with other ASEAN Foreign Ministers to discuss the Myanmar issue on Oct. 27.

"The meeting will exchange views on enhancing the implementation of the Five-Point Consensus and discuss recommendations on the Myanmar issue for the upcoming ASEAN Summits in Phnom Penh," Foreign Affairs Ministry's spokesperson Chum Sounry told Cambodianess on Oct. 25.

He made clear that no representatives from Myanmar will attend the meeting, which will be held at the ASEAN Secretariat in Jakarta.

The Five-Point Consensus is an agreement adopted on April 24, 2021, by the ten-nation block. It aimed to put an end to the ongoing violence in Myanmar and find a political outcome to the crisis that followed the military coup, staged on Feb. 1, 2021.

While it called for an "immediate cessation of violence", a "constructive dialogue among all parties concerned", or to ensure that the Special Envoy would have the ability to "visit Myanmar [and] to meet with all parties concerned", its implementation has largely failed.

On Oct. 23, an air strike led by the military killed at least 50 people who were attending a concert in northern Myanmar. Non-profits estimate that more than 2,300 civilians were killed by the military since February last year and fights keep raging across the country.

Prak Sokhonn was supposed to pay a third visit to Myanmar in September or October, but it is unlikely to happen as no confirmation has so far been given. During his previous visits, he was denied to meet the ousted leader Aung San Suu Kyi.

The Myanmar crisis will be one of the main topics discussed during the 40th and 41st ASEAN Summit, which will be held in Phnom Penh from Nov. 8 to 13.
Related Articles