ASEAN Must Strengthen Internal Solidity and Maintain Neutrality: PM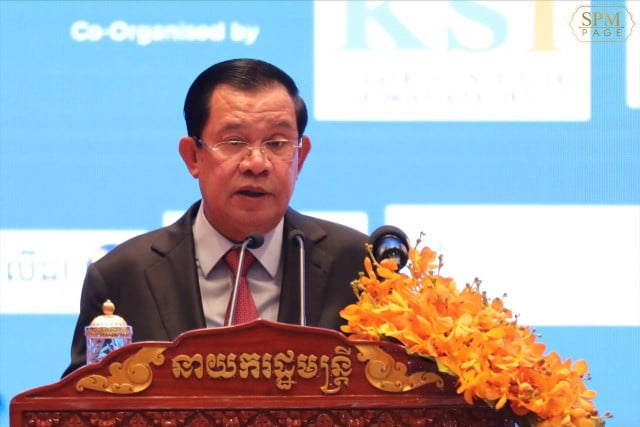 PHNOM PENH – Prime Minister Hun Sen has called on ASEAN member states to strengthen the block's unity as well as to adhere to partnership and multilateral mechanisms to address challenges and respond to the growing geopolitical competition. Working together is the best way to "ensure regional peace, stability, and prosperity," he said.
During his remark at the Opening Ceremony of the 2022 ASEAN Leadership and Partnership Forum held on Sept. 12, the prime minister provided his views on five aspects of the forum: socio-economic development, geopolitical competition, sustainable and inclusive economic recovery, economic security promotion, and advantage of circular economy, green economy, and digitalization.
Sharing his views on the geopolitical competition, PM Hun Sen said the ASEAN must "act as a role model", "play a central role" and "serve as a platform for dialogues and cooperation while reinforcing an open, transparent, inclusive, and rules-based regional architecture."
But the prime minister conceded that the current socio-economic situation among the block's ten nations remains fragile and could lead to divisions.
He stressed that the Ukraine-Russia war is causing bad economic developments and exacerbating inflationary pressures as well as congestion in the world's supply chains.
"The tensions of geopolitical competition in some strategic regions, including those in Asia, will continue to pose problems and risks to regional and global stability and prosperity," Hun Sen said. "These challenges highlight limited international cooperation and mutual trust, which require a strong commitment to re-establish cohesive and extensive partnerships in both regional and global frameworks."
It has been nine months since Cambodia started assuming the Chairmanship of ASEAN 2022. Thong Mengdavid, a researcher with the Mekong at the Asian Vision Institute's (AVI) Centre for Strategic Studies, shared his views on Cambodia's Chairmanship progress throughout the 55th ASEAN Foreign Ministers' Meeting.
While tensions rose between the U.S. and China with the visit to Taiwan of House Speaker Nancy Pelosi, Mengdavid said the ASEAN, and especially Cambodia as Chair, continued to call on the two superpowers to remain committed to finding peaceful solutions and to respect the ASEAN Peace and Cooperation Agreement.
If war breaks out in the Indo-Pacific region, it will disrupt the world's supply and production chains, as well as wreak havoc, causing great damage across the region, he said.
"Cambodia has very proudly and successfully hosted the meetings while accepting the additions of the Kingdoms of Denmark and the Netherlands, the Sultanates of Oman and Qatar and the United Arab Emirates, and the Hellenistic Republic of Greece as members of the Treaty of Amity and Cooperation in Southeast Asia," he said.
The 2022 ASEAN Leadership and Partnership Forum under the theme "Partnerships for a Cohesive and Responsive ASEAN" was organized by Malaysia-based think tank KSI Strategic Institute for Asia Pacific, the ASEAN Business Advisory Council, and Phnom Penh-based Asian Vision Institute (AVI) on Sept. 12. It was joined by leaders from governments, private sector, national and international organizations as well as research institutes.
The purpose of the forum was to discuss about joint efforts to address all regional and global challenges, as well as to fully seize new emerging opportunities, such as rapid acceleration of digitalization and increase in businesses, trade, and investment in the region.
Related Articles