ASEAN to Send an Envoy to Myanmar to Help De-Escalate the Conflict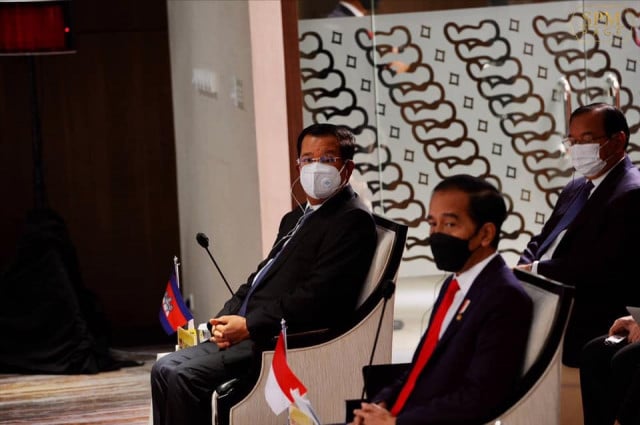 Cambodianess
April 25, 2021 10:19 AM
As Prime Minister Hun Sen speaks of the importance of ending violence in that country
PHNOM PENH--The ASEAN Leaders' Meeting on April 24 ended with the country members demanding the end of violence in Myanmar, agreeing to provide humanitarian assistance and to send an envoy to help mediate a peaceful solution to the conflict.
According to the chairman's statement at the end of the meeting, which took place at the ASEAN Secretariat in Jakarta and was presided by Brunei, the countries members expressed deep concern over the situation in Myanmar with reports of fatalities and the escalation of violence.
The military forces seized control in Myanmar on Feb. 1 following the general elections, which Suu Kyi's National League for Democracy party won by a landslide. Since then, they have used violence to crack down on protesters, leading to numerous deaths.
"[At the ASEAN meeting, Prime Minister Hun Sen] emphasized the importance of trust-building and political commitment from all parties in Myanmar to accommodate each other's concerns and place the primary objective on ending bloodshed and achievement of durable peace and harmony," read a press release on April 24.
The press release also mentioned that ASEAN recognized the contribution and support of its partners to help deal with the pandemic and will use $10.5 million from the COVID-19 ASEAN Response Fund to help its members get vaccines.
During his visit to Jakarta, Hun Sen had meetings with Indonesia's President Joko Widodo and with Vietnamese Prime Minister Pham Minh Chinh during which he discussed bilateral relations and cooperation, according to the press release.
Cambodia will host the 13th Asia–Europe Meeting (ASEM) this year and assume ASEAN chairmanship in 2022.
Related Articles