ASEAN zeros in on unsustainable single-use plastics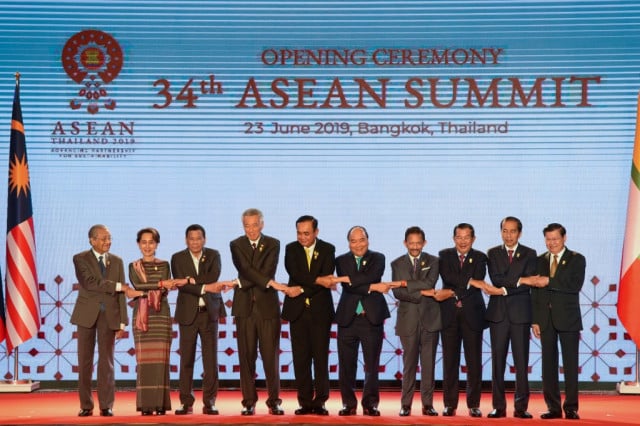 Thmey Thmey
June 24, 2019 3:39 AM
Summit declaration on combating marine debris calls for timely implementation of action framework

PHNOM PENH --Prime Minister Hun Sen and other ASEAN leaders are taking aim at single-use plastics as part of their new commitment to combat marine debris in Southeast Asia.
At an ASEAN Summit in Bangkok over the weekend, leaders adopted a declaration to address rapidly growing levels of marine debris — especially plastic litter.
Such debris is related to an "expected increase in negative effects on marine biodiversity, ecosystems, animal well-being, fisheries, maritime transport, recreation and tourism, local societies and economies," the declaration said.
Land-to-sea approach
The ASEAN leaders vowed to strengthen actions "to prevent and significantly reduce marine debris, particularly from land-based activities."
At the same time, the leaders called for an "integrated land-to-sea approach."
The declaration meanwhile urged member states to "timely implement" an ASEAN Framework of Action on Marine Debris from a ministerial meeting in Bangkok in March.
The action framework has four priority areas — policy support and planning; research, innovation and capacity building; public awareness, education and outreach; and private-sector engagement. Each area has specific actions and suggested activities.
Single-use plastics
Under the first priority area, one suggested activity is to encourage national authorities and businesses to develop and promote product sustainability and "circularity criteria" to stimulate the market for sustainable products and secondary raw materials.
"Addressing the unsustainable use and disposal of single-use plastic products" should take place at the same time.
Another activity suggested is to develop and strengthen upstream policies for land-based leakage "including single-use plastics" in addition to sea-based leakage.
Public awareness and behavior change
In the third priority area, promoting public awareness and behavior change is suggested.
The fourth priority area includes a suggestion to promote private-sector investment in redesigning products and packaging as well as alternative materials.
"Marine debris is a transboundary issue which requires integrated regional cooperation," the framework document states.
"In addition to robust national actions to address marine debris, strategies for strong collaboration are particularly crucial for the ASEAN region."
'Urgent need to take action'
"Without immediate action, marine debris pollution may negatively impact marine biodiversity, environment, health, society and economy. ASEAN Member States recognise the urgent need to take action," the document says.
The action framework was developed in response to the ASEAN Conference on Reducing Marine Debris in the ASEAN Region in Phuket in November 2017, taking into account the East Asia Summit Conference on Combating Marine Plastic Debris in Bali in September 2017.
'Encouraging the involvement of all stakeholders'
At a news conference in Bangkok Sunday, Thai Prime Minister Prayut Chan—o-cha said marine debris had a "widespread impact on the well-being, health and hygiene of people and marine animals and resources."
The declaration "demonstrates ASEAN's commitment to addressing the problem of marine debris in a serious and sustainable manner by supporting innovation and ideas, building capacity in research and the application of scientific knowledge as well as encouraging the involvement of all stakeholders," he said.
Related Articles