Attacks on Human Rights Defenders Rose Sharply in Cambodia this Year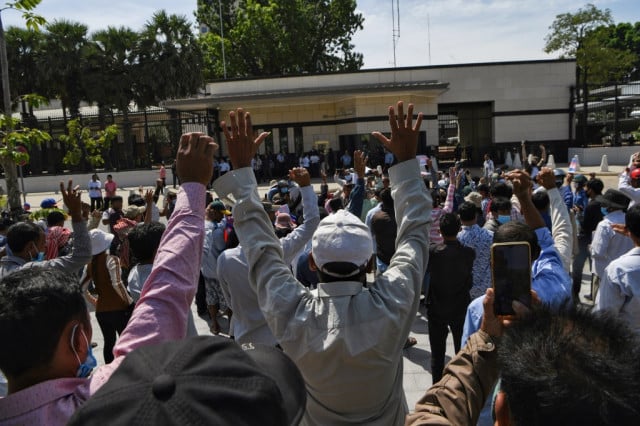 Gerald Flynn and Phoung Vantha
December 19, 2020 2:15 AM
Human rights group LICADHO's latest report documents attacks on high-profile human rights defenders from 2018 to 2020, with a sharp uptick in arrests in the last six months.
PHNOM PENH--Following the November 2017 dissolution of the Cambodia National Rescue Party (CNRP), Prime Minister Hun Sen turned Cambodia into a de facto one-party state, but—as a new report from rights group LICADHO highlights—Hun Sen's crackdown didn't end with the opposition party.
Over the course of 30 pages, the report demonstrates how an erosion of rights and freedoms have permeated almost every facet of Cambodian society as the ruling party further cements its grip on power.
"Armed with every seat in the National Assembly, unrivalled control of the nation's judiciary and legislative organs and the vast majority of the Kingdom's media outlets, the ruling party has used the years following the destruction of the political opposition to formalize its arbitrary and absolute domination of the daily lives of its citizens," the report read.
The pace at which those standing up for the most basic of rights have been targeted by the government and Cambodia's ruling class has quickened dramatically, as LICADHO's report shows. In 2018, the rights group documented 17 incidents in which activists were threatened, harassed, intimidated or attacked, in some cases physically, in others, legislatively. In 2019, LICADHO recorded 18 similar attacks on rights defenders, but this shot up to 26 cases in just the first nine months of 2020.
While the report's authors noted that their findings are not exhaustive, the case studies presented reflect the wide range of rights abuses conducted by Hun Sen's government and the network of patronage that has sustained it.
The words "Hun Sen, get out" were chanted in the streets of Phnom Penh by tens of thousands of angry Cambodians in protests that last months between 2013 and 2014, following national elections that many felt were rigged in the ruling party's favor. Such a demonstration seems almost impossible now.
"Over the past three years, the power of the Cambodian people to freely associate in order to advance their fundamental human rights has been severely curtailed by a government intent on suppressing any and all mobilization," LICADHO's report found, citing the legislative attacks made on trade unions, NGOs and peaceful social campaigns.
Preventing Organized Dissent
Both the 2015 Law on Associations and Non-Governmental Organizations (LANGO) and the 2016 Law on Trade Unions have, critics said, ensnared civil society organizations in an unwieldly mess of bureaucratic hoops that are not designed for said organizations to be able to jump through.
In 2017, the US-funded National Democratic Institute (NDI)—an NGO focused on strengthening democratic institutions in Cambodia—became LANGO's first high-profile victim and was shuttered by Hun Sen, who accused NDI of working with the CNRP to remove him from power. NDI maintained that they are a neutral, non-partisan organization before their operations in Cambodia ceased.
The Law on Trade Unions, however, has been lambasted by unionists for the lengthy processes needed to register a union—which LICADHO found can take up to a year. The report documents incidents of physical attacks on unionists, as well as politically motivated jail sentences for those who work to defend the rights of marginalized communities.
The Cambodian Human Rights and Development Association (ADHOC) fell foul of Hun Sen's ruling party after a bizarre series of events in April 2016 led to lengthy jail time for four of its staff along with the deputy secretary general of Cambodia's National Election Committee. The ADHOC 5, as they became known, served 427 days in pre-trial detention before being handed in September 2018 a 5-year suspended sentence in what was widely regarded as a politically motivated attack on human rights defenders.
More than four years since the arrest of the ADHOC 5, similar tactics have been applied to those critical of the government. Trade unionist, president of the Cambodia Independent Teachers' Association and long-serving advocate for workers' rights Rong Chhun was arrested in his Phnom Penh home during a nighttime raid on July 31, 2020 following an investigation into border irregularities in Tboung Khmum Province.
Chhun reported that villagers were losing land in the ongoing demarcation of the 1,270-kilometer border with Vietnam and shared these concerns in an interview with Radio Free Asia before he was arrested. Protests erupted across Phnom Penh in response to Chhun's arrest, which in turn, led to more arrests—along with documented incidents of police brutality as the authorities sought to quash peaceful movements calling for Chhun's release.
Em Bunnarith, personal assistant of Chhun, has led protests and a sustained campaign to release Chhun and other activists, environmentalists and rights defenders detained on political grounds.
"Prime Minister Hun Sen targeted the opposition of youth, civil society and human rights defenders, for the sole purpose of maintaining control of his collective power and his family business," said Bunnarith, adding that the ongoing crackdown has exacerbated political turmoil in the country.
He called on Hun Sen to release political prisoners and prisoners of conscience, noting that—despite claims of its independence—Hun Sen has full control of the judiciary.
"Using dictatorial powers, threats and the judiciary to suppress the rights of young people is ineffective in the long run," Bunnarith warned.
Government Targeting Cambodia's Future
One of the most striking elements of the 2020 crackdown in Cambodia has been the frequent targeting of youth activists.
"With fewer opportunities for young Cambodians to take part in the civic life of their nation in the past few years, a number of youth and student groups have played a more active role in the struggle for a just and equitable Cambodia," LICADHO reported, adding that for their courage, many young Cambodians have been met with threats, arrest and imprisonment.
August 2020 saw a string of arrests, mostly consisting of youth activists from Khmer Thavrak and Mother Nature. Chhoeun Daravy of Khmer Thavrak was dragged through the streets when she was detained by authorities—this was widely seen as retribution for Daravy's previous activism, which involved selling t-shirts portraying the face of murdered political analyst and activist Kem Ley.
Also arrested along with Daravy were Hun Vannak and Eng Malai: All three were recently denied bail after they were charged with incitement. Both Daravy and Malai reportedly went on hunger strike behind bars on Dec. 2, and were beaten by other inmates on Dec. 6—by Dec. 10, Human Rights Day, the relatives of Daravy, Malai and Vannak were calling for their release.
"As his mother, when my son was arrested I felt so much pain," Ty Mary, mother of Hun Vannak, told LICADHO. "It is not comfortable to be in prison … I would like to request to the government to drop its charges and release my son, because what he has done is within his rights and freedom."
The violence with which youth activists were met with while exercising their constitutional freedoms has been neither condemned nor investigated by the government.
"He's never harassed or destroyed anyone's property or any person or state institution,"

Mary said. "I want the government to release my son."
Vannak had previously worked with Mother Nature—an environmental NGO that drew the ire of the government and was eventually deregistered as an NGO by the Ministry of Interior in 2017 following years of exposing illegal logging activity. A similar fate befell Global Witness, an international NGO that had produced extensive, investigative reports on illegal logging and its government-connected benefactors. Global Witness was banned from entering Cambodia in 2005. But Mother Nature is for the most part a local movement and so, with nowhere to go, many young environmentalists have since been jailed.
On Sept. 3, three Mother Nature activists were arrested after posting on Facebook their plans to stage a peaceful, three-person walk from Wat Phnom to Hun Sen's house in Phnom Penh. The planned walk hoped to raise awareness of the government's plans to fill in lakes around the capital—a move that has generated much criticism, protest and environmental instability within the city.
Their peaceful walk ended with the three being arrested and charged with incitement to cause serious social chaos—they were then later denied bail.
"What [this] says is that the regime is highly insecure and unable to brook dissent," said Sophar Ear, associate professor of Diplomacy & World Affairs at Occidental College in the US.
For Ear, the targeting and detention of youth activists signal weakness within the government but pose greater problems for the long-term development of Cambodia.
"These teenagers should be celebrated: They are the future of Cambodia," he said in an email. "They are the hope of the nation. To arrest them is to kill hope and one's future. The authorities should be reminded that today's political prisoner could be tomorrow's Prime Minister."
Government Unfazed by Shrinking Civic Space
Ear drew comparisons between Cambodia and Singapore, where a man was recently arrested for holding up a picture of a crudely-drawn smiley face that—the authorities have claimed—constituted a one-man protest. Naturally, the absurdity of a single man protesting with a smile has been ridiculed and damaged Singapore's already faltering international image amid the COVID-19 pandemic.
However, as Ear pointed out, Cambodia does not have the economic performance that Singapore enjoys—a factor that Ear suggested may make such an allergic response to dissent somewhat more palatable to the city-state's inhabitants. Cambodia, he argued, is simply too corrupt to perform similarly.
"Where the assault on civil liberties and ongoing constriction of civil space leads us is into a civil society black hole," concluded Ear. "The authorities want to shrink it down to the size where they can drown it in the bathtub."
Government spokesperson Phay Siphan declined to speak on the matter of shrinking civic space, referring questions on the matter to Chin Malin, spokesperson for the Ministry of Justice and the government's Cambodian Human Rights Committee.
Malin said that all people are equal before the law and law enforcement, including the authorities and human rights defenders. So if the government found solid evidence that showed they committed the crime, they have to face the law, he said.
However, while numerous activists languish behind bars for peaceful protests, vocal dissent or simply exercising fundamental freedoms guaranteed by the Cambodian Constitution, numerous government officials at various levels have evaded punishment for severe crimes.
Malin repeated a justification he has used repeatedly when defending the government's crackdown on activists, saying that the actions of human rights defenders were not related to the protection of rights, but were offensive violations of the law. He added that the government had evidence, but declined to explain how a three-person protest walk could incite social chaos.
"We already know their [LICADHO] position from the beginning, their allegations are baseless, no legal basis, when we enforce the law against activists—who they [LICADHO] aim to protect—they went to say that case violates the rights of the activists, but they don't analyze the legal procedures, which the police and the courts have shown as the basis of the charge," he said.
A survey, conducted by Transparency International in 2020, found that Cambodia's police were regarded as the most corrupt institution in the country—which as a whole was perceived as largely corrupt—but public officials and the judiciary, notably the courts, were the next most corrupt institutions, according to respondents to the Global Corruption Barometer 2020.
Information Manipulation
The impact of such corruption was exposed by the New York Times, whose reporters uncovered a smear campaign run by the Cambodian authorities against the Venerable Luon Sovath—a Buddhist monk who turned to activism in the face of land-grabs and forced evictions in the Boeung Kak land dispute.
Sovath became the target of threats, intimidation and eventually, a smear campaign that accused Sovath of rape.
"In 2020, this campaign of intimidation rose to ugly heights with the publication of leaked audio on Facebook in June falsely alleging that the monk had broken his vow of celibacy," wrote LICADHO.
The New York Times uncovered that falsified videos had been created and disseminated by employees of the Press and Quick Reaction Unit, a propaganda unit based within the Council of Ministers. However, by the time the videos were proven false, Sovath had already fled the country, fearing for his life.
But while the New York Times was able to shine an uncomfortably bright light on the government's manipulation of the truth, independent media within Cambodia has been stifled—a stark contrast to times when Cambodia was touted as having one of the freest presses in Southeast Asia.
While the demise of The Cambodia Daily and the sale of the Phnom Penh Post have both been well-documented, along with the swathes of radio stations that fell silent between 2017 and 2018, Hun Sen's renewed crackdown on dissent has not spared what few journalists remain.
Two former Radio Free Asia reporters Uon Chhin and Yeang Sothearin on Oct. 27, 2020 had their case reopened, with the Supreme Court upholding a lower court's decision to reinvestigate the pair for espionage claims that are widely regarded as politically motivated. They have been kept on trial since their arrest in November 2017 and, despite the apparent lack of evidence needed to sentence the pair, the trial continues.
One striking case from 2020 was that of Sovann Rithy, a popular online journalist who was arrested and charged with incitement after quoting Hun Sen's advice to motorbike taxi-drivers word-for-word. Hun Sen said in a speech that drivers feeling the economic pinch during the COVID-19 pandemic could simply sell their motorbikes to buy rice, but later claimed he was joking. Rithy spent six months in jail following his arrest in April 2020 and a suspended sentence still hangs over his head.
Other reporters have been charged under Cambodia's wide-reaching incitement laws for reporting on politically sensitive issues, land disputes, environmental destruction and the networks of governmental officials and business elite that profit from them. Other journalists have been physically attacked while covering such issues, but LICADHO warn that there is an increasing risk to reporting the truth in Cambodia.
The Worst is Yet to Come
The truth is often inconvenient for the government that has in recent years weaponized the judiciary to silence critics and brought intimidation to bear, even against UN agencies.
"When poor Cambodians lose their land, homes and communities to a rapacious okhna [an honorific title bestowed upon government-aligned tycoons] and other Cambodian People's Party cronies, often in league with foreign companies from China, Vietnam and elsewhere, they lose everything," said Phil Robertson, deputy director of Human Rights Watch's Asia Division.
These losses, painfully underscored by the COVID-19 pandemic, were raised in 2018 when the United Nations Development Programme (UNDP) published findings on multidimensional poverty—a measurement that looks beyond simply income, factoring in access to education, health and living standards—that contradicted official government figures on poverty.
The government maintained that poverty rates had fallen from 13.5 percent in 2014 to below 10 percent in 2018, whereas the UNDP's method suggested that as many as 35 percent of Cambodians were living in multidimensional poverty. This enraged Planning Minister Chhay Than who demanded an apology from the UNDP, which stopped short of a full apology, but did issue a clarification to their findings.
"These are very dire days for rights defenders in Cambodia and there is no time for fooling around anymore," said Robertson. "It's absolutely urgent that the UN Country Team rises to meet this challenge, supported by a coalition of diplomats from like-minded, rights respecting governments."
Robertson went on to warn that the worst may well be yet to come for Cambodians seeking to defend their rights, as a range of draft legislation—including the draft Public Order Law, the draft Cybercrime Law and the proposed National Internet Gateway—will further restrict the lives of Cambodians both on and offline.
"These human rights defenders need to negotiate, seek leverage from international pressure, and do whatever they can to hold out in the face of this siege of government oppression," said Robertson, adding that there is no discernable political commitment from Hun Sen to change tact or respect the rights of the people he represents.
But while there is little alternative or choice in who represents the interests of Cambodians, Mu Sochua—deputy leader of the outlawed CNRP—has been living in exile since she learned Hun Sen planned to arrest her. She is currently planning to return to Cambodian on Jan. 4, 2021, although little is known about the logistics of this plan or whether it will meet a similar fate than former CNRP leader Sam Rainsy's attempted return in November 2019.
Nevertheless, Sochua sees the ongoing attacks on those who stand up for rights as something the international community needs to take responsibility for.
"The UN cannot take action without its member states: We have to go back to the Paris Peace Agreement and get its signatories to comply," she said. "The cake is still in the oven, democracy in Cambodia is half-baked—it's not done."
Governments need to rethink their approach to supporting Cambodia, she said, adding that financial support to Hun Sen's government is perceived as support for the government's actions.
"So why should he stop arresting us? Why should he let his people speak freely? Look at how much money has been provided to Cambodia to fight COVID-19," Sochua said. "Yet there are so few cases and no deaths. Meanwhile, where is the support for all those who have been arrested for speaking out?"
For Sochua though, there is a glimmer of hope. Despite the best efforts of government mouthpiece Fresh News and government-aligned ownership of almost all media in Cambodia, Sochua maintained that the Cambodian people know what they are suffering.
"Workers, farmers, everyone in the informal economy—they know what the problem is: Hun Sen. But they can't speak up, there's no movement," she said. "But there is an awareness, they know what's really going on and it's only a matter of time before a major social and economic crisis is triggered because the government has offered no assistance."
Related Articles