Australia Plans to Keep on Supporting Cambodia's Post Covid-19 Strategy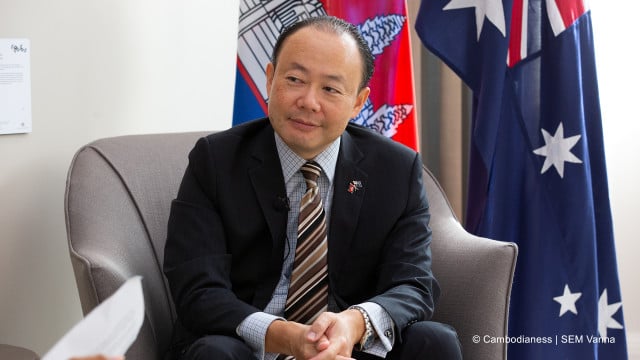 Sao Phal Niseiy
September 5, 2020 2:40 AM
While building links through students and advocating democracy and human rights, Ambassador Pablo Kang says
PHNOM PENH--The Australian Ambassador to Cambodia said that the Australian government has been working with the Cambodian government to help the country effectively cope with Novel Coronavirus (COVID-19) fallouts while stating firm support for the country's democratic development.
Australian Ambassador Pablo Kang expressed his confidence that Australia's continuous engagement and active support of Cambodia's response to the daunting impacts of the pandemic will contribute to closer ties between the two countries.
"If we can, through our support, help Cambodia to manage a response in the health sector, to help support Cambodia with social inclusion through the various measures that it is adopting to address COVID-19, and also assist the economic recovery once we come out of COVID-19, that will be an important contribution [to bilateral relations]," Kang said in an exclusive interview on Sept. 1.
The Australian ambassador went on to point out that the Australian Embassy has also been preparing a COVID-19 development response plan for Cambodia in order to assist the country.
"[The plan] has inputs from all stakeholders including from the Royal Government of Cambodia. We hope to have it finished in October," he said, adding that Australia has been working on ensuring that its assistance is targeted and helping Cambodia's COVID-19 response since the first outbreak of the virus in the country.
Helping Cambodia restart its sluggish economy
Speaking of COVID-19 fallouts and Cambodia's future, Kang anticipates that Cambodia has to brace itself, just like other countries, to effectively cope with the economic repercussions and other development difficulties.
Cambodia's economy already has been stagnant this year despite a robust growth over the past years and this, not only due to the pandemic, he said. The recent withdrawal of trade preferential system granted by the European Union has become another burden for Cambodia's slumping economy.
Therefore, Kang said, "The focus is how do we restart this [economy] and how do we help Cambodia, not just Australia but also other friends, to grow the economy again when COVID-19 is under control."
He went on to say that the future areas of support that Cambodia needs cover include tourism, construction issues, garment manufacturing as well as the fourth industrial revolution which involves a transition toward digital economy.
People to people relationship is already strong
Cambodia and Australia established formal diplomatic relations in 1952. The relations were cut during Cambodia's decades of war and conflicts in the 1970s and 1980s, and resumed in November 1991. Since then, their bilateral ties have continued to significantly expand, Kang said.
Cambodian and Australian relations are multifaceted, he said. The Australian government currently provides around AU$50 million annually to support the country's projects in various sectors including agricultural development, demining effort, education, technological development, health, energy and other areas of development.
While insisting that Australian support for Cambodia in dealing with COVID-19 may drive closer cooperation between the two countries, Kang also directed attention to people-to-people connectivity between Cambodia and Australia that, he said, is at a very significant level.
One of the critical contributions to building this substantial people-to-people relationship is the two-way education exchange.
"[This] really does contribute to mutual understanding between our two countries," Kang said. There currently are 2,500 Cambodian students enrolled in Australian education institutions while Australia sends its students to Asia Pacific countries including Cambodia through the program known as New Colombo Plan.

Another important element to bolstering people-to-people ties is the notable portion of the Cambodian diaspora living in Australia.
"Of course, we have a lot of Australians of Cambodian descent," Kang said. "We have approximately 60,000 in a country of 25 million—which is a significant diaspora.
"I think this also contributes to the fabric of our bilateral people-to-people relationship," he added.
Unwavering support for Cambodia's human rights and democracy
Ambassador Kang said that maintaining support for the promotion of democratic and human rights in Cambodia continues to be a priority for the Australian government as a neighboring country and part of the Asia Pacific region.
The main reason Australia has to pay great attention to the issue is due to the fact that it reflects the Australian society and the values it upholds when it comes to democracy, recognizing that its democracy is still far from perfect, he said.
"We are a very old, established, liberal democracy but, of course, it is far from perfect. Australia still has many challenges in both these areas: human rights and democracy," Kang said.
"But if you subscribe to the fact that human rights are universal and the government of Cambodia often does talk about the Universal Declaration of Human Rights, the different human rights covenants and treaties, then the situation of human rights in any country is legitimately open for discussion. And of course, everyone has different perspectives," he said.
Moreover, another important reason for Australia to remain engaged in democratic and rights improvement in Cambodia is on account of its important role in Cambodia's development, and especially peace building in the 1990s.
As Kang explained, a large number of people in Australia devoted a great deal of time and efforts to support Cambodia's negotiation process, which resulted in the Paris Peace Agreement in October 1991 as well as the United Nations Transnational Authority in Cambodia in 1992 and 1993.
"So, we were there at the rebirth, if you like, of Cambodian democracy in the early 1990s," Kang stressed.
Moreover, a great many Cambodians who fled the country during the Khmer Rouge regime and migrated to Australia have been actively following and maintain their interest in what happens in Cambodia.

"For all those reasons, we continue to play a very active role and take a keen interest in the human rights and democratic development," Kang concluded.
Related Articles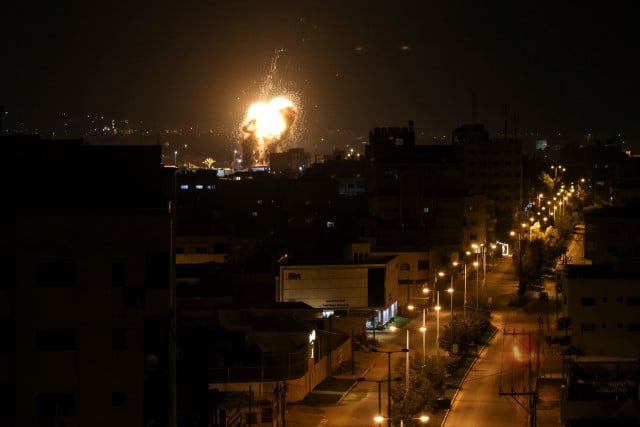 January 27, 2023 10:59 AM