Authorities Asked to Explain "Vague" Rules for Journalists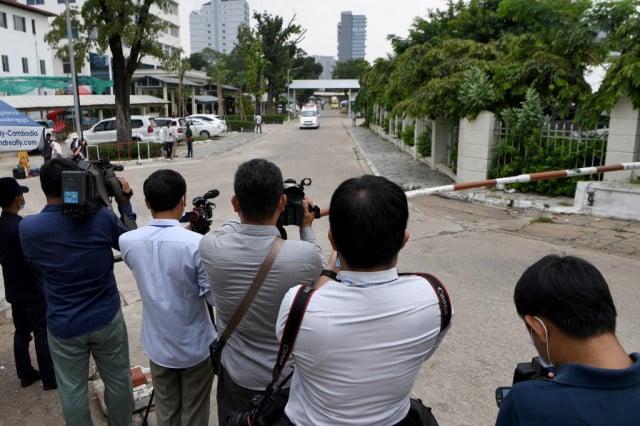 Following a police directive on the activities of journalists in Phnom Penh, numerous journalist associations wrote to the Minister of Information to clarify the rules, but officials say they're clear enough.
PHNOM PENH--Journalism groups in Cambodia on Feb. 5 expressed concerns over a new directive from authorities that appears to restrict the rights of reporters by banning them from covering issues deemed an ongoing investigation by police.
Issued online on Jan. 21, the directive to police came from Phnom Penh Municipal Police Chief Sar Thet who ordered that journalists be banned from filming, recording and live-streaming active police investigations. The directive also appeared to limit journalists' ability to report on criminal activities, with Thet's orders threatening legal action against journalists who breached this ban.
However, journalists associations throughout Cambodia have sought clarifications from the authorities in an open letter published Feb. 5 addressed to Information Minister Khieu Kanharith.
Kanharith had, on Jan. 18, warned journalists that they could be arrested for taking photos and reporting on the actions of authorities of "prohibited areas" but did not elaborate on what constituted prohibited areas or actions.
The letter, signed by the Cambodian Center for Independent Media, the Cambodian Journalists Alliance Association, the International Federation of Journalists and the Overseas Press Club of Cambodia queried the directive, which the journalists associations called "vague and broad."
This could lead to the restriction of journalists' freedom of publication, the letter read, which is protected under Article 41 of the Constitution of Cambodia and the 1995 Law of the Press.
"Therefore, we, the media organizations and associations, after receiving requests from our member journalists, call on the government to explain and clarify this directive clearly to ensure that the rights and freedoms of journalists, as guaranteed both in Cambodia's constitution and under international law, are not restricted," the letter read.
Information Ministry Spokesperson Meas Sophorn said it was his job to remind journalists of their roles, duties and responsibilities, but added that this was not a restriction on the rights of journalists nor did it prevent media outlets from publishing stories freely.
"The Minister of Information stated clearly that journalists should not violate the authorities' prohibited areas, so journalists can work normally," he said, but refused to clarify what a prohibited area is, saying only that authorities will take legal action if their jurisdiction is violated by journalists.
Sophorn then echoed Kanharith's admonishments, saying that journalists cannot replace the authorities and must wait for police investigations of incidents. He also said that government spokespeople have the responsibility to relay official information to journalists.
"These media NGOs and media associations don't understand what the law is—the authorities' prohibited areas are not allowed to be entered," he said, again declining to explain what constitutes a prohibited area.
He then claimed that if journalists entered a restricted area in the US, they would be handcuffed before stating that journalists do not have the right to film everything.
Taking a somewhat softer tone, Phnom Penh Municipal Police spokesman San Sok Seiha said it's just a reminder to journalists to remember their role and their rights, adding that they should not push authorities' limits.
Seiha urged journalists and authorities to respect each other professionally.
"In previous instances, some journalists have police stations and local government offices without permission—sometimes while authorities are questioning suspects, even after being asked to leave," explained Seiha, who added that the main problem was reporters who live-streamed interactions between authorities and the public.
He concluded that authorities and journalists should work as collaborative partners, with authorities providing information for journalists to make public.
While calling on journalists to uphold professional standards and journalistic ethics, the signatories to the open letter reported harassment of journalists as recently as January 2020, but Cambodia's relationship with the free press has long been marred by violence, imprisonment, harassment, intimidation, legal threats and censorship.
Related Articles