Authorities Rush to Prepare More Treatment Places as 344 New Cases Found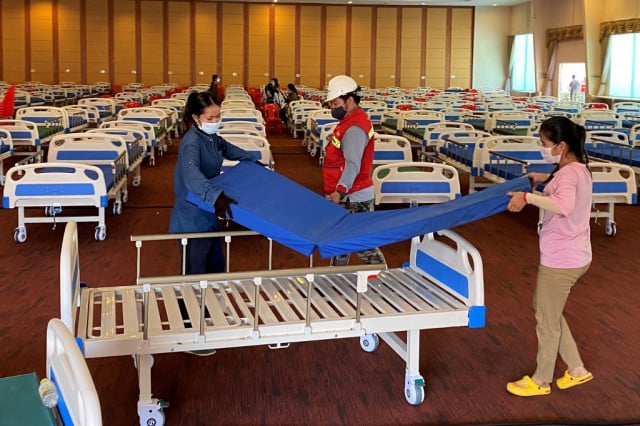 Sao Phal Niseiy
April 15, 2021 7:54 AM
Soaring demand by patients means hospitals beyond capacity
​PHNOM PENH--Health authorities said Thursday that 344 new COVID cases have been detected, 339 of which are linked to the recent community outbreak.
Health Ministry spokesperson Or Vandine said 243 of the 339 were in Phnom Penh, 71 in Svay Rieng province, eight in Kandal province, six Preah Sihanouk province, five in Koh Kong province, three in Takeo province, and one in Siem Reap province.
Four more imported cases involve Indonesian men who arrived in Cambodia on Tuesday via Singapore. Another case involves a migrant worker from Thailand.
In the meantime, 29 people have been discharged from hospital after making a complete recovery.
The latest infections have brought the COVID-19 total to 5,218, of which 2858 remain active and 36 have died.
Preparing new health care places as new cases surge
Medical care centers face demand beyond their capacity as more infections are detected in Phnom Penh, one of the virus hotspots, as Prime Minister Hun Sen acknowledged on April 10.
The government has implemented home treatment for patients with mild symptoms to reduce the burden on health services.
Vandine said the ministry has been collaborating with Phnom Penh authorities on arranging new places for treatment.
She urged COVID-19 patients in the city to adhere to official health advice, including home care tips for families and patients, and well as checking their health closely while staying at home.
Related Articles