Authorities Warn of Omicron Outbreak on Valentine's Day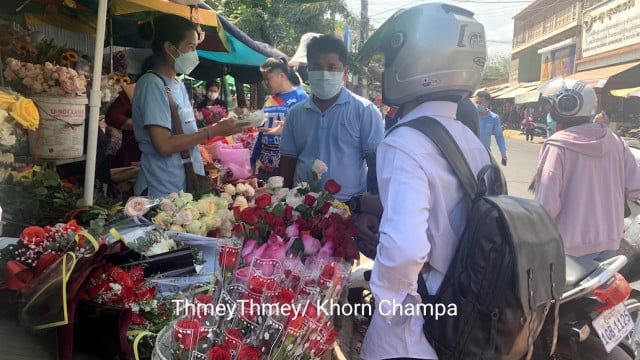 February 14, 2022 3:33 PM
Phnom Penh City Hall has implemented measures targeting young people aimed at curbing the spread of COVID-19's most infectious variant yet, but a national sporting event looks set to go ahead

PHNOM PENH--Both the Ministry of Health and the Ministry of Education, Youth and Sport warned citizens to remain vigilant on Valentine's Day following repeated daily increases in the number of confirmed Omicron cases.
The Health Ministry reported 512 new cases of the Omicron variant of COVID-19, 496 of which were locally transmitted. In the space of a week, Cambodia has gone from reporting 107 new cases on Feb. 7 to 300 new cases on Feb. 12 and then 401 new cases yesterday.
Furthermore, these figures from the health authorities only contain positive PCR tests, meaning the actual number of COVID-19 cases nationwide is unknown and likely higher. However, over the past 40 days, nobody in Cambodia has officially died of COVID-19.
Most of these new cases, the Health Ministry said, were transmitted as a result of large gatherings where attendees failed to adhere to proper safety measures, leading to a series of outbreaks.
While no attendees or gatherings were named by health officials, Cambodia had dropped most restrictions when Prime Minister Hun Sen declared the country was "fully reopening" on Nov. 1, 2021 and the Lunar New Year celebrations of 2022 were widely observed two weeks ago.
Late on the afternoon of Feb. 13, Phnom Penh City Hall announced a ban on gatherings for students and young people, especially in public and private educational institutions, to avoid the risk of a Valentine's Day Omicron outbreak.
However, the U23 Cambodia national football team are set to play Brunei tonight at 7 p.m. in the National Stadium in Phnom Penh, but no restrictions have yet been announced on crowds gathering to attend.
City Hall's statement added that Valentine's Day is a date for romantic gestures, but not immoral acts, although it is unclear whether or how local authorities will police this matter.
To ensure that no large gatherings take place, City Hall ordered 14 district administrations to inspect, monitor and take action against any irregular activity happening on Valentine's Day.
As of Feb. 13, some 13.7 million Cambodians had received two doses of a COVID-19 vaccine, while 6 million had received a third dose. Fourth doses are currently ongoing.
Related Articles