Authority Release Newly-Elected Candlelight's Commune Chief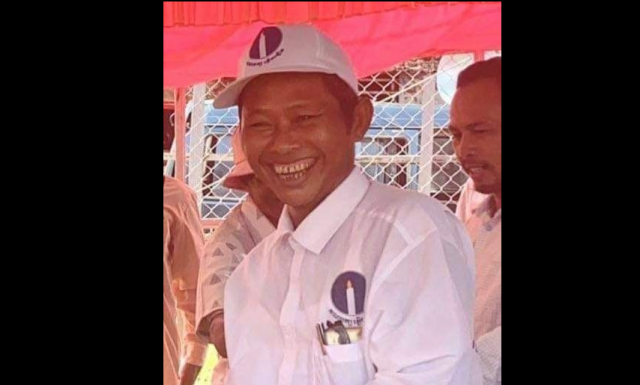 The commune chief is released, but he is still under authority's monitoring

PHNOM PENH – A newly-elected Candlelight Party commune chief who was arrested in connection with a robbery allegedly committed 20 years ago has been released after spending one night in prison.
The detention of Nhim Sarom in Kampong Thom province sparked anger from party officials who said it was an example of political persecution.
Provincial court spokesperson Say Veasna confirmed on June 22 that Nhim Sarom, Chief of Chamna Leu commune in Stoung district, had been freed ​ on the evening of June 22 on the grounds that he had a clear occupation, a real residence and he had cooperated with the court.
However, the released was temporary and the charged had not been dropped. "He has not been acquitted yet," said Veasna.
Nhim Sarom was arrested on June 21 on a warrant issued by an investigating judge in connection with a robbery in 2002.
Party spokesman Thach Setha said the detention was unreasonable and politically motivated. The arrest was unreasonable and the accused was innocent, the party said.
Say Veasna said Sarom and three other party members stole a generator in Stoung district. They violently attacked the owner by grabbing his hand and threatened to kill him if he did not give them the generator, Veasna said.
He said he did not know how much the generator was worth. He only knew that it was a large Yamaha.
The authorities had just re-investigated the case, leading to the arrest. The other three have not yet been arrested, said Veasna.
Thach Setha said Sarom was only trying to reclaim his generator from his debtor. Sarom did not take the generator to his house but placed it at the Chamna Leu Commune Hall, waiting for a suitable settlement, he said.
"The authorities should review this case and release him so that he can serve the people at the Chamna leu commune as commune chief," said Setha.
On June 22, a day after the arrest, the Candlelight Party released two documents of evidence saying that Sarom was not a robber and that the conflict had reached an informal settlement involving Chamna Leu commune chief and the police chief.
Setha said that if Nhim Sarom had committed a robbery, he would not have been trusted and elected as the leader of the commune by the residents. Sarom is also a layman who arranges a ceremony in a Buddhist monastery, he said.
"It's been 20 years, yet the case has just been brought up again now. He was also elected to the commune council for the Sam Rainsy Party in 2012. In 2017, he was elected for the CNRP, so why has he not been arrested since then?
"This is not law enforcement. It is purely politically motivated in all these respects."
Repercussions on Candlelight Party members
Setha said Candlelight Party candidates have been persecuted continuously since the commune elections in 2022.
On June 8, Ley Sokhon, a party official in Battambang province, was arrested after filming authorities who were recording the names of people who had voted in commune elections. The case is still in a stalemate, Setha said.
Eng Sroy, a Police Academy lecturer and president of the Candlelight Party​ working group in Tbong Khmum province, was fired from the ranks of the National Police on June 16, Setha said.
On April 22, Eng Sroy accused his boss Prak Narong of slapping him during a meeting. The Police Academy denied the allegations On May 3 after an investigation.
On June 14, the Cambodian People's Party sued Son Chhay for damaging the CPP's reputation, requesting that the Phnom Penh Municipal Prosecutor's Office convicts him and that he should pay 4,000 million riels (approximately $1 million) compensation to the CPP. Three days later, the National Election Committee said it would sue Candlelight Party vice president Son Chhay for defamation.
Another case involved Keo Somony of the Candlelight Party, who was elected as the Second Deputy Chief of Chbar Ampov 1 district in Phnom Penh.
Somony, a mental health officer working in the Ministry of Health had his name removed from the ministry on June 21, according to Setha.
"There are a lot of persecutions of members of the party although the official election result has not been issued yet. It is troublesome and worrying," Setha said.
On June 20, the president of the Candlelight Party Teav Vannul, along with senior officials, met ambassadors and envoys at the EU Embassy in Cambodia and reported on election persecutions. The party called on the EU to continue to monitor the political situation, especially the upcoming national elections.
Setha said the EU was still investigating evidence of election irregularities.
At the election, CPP received 5.3 million votes or 74.32 percent, while the CLP received 1.6 million votes accounting for 22.26 percent, according to preliminary NEC results.
The CPP won more than 8,630 commune council seats and secured at least 1,648 commune chief positions, while the CLP won around 2,500 council seats and got four communes.
According to the NEC, 7.3 million of 9.2 million eligible voters took part, a turnout of 80 percent.
Related Articles