Award Winner Offers Model of Sustainability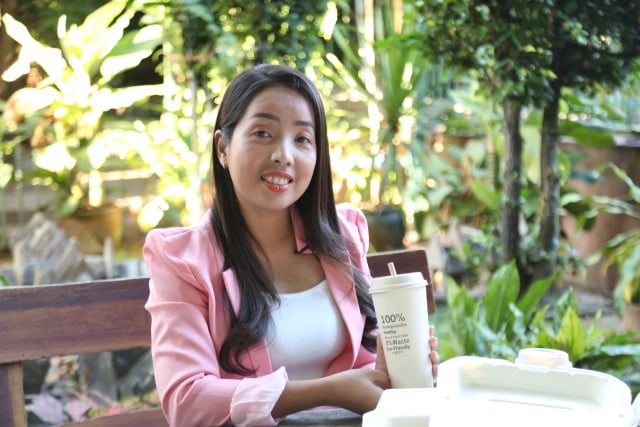 December 23, 2022 2:02 PM
Model Citizen Award winner Soeung Sothary urges people to use more environmentally friendly products instead of plastic.
The founder of Eco-Bin environmental containers says changing people's mindsets about the use of environmentally friendly products is not easy because plastic is cheaper, more durable and easier to use. However, it seriously affects the environment.
Song Sotheavy spoke to Soeung Sothary
Song Sotheavy: Is there any way to encourage people to return to using natural products because they have been using plastic for many years?
Soeung Sothary: Some neighboring or developed countries have limited the use of this product to protect the environment very well because of their good understanding of the environment impact of plastic. However, most Cambodians prefer to use plastic and consider it necessary for daily use.
Changing their mindset is not easy because plastic is cheaper, tougher and easier to use.
People think that these alternative products are difficult to buy because there is little supply in the big supermarkets or some malls. But now we have good products that are of standard quality and can help the environment, which are affordable and we want to integrate into all levels of business to provide convenience and contribute to reducing the use of plastic products in our country.
Song Sotheavy: Do you have any other strategy to encourage people to use environmental products?
Soeung Sothary: If we are committed to loving these environmental protection products, there is an extra cost of nearly 500 riel per unit more than plastic.
At the same time, we also have the exclusive distribution rights in some districts in Phnom Penh and in the provinces so that Cambodian people who love the environment and think about health can use them widely.
Song Sotheavy: Environmental understanding takes time. How do you commit to running your environmentally friendly business?
Soeung Sothary: Persuading them to change their habits to use environmental protection products is difficult. But I can try to do it, no matter how long it takes.
I always run an environmentally friendly business and the ones who can make this work effectively are the consumers and our people together.
If there is more support, I will try to find a way to open it in our country and try to do more research on that work to contribute to the economic as well as our local products.
Song Sotheavy: This mission is just starting. How can we further promote this work in our country?
Soeung Sothary: We cannot see how far we can go in the future unless there is support and hope. All citizens are the ones to give me hope to continue my journey.
We will use products that replace plastic, I am very willing to do this work to promote this work and market it more widely in the provinces and Phnom Penh.
We already have three exclusive distributors in Phnom Penh: Chbar Ampov, Por Senchey and Boeung Keng Kang. The provinces are Kep, Siem Reap and Sihanoukville. We provide easy conditions, both wholesale and retail, to help Cambodia avoid the use of plastic in the future.
Soeung Sothary, a 33-year-old entrepreneur, has been making products out of tires for more than 10 years. In addition to recycling tires, she has added material recycled from tires to furniture, desks and chairs to attract market share.
Soeung Sothary, Founder of Eco-Bin Environmental Craft, who received the Smart Model Citizen Award 2021 through the overwhelming support of the local public. She also received a commendation from the leadership of the Ministry of Environment in the program: Awarded a certificate of appreciation for environmental friendliness on October 21, 2021.
Sam Sopich contributed to this story.
Related Articles