Banana-Made Bowls Seek to Replace Single-Use Plastic but Needs Support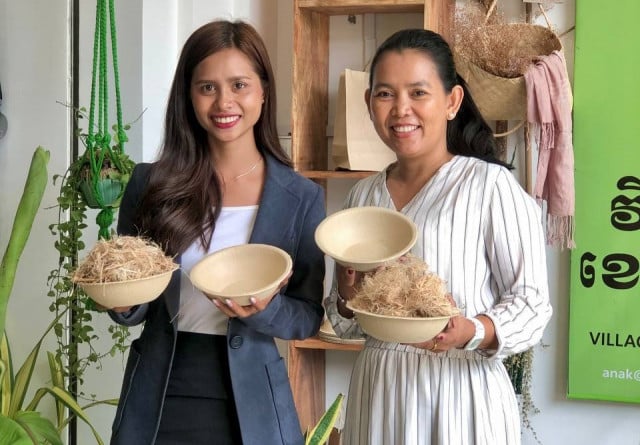 February 21, 2023 4:20 PM
PHNOM PENH – Banana trunks are usually thrown away once the yields are harvested. But instead of getting rid of them, a group of diverse-background youth sought to make them useful and found how to turn the trees' waste into environmental-friendly bowls, using banana fiber, in a move to promote alternatives to single-use plastic in Cambodia.
In July 2022, Villageworks Cambodia—a social enterprise crafting products from recycled materials for a clean environment—came up with the idea of producing bowls from banana fiber, gathering youth from different backgrounds to implement the project.
Soeung Sreynich is a 23-year-old bio-engineer graduate and a researcher in the team. She said she saw potential in banana plants being wasted and wanted to join the Villageworks team to begin experimenting create eco bowls using the tree's fiber.
She said that it is well-known that both the banana fruit and trunk have abundant fiber, but trunks are usually cut and thrown away once fruits have been collected. At best, they're used as food for cows or pigs.
"We thought that we can make use of those wasted banana trunks," Sreynich said, adding that sourcing raw material should not be too hard as banana plantations are everywhere in the country.
The banana trunks that Villageworks use are supplied by a community in Kampong Thom province. In addition to farming and selling their crops, extracting fiber provides an extra job and source of income to the community. The community also benefits from Villageworks by working for other products, such as recycled cement bags.
Ideal for a clean environment
While it is not a very technical process, turning banana trunks into bowls require some work and skills. There are six steps to turning the banana tree into fibers that can be used and eight steps to creating the bowls.
First, the banana trees are cut and collected for peeling. The peeled banana trunks are then left to dry for three hours before being put into a machine that extracts the fiber. Once out, the fiber is washed and hung dry for another three hours.


The banana trunks that Villageworks use are supplied by a community in Kampong Thom province. Photo provided

The dried fiber is then cut into 2-to-3-centimeter-long pieces and washed with a homemade solution to soften and disinfect them. The mixture is then boiled for an hour and a half in a 200° Celsius pot before it gets crushed in a shredder and let to dry in the sunlight.
At its final stage, the material is compacted under a heating press and becomes a paper bowl.
Due to their natural raw materials, the banana-made bowls are ideal for a clean environment, Sreynich said. While the bowl's interior is resistant to both cold and hot water, making it ideal for any kind of solid or liquid food, the​ outer surface of the bowl will melt when in contact with water.
"It is a single-use bowl … But it will [simply] melt when dumped into the environment," she said, adding that, on the contrary, plastic pollutes the surroundings when dumped into nature, and emits toxic carbon substances affecting the ozone layer and causing climate change.
The production, use, and uncontrolled dumping of plastic wastes have an adverse effect on the environment, causing water pollution when it ends up in lakes or rivers, air pollution when it is burned, and releasing toxins like chlorine and bromine that deplete the ozone layer.
In Cambodia, the use of plastic has surged in recent years and is now synonymous with daily life. According to the United Nations Development Program, more than 3,500 tons of waste are generated every day in Phnom Penh alone, of which at least 21 percent is plastic.
The U.N. agency estimates that 10 million plastic bags are used in the capital city every day, while an average urban Cambodian citizen consumes more than 2,000 plastic bags a year.
Despite that wave of plastic, Sreynich is determined and believes humans can contribute to fighting global warming by simply reducing the use of plastic or toxic substance in products.
Good potential but need support
This banana fiber product is still a pilot project and hopefully will enter the market in mid-2023, Sreynich said. The team is now seeking partnership and investments, but have not yet found one.
There are only 10 members of the team, all university graduates of Mechanical Engineering, Bio-Engineering, Marketing, and business. The machinery used for the production is installed by the engineers in the team, which she said is one of the challenges.
Another problem facing the team is the cost of the raw materials and the lack of resources to upscale the production line, said Sreynich.


There are only 10 members of the team, all university graduates of Mechanical Engineering, Bio-Engineering, Marketing, and business. Photo provided

Now, around 50 banana fiber bowls can be produced every day with one extracting machine and four production machines, she said. The engineering team is installing more fiber-extracting machines to distribute to the community in Kampong Thom province to accelerate fiber extraction.
"No matter what, we will try to achieve our goal to deliver our products to the market," Sreynich said.
The product will go internationally if the domestic market trial is successful. As Villageworks also works with countries in Europe, the product can potentially appear in the European market, she said.
When asked if her team is concerned about the possible lack of banana trees disrupting the production, Sreynich said a thorough study was conducted prior to the project establishment. The answer is clear: Cambodia's potential for banana fiber is tremendous.
The team, however, also has a backup plan, in which they are now studying and experimenting with hay for bowl production, she said, pointing out the team's goal is to produce many environmental-friendly products using wastes and natural materials.
Sreynich encouraged people to halt plastic usage and use products that can melt into the environment or that are biodegradable to reduce harm to the environment.
"I think we should turn to use any products that do not harm our society and the environment but instead help the community as well," said Sreynich.
The Asian Development Bank will hold a conference called Southeast Asia Development Symposium (SEADS) 2023, "Imagining a Net Zero ASEAN," on Mar. 30, which will bring together thought leaders, decision makers, and climate action advocates from government, industry, academia, and the development sector to discuss innovative solutions that can help countries focus on becoming net zero economies and rebound from the COVID-19 crisis.
SEADS 2023 will examine how the region can harness new green, innovative, and cost-effective approaches; adopt new technological solutions; accelerate the availability of finance; and deploy other effective measures to support decarbonization in a wide range of sectors while revitalizing economies.
Related Articles