Banknote to mark 15th anniversary of king's ascension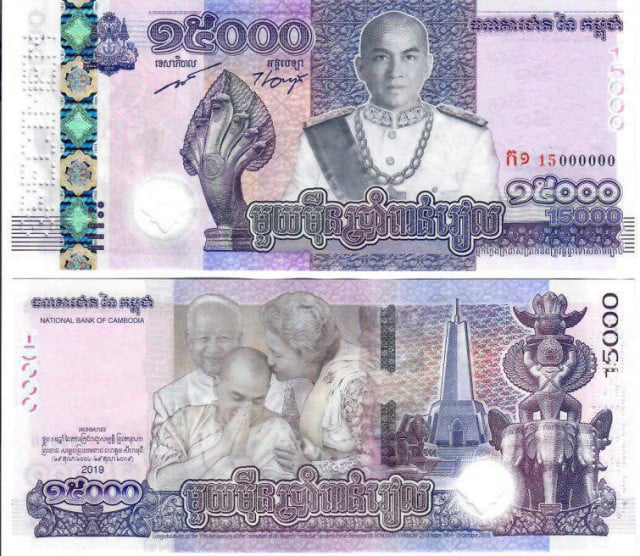 Phoung Vantha
October 7, 2019 9:53 AM
New 15,000-riel denomination will be first among banknotes in current circulation

PHNOM PENH - Prime Minister Hun Sen said Monday that the government had authorized a 15,000-riel banknote to mark King Norodom Sihamoni's 15 years on the throne.
"Today, the government authorizes circulation of the new note on the market," he said during a meeting with 443 students who got A grades in recent Year 12 exams.
"On the front is the king and a naga to mark our bravery. On the back is the king and his parents, and the Win-Win Monument," the prime minister said.
King Sihamoni ascended the throne on 29 October 2004 after his father Norodom Sihanouk abdicated.
Hun Sen's announcement Monday came three days ahead of the 40th anniversary of the re-establishment of the National Bank of Cambodia on Thursday.
Founded in 1954, the central bank was blown up in 1975 by Pol Pot's forces who subsequently abolished the circulation of all currency.
After its reconstruction in 1979, the new People's Bank of Kampuchea started issuing new riel banknotes in 1980.
According to the bank, notes currently circulating include denominations of 100,000 riel, 50,000 riel, 20,000 riel, 10,000 riel, 5,000 riel, 2,000 riel and 1,000 riel. Smaller denominations in circulation are 500 riel, 200 riel, 100 riel and 50 riel.
Related Articles