Be Patient in Myanmar Crisis, PM Tells ASEAN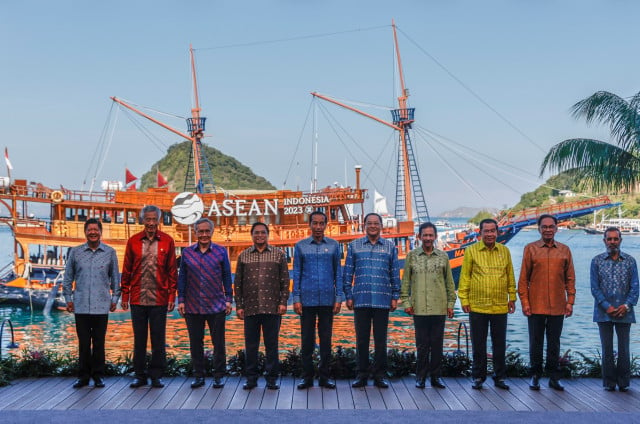 PHNOM PENH – Prime Minister Hun Sen has told regional leaders that ASEAN should maintain a high degree of patience, flexibility and creativity, and explore any approach that may help Myanmar restore peace and return to normalcy.
The PM was speaking at a series of meetings on the sidelines of the 42nd ASEAN Summit and Related Meetings in the Indonesian tourist town of Labuan Bajo. The two-day summit started on May 10.
Indonesia took over the role of leading ASEAN's dealings with the Myanmar junta from Cambodia, which held the bloc's chairmanship in 2022.
Hun Sen was the first head of government to visit Myanmar after the military ousted the democratically elected government in February 2021.
His visit prompted criticism that he was legitimizing the junta's rule. Critics pointed also to Cambodia's failure to mediate peace and a return to democratic rule.
Hun Sen told regional leaders it was important to ensure the full and effective implementation of the Five-Point Consensus on Myanmar, and ASEAN Leaders' Review and Decision on the Implementation of the Five-Point Consensus adopted in 2022.
He said also that ASEAN must respond to both regional and global challenges in a timely, effective and proactive manner, especially to those on which ASEAN cannot reach consensus without letting them affect the ASEAN Community Building process and regional integration.
He added that in the context of rising geopolitical and geoeconomic competition, ASEAN needs to enhance its relevance and strengthen ASEAN-led mechanisms so that it continues to play a central and leading role in addressing regional and global challenges.
ASEAN leaders also condemned a May 7 attack on a convoy of the ASEAN Coordinating Center for Humanitarian Assistance on disaster management (AHA Center) and the ASEAN Monitoring Team in Myanmar.
Diplomats were travelling in the convoy when it was caught in gunfire in Hsihseng township in Shan state. There were no reports of injuries. ASEAN leaders said the perpetrators must be held accountable.
The Myanmar military blamed anti-junta forces but junta opponents denied involvement.
Related Articles