Betel Leaf Beef Rolls/ Sach Kor Sloek Ka Plu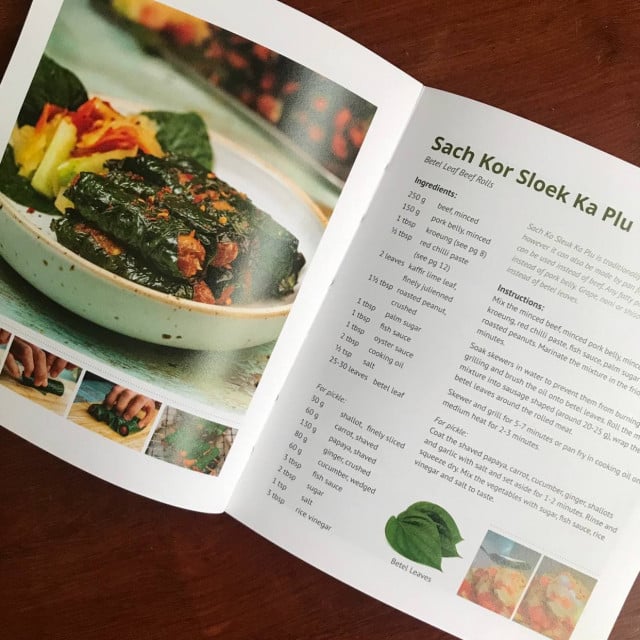 The Ministry of Foreign Affairs and International Cooperation has released a cookbook "The Taste of ANGKOR" to boost the economy and help diplomats bring Khmer culture to the world. The book which sets out 38 dishes and recipes, including desserts, side dishes and meals. The cookbook is was unveiled at the inauguration of "the Implementation of Economic Diplomatic Strategy 2021-2023"

From now on, Cambodian diplomats will have to add Khmer foods to their programs and their missions abroad, in addition to existing programs such as promoting agricultural products, tourism, investment policy and commercial activities. The cook was dubbed "The Taste of ANGKOR", serve as lesson for Cambodian envoys to promote Khmer culture on international forums.

In contributing for the promotion of Khmer Food, Cambodianess has the honour to introduce Sach Kor Sloek Ka Plu.

Ingredients: 250g of beef, minced; 150g of pork belly, minced; 1tbsp of kroeung; ½ tbsp of red chilli paste; 2leaves of kaffir lime leaf, finely julienned; 1 and1/2tbsp of roasted peanut, crushed; 1tbsp of palm sugar; 1tbsp of fish sauce; 1tbsp of oyster sauce; 2tbsp of cooking oil; ½ tsp of salt; 25-30 leaves of betel leaf
For pickle: 30g of shallot, finely sliced; 60g carrot, shaved; 130g of papaya, shaved 80 g ginger, crushed; 60g of cucumber, wedged; 3tbsp of fish sauce; 2tbsp of sugar; 1tsp of salt ; 3tbsp of rice vinegar.
Sach Ko Sleuk Ka Plu is traditionally grilled on a charcoal grill, however it can also be made by pan frying. Chicken, veal, lamb can be used instead of beef. Any fatty part of meat can be used instead of pork belly. Grape, noni or shiso leaves can be used instead of betel leaves.
Instructions: Mix the minced beef, minced pork belly, minced garlic, kroeung, red chilli paste, fish sauce, palm sugar and crushed roasted peanuts. Marinate the mixture in the fridge for 15-20 minutes.
Soak skewers in water to prevent them from burning while grilling and brush the oil onto betel leaves. Roll the meat mixture into sausage shaped (around 20-25 g), wrap the betel leaves around the rolled meat.
Skewer and grill for 5-7 minutes or pan fry in cooking oil on medium heat for 2-3 minutes.
For pickle: Coat the shaved papaya, carrot, cucumber, ginger, shallots and garlic with salt and set aside for 1-2 minutes. Rinse and squeeze dry. Mix the vegetables with sugar, fish sauce, rice vinegar and salt to taste.
Related Articles