Better Waste Management Needed to Protect Mekong River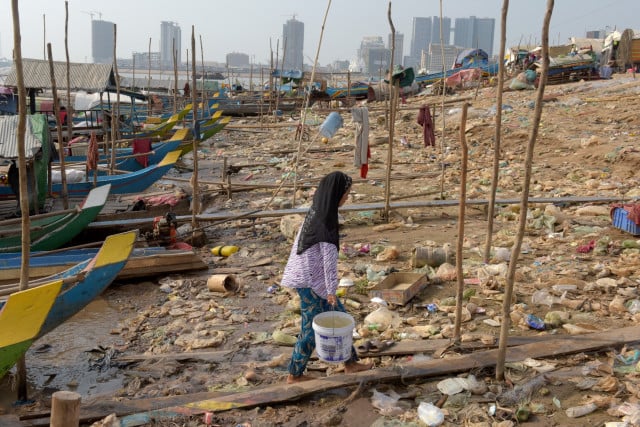 PHNOM PENH – Environmental institutions sound the alarm. Plastic pollution in the Mekong River gets more and more concerning, as the amount of plastic waste dumped in its waters keeps increasing, mostly because of a dreadful lack of waste management along its shores.
According to the Mekong River Commission (MRC) Secretariat, the Mekong River is one of the most important transboundary rivers in the world, providing abundant resources for over 70 million people and being home to over 1,100 fish species.
However, it was reported in 2017 that the Southeast Asian river is part of the 10 rivers in the world responsible for 90 percent of the world's oceans' plastic pollution. While the Yangtze River in China is the world's number one polluter, being responsible for about 38 percent of the plastic found in the world's oceans, the Mekong River ranks 10th. The river is responsible for around 4 percent of the plastic found in seas.
Concerns are growing among the MRC member countries – Cambodia, Laos, Thailand, and Vietnam – on the potential effects of plastic debris and pollution on the river and its freshwater fauna. The MRC's Riverine Plastic Monitoring Programme (RPM) estimated that those countries produce about eight million metric tonnes of plastic waste combined per year.
Thailand and Vietnam are the main producers with respectively 3.5 million and 3.3 million metric tonnes of plastic consumed annually, while Cambodia produces 0.3 million metric tonnes and Laos 0.2 million.
Citing the field surveys undergone in 12 major ports of the Mekong River, the MRC Secretariat stated that between 70 to 90 percent of the wastes accumulated in the studied areas were plastic types, such as bottles, bags, and Styrofoam. Combined, they represent a huge proportion of riverine plastic waste.
Although the full scope of the effects has not been well established yet, the MRC estimates that plastic pollution has greatly affected at least 19 freshwater migratory fish species, among which the Mekong giant catfish and the Irrawaddy dolphin.
The species were found entangled in plastic or with plastic waste in their stomachs. Among these 19 species, six are known to contribute to more than 1 percent of the fish catches in the Lower Mekong Basin (LMB), they added.
Cambodia accountable for Mekong plastic pollution
Neth Pheaktra, Environment Ministry's Spokesperson, said there is not yet any exact annual number to monitor how much plastic waste is being thrown into the Cambodian part of the Mekong River. He said that Cambodia produces 10,000 tonnes of waste every day, accounting for nearly four million tonnes a year. Around 20 percent of it is plastic.
However, only 64 percent of the total is collected at landfill sites while the other 36 percent is illegally thrown in public places: into rivers, illegal dumping sites, or burned, with ashes being carried away by the wind.
According to Shomi Kim, Cambodia's country representative of the Global Green Growth Institute (GGGI), an inter-governmental organization dedicated to supporting sustainable growth in developing countries, 218 tonnes of plastics are flowing into the Mekong in the sole city of Phnom Penh during the rainy season, as heavy rains tend to carry more trash.
She said that, in Cambodia, the increasing volume of waste being thrown away in the Mekong is due to two main causes: the government's ineffective waste management throughout the country and the lack of knowledge of people about the impacts of plastic on the ecosystems.
"It is especially true for the populations who live nearby or above the river's waters," she added. "But the main issue remains not to have any government-led recycling initiatives."
"No formal source separation mechanisms are put in place that can incentivize recycling at the community level, therefore, all types of wastes are mixed and disposed of together. Otherwise, much more plastic waste can be properly collected and recycled," the representative said.
The MRC Secretariat also stressed that in its four member countries, people still don't understand that a piece of plastic thrown in nature will very likely end up in the Mekong River, and thus in the sea.
Suggestions and solutions to reduce plastic pollution in the river
GGGI suggested that citizens should start separating recyclable materials in separate bins, so it eases the task of informal waste collectors, and avoid small pieces of plastic to fell on the ground.
Then, proper recycling and waste-collecting systems must be set up, said Shomi Kim.
"Therefore, both government & community-led campaigns on source separation and recycling initiatives should be organized frequently. The waste recycling value chain in partnership with informal waste picker should be set up before this raising awareness campaign is organized to motivate the citizen to participate," she said, adding that schools are a good place to start on waste recycling. In addition to giving future generations good habits from a young age, children tend to be the best way to change their parents' behavior.
In addition, Environment Ministry's Spokesperson Pheaktra said there is a sub-degree for plastic use management for both waste collection service providers and plastic users.
It includes implementing a price for plastic bags in supermarkets – 400 riels per bag – to limit their use. The money generated through their sales will also be used to improve plastic pollution management: from launching campaigns to encourage people to reuse their plastic bags, to develop more bioplastic-based products, or urging people to recycle, reuse, reduce and refuse more – what is referred as the 4Rs policy.
The sub-degree will also cease the import of single-use plastic in the country, and increase waste collection services within public areas by supplying technical work and materials.
The Environment Ministry is also cooperating with local authorities to spread awareness of plastic's negative impacts (such as from burning and throwing into water resources) and carrying out the plastic-for-rice exchange program in which people receive rice or food in return for the plastic wastes they have collected.
"The ultimate aim is to ensure a healthy Mekong River free of plastic," the MRC Secretariat said.
Related Articles