Blended Learning Opens New Horizons for Young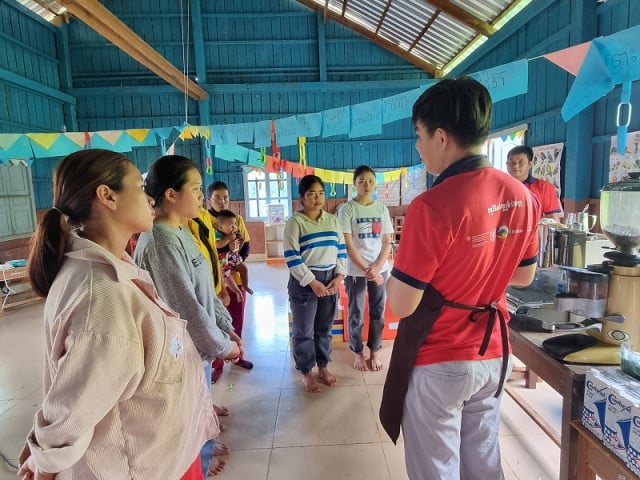 PHNOM PENH - - More than 200 vulnerable young people have been helped to get good jobs and higher incomes under a Swiss-supported program to ensure they get quality training.
The Skills Development Program (SDP) is a project of the Swiss Agency for Development and Cooperation supporting the Ministry of Labor and Vocational Training.
It involves a blended or hybrid learning, an approach combining technology used for teaching, distance learning and hands-on activities in the classroom.
The method was developed under the auspices of the SDP and the Department of Standards and Curriculum of the Labor Ministry, partnered with the National Technical Training Institute.
It aims to help students and trainees to keep studying during the COVID-19 outbreak, and particularly to respond to technical and vocational education and training needs for Industry 4.0.
This approach was implemented in 2021, starting with the development of curricula and the training of technical teachers in the blended learning strategy.
The approach was implemented in the target provinces Kratie, Preah Vihear, Stung Treng, Ratanak Kiri, and Mondul Kiri and technical training institutes in Siem Reap and Phnom Penh, focusing on skills in building electrical wiring, domestic refrigerate air-condition services, barista and beverage, cooking, and beauty and salon.
Trainees study for seven months, including four months of theory and practical training at the institute or a suitable location in the community and three months for hands-on training at partner enterprises.
Blended learning focus on hands-on learning rather than theory, with about 30 percent of theoretical studies and about 70 percent of hands-on practice following the principles of technical and vocational education and training.
technical and vocational education and training.
"This approach is especially important for trainees living far from the center. They can study the theory at any suitable place online using the zoom and telegram application, while the trainers will visit the communities," said Meas Vishnu, an air-conditioning trainer from the National Institute of Entrepreneurship and Innovation (NIEI).
"This method is as effective as studying at the center and even saves time and money on travel."
Pheng Songlini, a trainee in coffee brewing skills from Mondulkiri, said, "I think that blended learning is really good for me. Firstly, it saves time, while secondly, I can learn in my community by just having the internet."
"On the other hand, my community is isolated where it is difficult to find a school to learn this skill. So, this program is really important for me and the whole community," she added.
So far, 229 trainees, including 104 females, have graduated from this project. Trainees can earn up to $250 per month from their skills, according to the report of the partnered institute.
The Skills Development Program is a project of the Swiss Agency for Development and Cooperation. The second phase of the SDP (2020-2024) is being implemented by Swisscontact and the Institute for Vocational Training, Labour Market and Social Policy, in collaboration with the Ministry of Labor and Vocational Training and the Ministry of Tourism.
The program carries out activities in collaboration with national and sub-national administrations, the National Employment Agency, public and private training providers, as well as companies and small enterprises in the hospitality and other sectors.
Related Articles