Blinken dismisses China's 'marriage of convenience' with Russia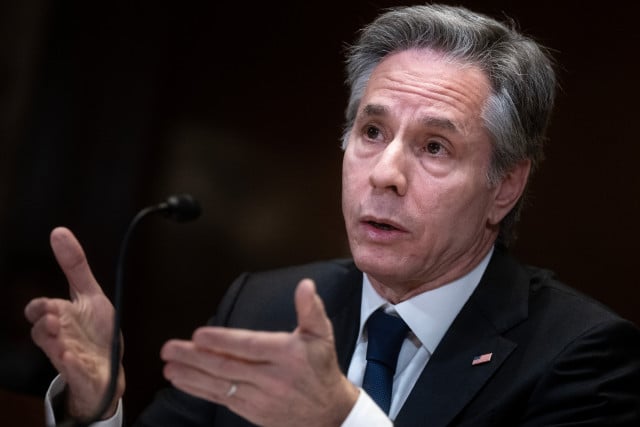 Washington, United States -- US Secretary of State Antony Blinken on Wednesday brushed off China's diplomacy with Russia as a "marriage of convenience," and said Beijing had not yet provided military aid to "junior partner" Moscow to fight in Ukraine.
President Xi Jinping on Wednesday closed a trip to Moscow that was closely watched in Washington, which considers China the greatest long-term adversary of the United States -- and which is also supporting Ukraine in its fight against Russian invaders.
"In part as a result of having this very different worldview than we do, they have a marriage of convenience. I'm not sure if it's conviction," America's top diplomat told the Senate Foreign Relations Committee.
"Russia is very much the junior partner in this relationship," he said.
Blinken said that while China was pushing an "illiberal" vision to replace the US-led world order, "I'm not sure Russia or Putin actually wants a world order -- maybe more like world disorder."
Blinken has publicly warned for weeks that China is considering Russian requests for weapons to fight in Ukraine, with some reports indicating limited shipments by Chinese companies to Moscow.
"As we speak today, we have not seen them cross that line," Blinken said in response to a question on whether China was providing "lethal aid" to Russia.
Russia, one of the world's top military powers, has been obliged to rely on Iran and North Korea for supplies as it suffers losses in Ukraine, according to US intelligence.
Xi in Moscow promoted a Chinese proposal for a ceasefire in Ukraine -- a call met with skepticism by the United States, which fears Russia would use a pause to regroup battered forces on the ground.
"I think their diplomatic support, their political support, and to some extent material support for Russia certainly goes against our interest in bringing this war to an end," Blinken said of China.
- Downplaying Middle East role -
US tensions with China had been easing slightly earlier this year, with Blinken planning a trip to Beijing -- which he abruptly cancelled after a suspected Chinese espionage balloon was spotted over the United States.
Xi in a fiery speech earlier this month warned of "conflict of confrontation" with the United States.
China has also stepped up diplomacy in the Middle East, where the United States has historically been the top power-broker.
China announced last week that rivals and major oil producers Iran and Saudi Arabia would restore ties.
Blinken, while saying that the accord had positive results, downplayed China's role, saying that Riyadh and Tehran had already been working to patch up.
"I think what China did, cleverly, was to at the very end of that process take advantage of the work that these countries have done, and then basically host the conclusion of the agreement," he said.
- Encouraging Putin arrest -
On the first of two days of testimony to Congress, Blinken also said the United States would encourage other countries to extradite Putin if he visits following an arrest warrant issued by the International Criminal Court.
"I think that anyone who is a party to the court and has obligations should fulfill their obligations," Blinken said.
But he stopped short of saying the United States, which is not part of the court, would do so itself, calling the question "hypothetical."
"I don't think he has any plans to travel here soon," he said of Putin.
Blinken was responding to questions from Republican Senator Lindsey Graham who said the United States should arrest Putin if he steps on US soil.
The United States has historically been hostile to the ICC, with the previous Republican administration of Donald Trump imposing sanctions on the court's then-prosecutor for probing US military actions in Afghanistan.
Trump's successor Joe Biden has improved relations with the court and dropped the sanctions, although a 2002 US law prevents Washington from formally assisting it.
Putin has not visited the United States since 2015 when he attended the United Nations General Assembly in New York.
Russia is part of the Asia-Pacific Economic Cooperation forum, which holds its summit in November in San Francisco, but it is highly unlikely the United States would invite Putin.
© Agence France-Presse
Related Articles