Boeung Tamok Lake's Residents Face Court Action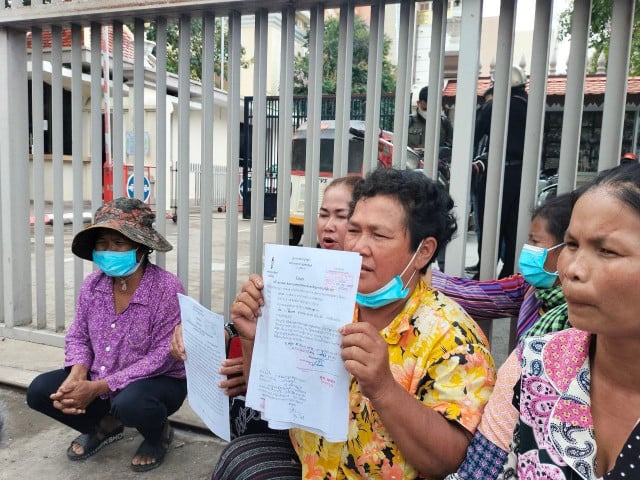 PHNOM PENH – Residents at Boeung Tamok lake's Samrong Tboung village were summoned and will appear in court one after another, following a complaint filed on​ charges of obstructing, incitement, and creating public disorder in the public space.​​
Prak Sophea, a representative of 250 families living in 108 houses located on the south bank of the lake, who appeared in court on Aug. 2 in the morning, shared that the Phnom Penh Municipal Court issued summonses to appear for 16 residents living around the lake. Seven of them are from her community, while five are from Ponhea Pon commune, in the northwestern part of the lake. It is not known where the remaining four summoned people are from.
Sophea denied people from Samrong Tboung committed any of the alleged charges. While Tamok lake is being filled in to make way for private and government developments, the entire community faces eviction. But residents plead not to be relocated and request the projects to be carried on with them still living there.
On May 3, members of the community gathered and protested as the Prek Pnov district's authorities were preventing them from repairing their houses. They begged the authority forces not to dismantle their homes, and carried pictures of Prime Minister Hun Sen, hoping to get an intervention from him, Sophea said.
"We were repairing our houses as they were too old and decaying, but the district administration came to stop us," Sophea said. "We had requested permission to undertake repair works from the authorities, but they refused. We can't live in broken houses, but the district administration deployed their forces and accused us of using inappropriate words".
"We have the video as evidence, showing we didn't use any inappropriate words towards them. I refuse to accept any allegations that we caused the social disorder and obstruction."
Sophea's summon warrant was issued on June 14 by deputy prosecutor Tong Ratana, representative of the Prosecutor's Office at the Phnom Penh Municipal Court. The complaint was filed by Meas Sambor who is said to be the head of security in Prek Pnov district. Sambor sued the residents for committing obstructing, incitement, and creating public disorder on Feb. 28 and May 3.
Seven residents' representatives, all from Samrong Tboung village, are to appear in court on Aug. 2, 3, 4 and 9. In addition to Prak Sophea, the list names Ken Say, Phorn Sokhom, Kong Toeu, Phorn Som, Tan Khti, and Am Phoeun.
Phorn Sokhom said she was summoned on Aug. 2 at 2 p.m. She said she was not nervous to show herself in court. She had never committed any wrongdoings as she and her community were only trying to seek an acceptable solution to the land dispute.
Among 108 houses, families of four houses have sold their houses to the district authorities for about $9000 each, while the families of the other 104 houses demand to remain in their current location, she said. Her community has received a ​stamped letter, issued on July 19, from National Assembly President Heng Samrin, urging the city authorities to solve this dispute appropriately.
On June 29, residents at Boeung Tamok lake's Samrong Tboung village also filed a petition to Prime Minister Hun Sen, asking him to step in over their eviction without acceptable compensation.
"We did not obstruct the road. We were just gathering, showing the picture of Prime Minister Hun Sen, asking for intervention," Sokhom said, referring to the May 3 incident.
More summonses on Tamok's northwestern side
Seng Oeurn, a resident at Ponhea Pon commune, Prek Pnov district on the northwestern side of Boeung Tamok, said he was also summoned to appear on Aug. 17. He has been sued in connection with the incident on Feb. 28, where some 50 government officials demolished 11 houses of residents. He said five representatives in his community have been summoned.
The 11 families whose homes were destroyed reportedly refused compensation packages offered by the government, which amounted to $500 and a 5x18-meter plot of land in Ponsaing commune, to the west of Boeung Tamok.
However, Oeurn said there are more than 20 families in his community, but they have agreed to accept the compensation as they feared they would end up with nothing at all. He and the other six families were the last to accept the compensation as the authorities said they would evict their houses after the election.
"I left my old house 10 days before the election took place," he said.
Oeurn said he will appear in court because he and his community did not commit any violence on Feb. 28 as the complaint has claimed. There was a wedding reception while the authorities came to demolish the residents' houses, he said, adding that, "we were only trying to stop the authorities from destroying the wedding ceremony and our houses."
"I accepted the compensation, hoping to end all conflicts. But, after agreeing to accept, I received the summon warrant," said Oeurn, adding that he did not know from whom he should request help.
Thim Sam An, a newly elected governor of Prek Pnov district, said he will look into the issue and will serve the citizens as much as he can.
Phnom Penh Municipal Court Spokesperson Ey Rin declined to answer the reporter's questions and suggested contacting another spokesman, Plang Sophal, who could not be reached for comments.
Seang Muoylay, director of urban rights NGO Sahmakum Teang Tnaut's (STT) Housing Rights and Research Project, said the authorities should not impose judicial measures on citizens regarding land disputes. That means more pressure is put upon them.
"I think what they have done is only to show their worries to the leaders while the local authorities ignore their concerns. That's why they are trying to spread their concerns," he said.
Boeung Tamok spans across two districts, six communes and 25 villages, with around 1,000 people living off the lake by raising fish, growing aquaculture, farming and running small businesses, according to STT.
The organization released data on Feb. 10 showing that through 43 decrees, more than 2,000 hectares of Boeung Tamok–which totals 3,239.7 hectares–had been handed over to public and private interests as of December 2021.
Roughly 63 percent of the lake has been signed over to public institutions, private companies, and powerful individuals, STT said, after Boeung Tamok was declared state-private property—which can be rented or sold by the government—in 2016 under Sub-decree No. 20.
Related Articles