Bokator Aims for the Olympics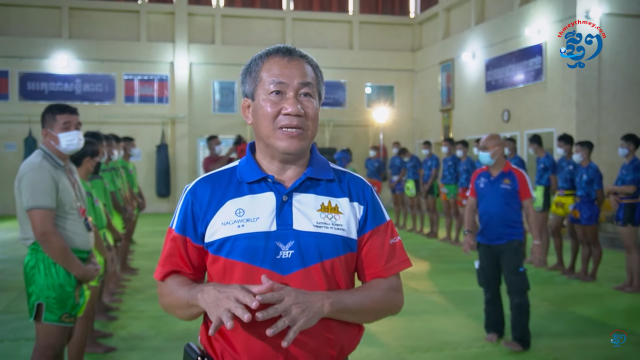 PHNOM PENH – For centuries, bokator has been a prestigious martial art of Cambodia. Depictions of this art of fighting are sculpted in the country's temples.
It suffered deep decline during the Khmer Rouge regime but Cambodia is actively reviving this art domestically and abroad.
On Nov. 29, UNESCO officially inscribed bokator on the Representative List of the Intangible Cultural Heritage of Humanity at the 17th session of the Intergovernmental Committee for the Safeguarding of the Intangible Cultural Heritage in Rabat, Morocco.
Vath Chamroeun, president of the Cambodia Kun Bokator Federation and president of the National Olympic Committee of Cambodia, made two approaches in the preservation of this martial art.
"As a vision of the Cambodia Kun Bokator Federation, we want this martial art to become a well-known sector inside the society", he said as, besides considering it a sport, he also tries to preserve this martial art in pagodas.
"We think that these are good places to implement bokator education. This is to safeguard the spirit of our national heritage and the spirit of our ancestors".
Beyond the border, the nation, and in particular the Cambodian Kun Bokator Federation, is working through the procedures, integrating it as a regional sport and making its way gradually to become a global sport and a sport for the future Olympic Games. However, the federation needs the support of 70 countries before it can get started.
"How can Japan integrate their judo into the Olympics? How can Korea do the same with their taekwondo? If Cambodia has its own martial art, why cannot we do it? This is our vision both for the domestic level and the international level", Chamroeun said.
As the Intangible Cultural Heritage of Humanity, beside bokator, Cambodia has also included the Khmer shadow theatre sbek thom, tugging rituals and games, and the Royal Ballet of Cambodia.
Ky Chamna contributed to this story.
Related Articles