Book on Cambodia's ASEAN Chairmanship Launched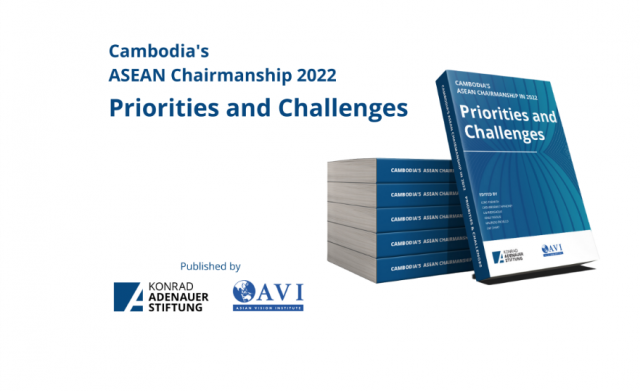 The work outlines the challenges Cambodia may face in view of, among other things, geopolitics in the region
PHNOM PENH--A book on Cambodia's ASEAN chairmanship was launched on Dec. 3 as the country is set to lead the regional grouping in 2022.
"Cambodia's ASEAN Chairmanship in 2022: Priorities and Challenges" is the title of the book co-produced by The Asian Vision Institute (AVI) and Konrad-Adenauer-Stiftung Cambodia (KAS Cambodia) foundation.
The 240-page book, which took nearly a year to complete, contains the perspectives and opinions of 20 authors on the priorities and challenges Cambodia will face during its ASEAN chairmanship in the coming months.
At the book launch held in Phnom Penh, Eat Sophea, secretary of state at the Ministry of Foreign Affairs and International Cooperation, congratulated the publishers and authors, and pointed out that Cambodia will be in the center of global attention as the country navigates ASEAN.
This association of 10 countries is currently facing major challenges including COVID-19 recovery, competition and conflicts among superpowers as well as regional and security issues such as disputes in the South China Sea, Sophea said. Moreover, climate change is also another critical issue that needs greater attention from the group, she added.
"All these issues are long-term," Sophea said. "The eyes of the world will be on ASEAN's chair."
German Ambassador Christian Berger also congratulated AVI and KAS Cambodia for having managed to release the book in a timely manner. "It is a good job that AVI and KAS Cambodia submitted today's subjects…although the Cambodian government has solved some problems so far, but there are more to tackle," Berger said.
Maurizio Paciello, program manager for international affairs at KAS Cambodia and also one of the book editors, said that the book had been produced to contribute to supporting Cambodia's chairmanship.
"It is not only a book to read but also a challenging one, a thought-provoking one," Paciello said, "[It is because] we want Cambodia to succeed chairmanship, and then ASEAN next year will succeed, too. It is a year of common opportunity for Cambodia."
Consisting of 15 chapters divided into three parts, the book highlights the past, present, and future of ASEAN as well as the internal and external challenges encountered by the organization. Moreover, the book specifically singles out the priorities and challenges Cambodia will face during its chairmanship in 2022.
The first part contains three chapters, which are about ASEAN community building from inside and outside perspectives. The second part on ASEAN and external relations consists of five chapters. Lastly, the third part executively addresses the priorities and challenges for Cambodia during its ASEAN Chairmanship, which are explained in six chapters.
Lim Chhay, one of the editors and the author of one the chapters, raised in his chapter the issue of youth engagement as a way to encourage community building, arguing there is a significant role of youth diplomacy in ASEAN and its community building process.
"This publication is produced to identify opportunities and challenges ASEAN may face during Cambodia's chairmanship and also serve as a solid piece of policy-oriented research, which provides diverse perspectives from policy advisors, scholars, think-tankers, researchers, and practitioners," Chhay said.
"ASEAN needs to have both top-down and bottom-up diplomacy—both of which should complement each other," he said. "ASEAN community building requires more political will and effort."
Related Articles