Book on China's BRI, its implications for Cambodia's development launched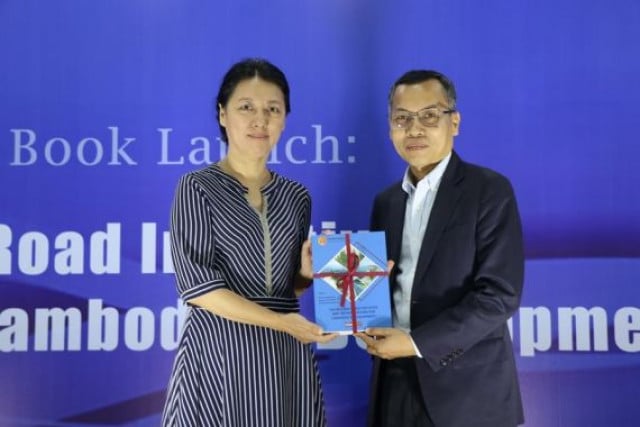 Xinhua
October 13, 2019 2:34 AM
PHNOM PENH--A 190-page book titled "The Belt and Road Initiative and Its Implications for Cambodia's Development" was launched here on Friday.

Authored by a group of Cambodian prominent scholars, the book was published by the Cambodia 21st Century Maritime Silk Road Research Center (CMSRRC) of the state-run Royal University of Phnom Penh, said CMSRRC's Director Neak Chandarith.
He said the book offered rich deliberation and recommendations on political and strategic, economic and financial, socio-cultural and environmental implications of the Belt and Road Initiative (BRI) on Cambodia's development.
"With its eight chapters, the book walks readers through different puzzles and offers a number of theoretical and methodological approaches towards comprehending the puzzles," he told Xinhua during the book launching ceremony.
Chandarith said the book introduced readers to the background and objectives of the BRI before elaborating on all-round cooperation between Cambodia and China under the BRI.
"Beyond economic development, the BRI also presents itself as a way toward building peace and friendship among countries by enhancing mutual understanding, trust, and strengthening all-round exchanges," he said. "Its cooperation priorities are not only on facilities connectivity, unimpeded trade and financial integration, but also on policy coordination and people-to-people exchanges."
According to the book, Cambodia saw the BRI as a new source of economic growth via infrastructure development, industrialization, trade and investment expansion as well as tourism growth.
"China will continue to rise and exert more influence over regional and global economic and political order," the book wrote.
Zuo Wenxing, political counselor of the Chinese embassy to Cambodia, praised the group of scholars for making the book a reality.
"We believe this book will become a new window for people from all walks of life in Cambodia to learn about the BRI, and will play a positive role in pushing China-Cambodia relations to a new height," Zuo said at the event.
The BRI, a reference to the Silk Road Economic Belt and the 21st Century Maritime Silk Road, was initiated by China in 2013 with the aim of building a trade, investment, and infrastructure network connecting Asia with Europe and Africa along the ancient trade routes.
In the past six years, the infrastructure cooperation between China and the participating countries have been advanced steadily, with a large number of railways, ports, energy projects successfully launched, which have greatly promoted the inter-connectivity of the countries, she said.
The synergy between BRI and Cambodia's Rectangular Strategy has been further deepened, she said. "Bilateral cooperation in areas of production capacity, trade, investment, agriculture and infrastructure construction has maintained a good momentum of development."
Related Articles