Border agreement to be signed during Hun Sen's visit to Vietnam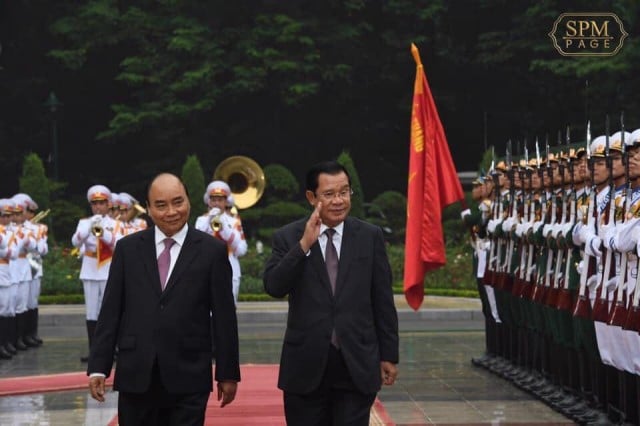 Phoung Vantha
October 4, 2019 12:17 PM
PHNOM PENH--Prime Minister Hun Sen is on a two-day visit to Vietnam to discuss strengthening of bilateral ties and to preside over the signing of an agreement acknowledging official land boundary between the two countries.

The Cambodian prime minister and his Vietnamese counterpart, Mguyen Xuan Phuc, held talks in Hanoi on Friday.
Following their discussion, the two leaders presided over the signing of seven bilateral agreements on aid, border trade, and energy cooperation, according to Hun Sen's Facebook page.
On Saturday, Hun Sen and Nguyen Xuan Phuc will preside over another event where officials from both counties will sign two documents to acknowledge the completion of 84 percent of the land boundary demarcation work.
Cambodia shares a 1,270-kilometre land border in the east with Vietnam.
In his speech at the Vietnam-Cambodia Investment and Trade Promotion on Friday, Hun Sen thanked Vietnam for helping overthrow the Khmer Rouge regime in 1979.
"What Cambodia has till this day cannot be separated from the generous support of the Vietnamese army and its people," Hun Sen said. "Moving forward, we must continue to strengthen this relationship in order to expand trade, economic cooperation, and investment across all sectors."
Var Kimhong, chairman of the Cambodia Border Affairs Committee, said the two countries will continue negotiation on the remaining stretch of the border – some 16 percent out of the entire length of 1,270 km – that is yet to be demarcated.
"We have to negotiate again and again until both parties agree. But we cannot determine yet when it will end," he said.
Related Articles