Breaking Traditional Norm of Early Marriage to help Indigenous Young Girls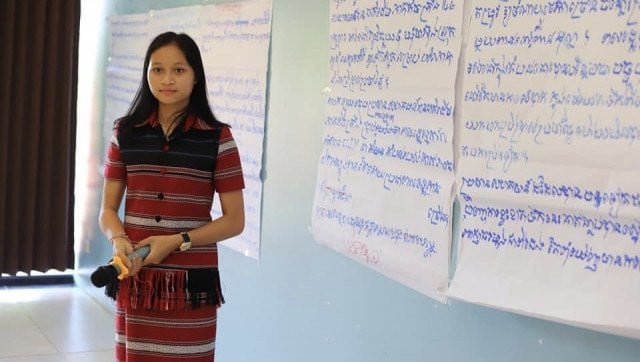 Lek Karry, an exemplary indigenous young woman, overcomes her parents' traditional pressure of early marriage to pursue her studies
RATANAKIRI – Due to traditional mindset and lack of education many young indigenous women are still forced to get married at an early age. But that is not the case of Lek Karry, a 19-year-old Brao indigenous woman from Ratanakiri province, who is fighting against these traditional beliefs to defend her own education.
Although she is still in her teenage years, Karry has been involved in social work for more than two years, focusing on promoting education and early marriage issues for young indigenous people.
Karry is an 11th-grade student at Ta Veng High School, about 50 kilometers north from Banlung provincial capital city. On top of her study schedule, she takes most of her free time to volunteer in her community, promoting the value of education and stressing the social issues and potential health damages caused by early marriages.
"I study full-time at school on weekdays, therefore I am only free on Saturday and Sunday for community work. Combining both studying and working is really tiring but I think it's not a serious problem as it takes a lot to initiate great social changes. If you want a better life, you have to sacrifice time and energy for it," said Karry.
However, her activities and achievements have not gained the support she expected among her community, especially with her parents, even though her positive impacts on indigenous communities have been acknowledged by national and sub-national authorities and many development organizations.
No support from parents as the only family's daughter
"My family does not support my community work because they are afraid that I will learn too much. They have the mindset that a daughter cannot go anywhere far from home and cannot take an important job. They didn't support me when I wanted to attend meetings on education programs in other provinces or in Phnom Penh. Nor did they support me when I was appointed as the 'Ambassador of India to Cambodia for a day' on March 30, 2022, as a sign of support for my commitment," Karry said with a sad tone.
Despite the lack of encouragement and support from her parents, Karry is still moving forward with her work to show the whole community that girls must be able to get an education, be independent and capable of earning a living without relying on men.
Being the eldest child in the family with two younger brothers, Karry has been used to leading the way since her young age. "I want to encourage indigenous girls and other girls in Ratanakiri to dream big and to be leaders in the future," she said.
Girls in Ta Veng district start focusing on education rather than marriage
Karry is a potential role model for girls in Ta Veng district, said Kaping Pich, deputy governor of Ta Veng, Ratanakiri province, adding that all the work the young lady undertook has encouraged other girls to give up the idea of early marriage and try to seize the opportunity for having a proper education.
"The number of girls getting an education in Ta Veng has increased, especially since COVID-19. Actually, some female students are better than males," Pich said.
According to the deputy governor, the increase in enrollment of indigenous girls in the district is due to the promotion of local authorities and development partners, Lek Karry's role model, and the understanding of some girls' parents on the value of education.
The active participation of Plan International, an international NGO focusing on children's education, also contributed to the growth of the girls' education, said Yi Kimthan, deputy country program director of Plan International Cambodia. In the last three years, the organization has done a lot of educational work on the reduction of young marriages and teen pregnancies in Ratankiri's indigenous communities.
"At Plan Cambodia, we work to improve the quality of education at the secondary level by providing scholarships to students and organizing classes for children and girls where we teach them about sexual and reproductive health," Kimthan explained.
The INGO also focuses on vocational training for girls who drop out of school, teaching them specific skills to earn a living by themselves.
In the past two years, the flow of girls' enrollment has increased significantly. That is because of the large participation of Lek Karry, an indigenous girl who has the ability to mobilize resources to help young people in her community to get an education and has positively impacted by setting herself as a good example for children and youth in ethnic minority communities.
Related Articles