Bridging Cross-Cultural Gaps in the Workplace: Cambodia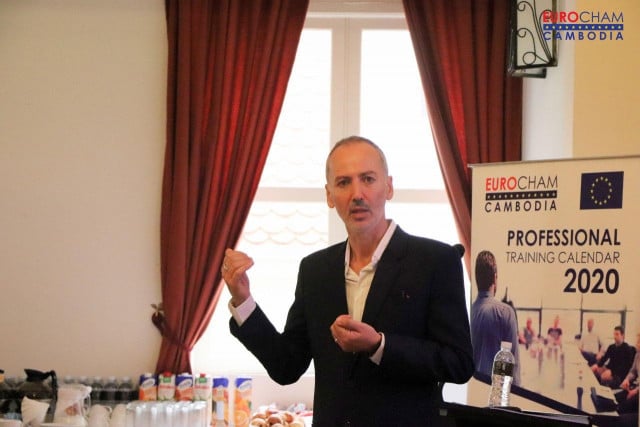 Jazmyn Himel
January 30, 2020 8:31 AM
PHNOM PENH—It's bright and early Wednesday in Phnom Penh where a conference room is filled to the brim with foreigners and Cambodians eagerly waiting for a lecture on an age-old challenge for expats and locals everywhere: how to culturally understand each other.

"Things to Anticipate for Expats" reads largely on the screen as the speaker—Artisans Angkor CEO Pierre André Romano—gets ready to unpack the lengthy question of culture barriers at the EuroCham Cambodia's breakfast talk.
Cultural differences, sense of time, relationship building, negotiation, underestimation, overestimation, making no effort to understand foreign-work culture, and non-verbal communication: These were among topics to address.
In most situations, Romano said he found that expats often underestimated Cambodians while Cambodians were more likely to overestimate expats' work ability.
In addition, an expat's sense of time may not always be compatible with the one in his host country, he said.
As a Cambodian in the audience pointed out, "Cambodians prioritize family over work, which often intersects with scheduling, whereas westerners often prioritize their work." Some westerners in the audience pointed out that it was less a matter a of work ethic than one of cultural prioritization.
In an interview after his talk, Romano said that, in his case, cross-cultural differences had not been as difficult to overcome when he started at Artisans Angkor since he had some prior understanding of the country. Still, he added, "[i]t's a complicated country culture."
At Artisans Angkor, he said, "half the company is Cambodian [staff] and half is French. The cross-cultural issues in the company and in managing different shareholders with sometimes different visions or targets [can be a challenge]. The good thing is that we meet very often."
Which, he said, is key to Artisans Angkor's cultural unity. "That's how we manage to move forward…because without this we won't be able to perform," Romano said. "We meet and share a lot with shareholders with the mixed team, French and Cambodians all together."
Related Articles
February 11, 2022 11:20 AM