British Minister Amanda Milling: Engagement with Myanmar Should Abide by Five-Point Consensus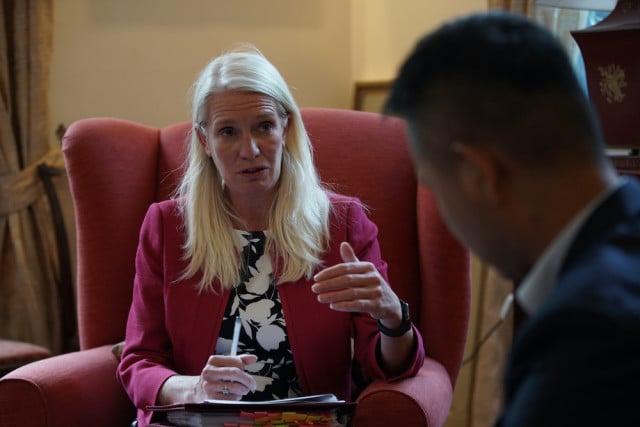 During her two-day visit to Cambodia, British Minister of State for Asia Amanda Milling said that she offered UK support as ASEAN shapes its approach to the Myanmar crisis
PHNOM PENH--The United Kingdom's Minister of State for Asia, Amanda Milling, said that the UK wants Cambodia's engagement with Myanmar's junta to remain strictly in line with ASEAN's Five-Point Consensus with inclusive process.
The British Minister, who arrived in Cambodia on Jan. 9 for a two-day visit, said that the UK has been clear in condemning the coup and subsequent violence but welcomes Cambodia's appointment of Foreign Minister Prak Sokhonn as ASEAN's special envoy on Myanmar.
"The UK supports ASEAN's efforts on Myanmar and anything [which] is clear in terms of the importance of the Five-Point consensus being implemented immediately by the junta," Milling said on Jan. 10 during an interview with Cambodianess.
She went on to say that as the latest dialogue partner of ASEAN, the UK wants the engagement with the military in Myanmar to be inclusive of all parties and aims to eventually bring about peace and democracy to the country.
In the same interview, Milling also said she would meet with Sokhonn to discuss the approach Cambodia would be taking in terms of the Myanmar crisis.
This came after Prime Minister Hun Sen said that, as ASEAN Chair for 2022, Cambodia would take a different approach by engaging with the military regime that seized power in February 2021 and has since killed at least 1,300 civilians and jailed thousands more.
Hun Sen's two-day visit to Naypyidaw concluded on Jan. 8, after which he said Cambodia had not veered away from ASEAN's consensus, but hit back at critics who derided the trip as unsubstantial. Sokhonn also defended meeting with the junta's top leadership, saying that the crisis was complex and could not be solved in the first visit from the Cambodian delegation.
To what extent Milling or other British diplomats will be able to shape or influence ASEAN's approach to the unfolding crisis in Myanmar remains to be seen, but Milling expressed a desire to see greater cooperation and engagement between the UK and the Southeast Asian bloc.
She noted that the relationship between the UK and the region has reached the new era after the UK was granted dialogue partner status of ASEAN in August 2021, becoming the first to do so in 25 years.
However, she continued, the UK is also now seeking to set out steps, as well as areas, that both sides can work on together.
"For us, one of the key things we look to deliver in coming months is a plan of action on how we will work together over the next five years," said Milling.
The Minister met with civil society groups and shared that UK holds the values of democracy, human rights and freedom of expression.

"Our approach is to listen and engage constructively and look where we can work together," she said. "The UK raises where we do have concerns for example on the use of the judiciary and attacks on freedom of expression."

She referenced a British policy paper detailing an Indo-Pacific tilt, saying that Southeast Asia was, as a region, important to the UK.
"We are really having a good relationship while we are looking forward to deepening that on a number of different issues such as transnational crimes, climate change which we have already been discussing and other also other matters like international response to the COVID-19," she concluded.
Related Articles