Brunei's Looming Oil Crisis: Lessons for Cambodia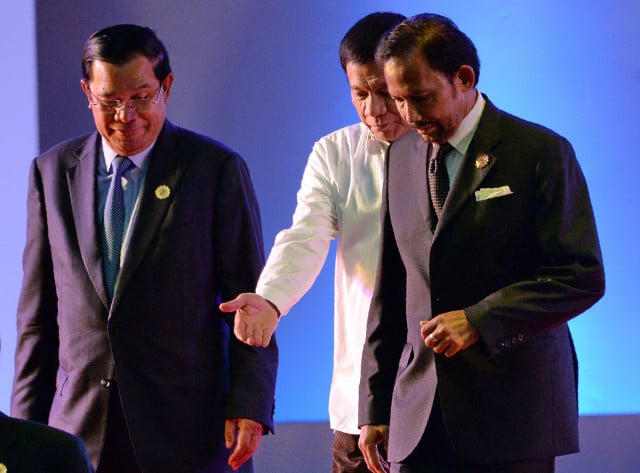 Sultanate faces a grim future with dry wells
As one of the wealthiest countries, Brunei depends heavily on hydrocarbons. However, these are expected to run out in 27 years.
Plans to diversify the economy are meagre but offer insights for Cambodia's development.
The Sultanate, which has a population of 444,000 people, produces about 127,000 barrels of oil per day (B/D) and 243,000 B/D equivalents of natural gas per day, with the vast bulk of the latter being exported.
It's one of the luckiest countries in some ways because it's a small country with a lot of oil. But they have nothing else and are struggling to find something.
With economic stagnation inevitable, the country will remain one of Asia's richest states but will grow increasingly slim. Its government should shift from oil dependence and outline plans to develop other industries.
Since January 2015, the global price of a barrel of oil has dropped 40%, and it has dropped 78 percent since its peak in 2008. Brunei's gross domestic products (GDP) has been shrinking for three years because oil and gas account for more than 95 percent of exports.
According to the ASEAN+3 Macroeconomic Research Office's (AMRO) recently released annual consultation report, Brunei will need a strategic plan that diversifies its sources of revenue beyond oil, because, according to the BP Statistical Review of World Energy 2021, the country's oil reserves are likely to run out in about 2048.
What will happen if the oil runs out?
According to the AMRO annual consultation report, Brunei's high dependence oil makes it highly susceptible to domestic and external shocks to that sector. Domestic risks include disruptions in oil and gas production in mature fields and the uncertain commercial viability of new field explorations in a low oil price environment. The oil shortage will result in consequences for the Brunei economy.
First, the GDP of Brunei would steadily decline.
Second, there will be no more subsidies for basic needs such as automobiles, medicines, or food. It will be difficult for its residents to live because salaries are inadequate.
Third, with no oil, jobs will suffer. Some government employees may lose their employment and others may see their salaries reduced. If that happens, His Majesty may have to pay salaries with his own money.
It will be quite challenging for the tiny nation like Brunei. The country has transformed from a backwater to a country renowned for prosperity since the discovery of oil, especially benefitting the Sultan of Brunei. With no oil, it will eventually go back to being a backwater, maybe even worse, because, for several generations, the citizens have been pretty much-spoon-fed oil money. Furthermore, even though Brunei announced a development plan called Vision Brunei 2035 to build another part of its economy, progress looked meager until recently.
However, it is uncertain whether the presence of oil is a blessing or a curse. Nonetheless, the major concern is the ability of Brunei to sustain its plan, otherwise, it will provide a greater impact on the economic development.
Brunei should consider the way forward to prevent this impact. Its approach to the development of the micro, small and medium enterprise (MSME) sector of the economy should be unified and strategic. For example, a financial support plan for MSMEs may prioritize loans for those in high-value-added industries, and taxation policies could be geared to reduce the costs of doing business for MSMEs in those industries.
Along with these, certain industries typically provide great value to the country, one of which is tourism. This sector can provide thousands of jobs and bring in capital from abroad. It also fosters a sense of cultural interchange between citizens and foreign visitors. If Brunei can couple its eco-tourism initiative with upgrades for its tourist-friendly facilities, it is likely that it won't be long before it achieves its goal.
The only burning question is whether Brunei is serious about improving its tourism game. Lastly, other industries can enhance Brunei's diversification agenda including finance, high-tech manufacturing, and logistics can employ larger numbers of people, pay greater salaries, and have a considerable number of linkages to the wider economy.
Lesson learned for Cambodia
One lesson for Cambodia is the importance of diversifying the economy. It is a tremendous mistake to rely on a single industry for growth.
Cambodia, also a small country, cannot rely on oil resources as much as Brunei does. Aside from the country's faltering oil extraction, Cambodia has decided to concentrate its economy on the textile and tourist sectors.
Unlike Brunei, Cambodia can focus on other aspects between patterns of specialization and diversification by leveraging natural growth prospects, human capital, foreign direct investment and agriculture.
It is insightful that government knows global work. Therefore, studying and preparing for future growth is very important, and the government should focus on many other sectors to foster the economy in the future.
Authors: KEM Darapisey, PIN Sotheavik, and PHAN Kimheng are a group of students from the Department of International Studies, Institution of Foreign languages, Royal University of Phnom Penh.
Related Articles