Building the Digital Foundations for the Future of Cambodia's Classrooms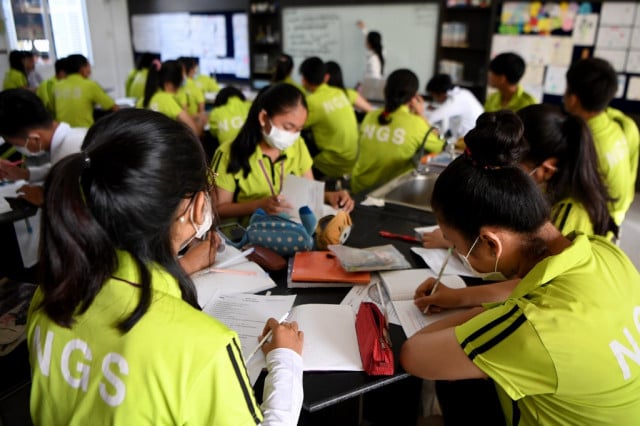 Sao Phal Niseiy
July 5, 2020 9:14 AM
The Ministry of Education, Youth and Sport last week launched a new center for Digital and Distance Learning, aiming to accelerate the digital transformation of education and advance educators' capacity with emerging technology. Sitting down with Cambodianess' Sao Phal Niseiy is Khoun Theara—an education specialist at Cambodian think tank Future Forum—who shares his thoughts on the future of education in a post-COVID-19 Cambodia.
Sao Phal Niseiy: What is your take on the latest move by the government to create an E-learning app as well as a center that aims to boost digital learning?
Khoun Theara: The move is very timely and spot-on. Expediting the digitalization of education is instrumental in assisting students to learn and follow through the curriculum without having to attend class physically. This is essential in the context of the COVID-19 outbreak and, as a longer-term vision, in supplementing with the traditional mode of learning to help students learn better.
Sao Phal Niseiy: Currently, up to 1.5 million students so far remain unable to access the online learning platform. The ministry said that the new center will greatly contribute to disseminating educational content or video lessons to more students, especially those in rural areas. Firstly, will this be enough to address inequality in accessing digital education resources and, if not, what more could be done to effectively and efficiently reduce that inequality?
Khoun Theara: The initiative has a great potential in disseminating video lessons and relevant learning contents to students especially for those living in rural areas. Complementarily, the basic digital literacy skills should also be provided to both teachers and students—the learning modules should be occasionally guided and facilitated by their teachers to ensure learning objectives are met.
It remains to be seen how those video lessons and online tutorials will develop. However, merely using recorded videos of teachers delivering lessons is not enough. The ministry may consider investing in developing a more sophisticated learning platform that is more engaging and interactive, using the concept-based and competency-based learning approaches, for example, through an online dashboard where students can watch digestible video lessons, submit assignments, do quizzes, access relevant reading materials and review their performance. This way, students can track and learn at their own pace, anytime, anywhere and through any device.
Looking into the future, to address the problem at a more systematic level, other important components may also need to be addressed including internet access (affordable, high-speed, and country-wide coverage) and technology subsidies for poor students to access to the necessary learning tablets.
Sao Phal Niseiy: Digital learning will be a key driver in the future of education. How do you see our students' ability to adapt this digital way of learning over the past three months?
Khoun Theara: It is still too early to make an assessment without any tangible learning indicators. But in my observation, while students are usually tech literate, many others—especially those in rural Cambodia—are still struggling since they were not properly trained to take classes online and internet access is also pretty slow there. Given these shortcomings, most students seem not to learn as intended, triggering frustration from some parents to open schools earlier.
Sao Phal Niseiy: What about teachers? Are they fast in adopting technology-based teaching methods?
Khoun Theara: Teachers' ability to adopt technology-based teaching methods is still questionable. A more holistic study should be administered to assess students and teachers' experience and competency adapting to those online platforms.
Sao Phal Niseiy: In addition to digital divides, there is a less interactive and engaging state between students and educators when it comes to online based education. How can teachers create more engaging lessons when working with technology and what cultural or social dimensions need to be taken into consideration?
Khoun Theara: Both teachers and students should not rely entirely on online platforms. While they should be integrated into the classroom setting to supplement the traditional teaching pedagogy, in the post-COVID-19 scenario, other tools should also be integrated into the new learning environment, such as learning games and playgrounds, exposure to local communities and the natural environment through field trips and site visits, and the availability of the Student Lab. These sensorial tools combined will enhance students' learning outcomes. Recent studies show that combination of these tools helps students learn and perform better in tests compared with passive lectures.
Related Articles