Businesses in Siem Reap Province Hope that Vaccination Will Help Revive Tourism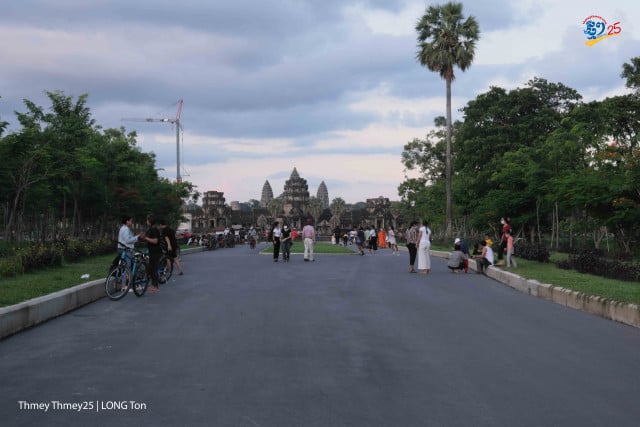 While people in tourism have been struggling during the pandemic, many in the sector are hopeful that vaccination will bring about recovery in the province

PHNOM PENH--Siem Reap Province representatives have been requesting more vaccines for people involved in the hospitality and tourism sector. By vaccinating as many people as possible, they believe that businesses in this sector will once again thrive.
So far, 34,124 people in the province have been vaccinated—most of them Cambodians or former military plus 500 or so taxi and tuk-tuk drivers.
Now, people in the tourism industry are hoping for 30,000 additional vaccine doses for priority groups in the sector such as officials, travel agents and tour guides.
Local businesses are struggling to re-open
Even though the Feb. 20 community outbreak continues with several hundred cases detected each day, there has been a slight improvement in the industry. People once again are eager to go to tourism sites in the country and especially to the Angkor Archeological Park in Siem Reap Province. This has been an incentive for many Siem Reap businesses to work on plans to gradually reopen.
Sa Dina, founder of the Banteay Chey 802 Royal Archery Club, said that he decided to reopen his archery resort after several false starts due to the Feb. 20 community outbreak.
Before this outbreak, his resort had been welcoming Cambodians and other people who live in the country. But just like other businesses in the province, there have been fewer tourists since then, with the number of visitors at his venue declining by up to 80 percent, Dina said.
"Today, we only have fully vaccinated tourists come to visit our place," he said. "In the past, our archery resort attracted a lot of national tourists, mostly from Phnom Penh."
In addition to the archery club, Dina runs Cambodia Amazing Trip Planner, a tourism agency that offers community-based tour packages in mountainous areas and other tourist destinations.
However, the service has been suspended for nearly a year due to the pandemic, and the communities that used to welcome the visitors have lost the revenues they had counted on.
"During this public health crisis, my travel programs were suspended," Dina said. "The people in the communities completely lost income. Many of them decided to return to farming."
Restaurants in Siem Reap City also have been extremely affected by the pandemic and the latest community outbreak. Duk Det, owner of The Butterfly Garden restaurant, said that he was forced to temporarily suspend dine-in service and switch to offering takeaway and delivery service. However, customers remain scarce, he said.
"I have used the rest of my profits to support the operation," Det said. "Even after the inter-provincial travel ban was lifted, my sales have continued to drop because people can just buy food nearby."
Top Sopheak, spokesperson for the Ministry of Tourism, said he has observed that, due to the ongoing COVID-19 community spread, people in the country have not wanted to travel and visit places away from home.
"In the context of COVID-19, people are careful about visiting places: They choose to visit nearby destinations because it is easy to return [home]," he said.
However, Sopheak noted, there has been some improvements.
This month, 76,698 tourists travelled across the country, demonstrating that domestic tourism has slightly rebounded. But the number of foreign tourists remain small.
In 2020, Cambodia lost around $3 billion in tourism revenues due to the pandemic. Moreover, around 2,956 businesses linked to tourism closed and more than 40,000 people became unemployed.
Vaccines bring hope of recovery in the tourism sector
With the current situation remaining dire for businesses, many business owners now prioritize customers who have been fully vaccinated and try to come up with new formulas to attract visitors.
For example, the Archery Club offers people who have been vaccinated promotions such as 20 percent discount on the range, Sa Dina said. He is optimistic that the number of tourists will increase when more and more people get vaccinated, he said.
Duk Det of the Butterfly Garden has partnered with the Archery Club to offer food service and has special prices for people who have been vaccinated. "My restaurant offers a 10 percent discount for fully vaccinated customers…And I hope the government continues to vaccinate more people so we will see more tourists come," he said, adding that, in spite of all his efforts, the number of customers at his restaurants has dropped by 70 percent since the start of the pandemic.
Chhay Sivlin, president of the Cambodia Association of Travel Agents, agreed that the vaccines will help bring the struggling tourism sector back to life, adding that the government has been working with other stakeholders to expedite the vaccination drive, which is a good sign for tourism recovery in the country.
"We are still able to restore tourism," she said. "European countries are starting to check which countries and destinations are safe for their citizens," Sivlin said.
Cambodia has set as its initial target to vaccinate 10 million people by the end of this year. As of June 19, a total of 3,367,870 persons had been vaccinated, that is, 33.11 percent of the authorities' initial goal. Among them, 2,702,329 persons have already received their second doses of the vaccines.
Tourism strategies being developed around coronavirus vaccination
While acknowledging that reopening the country to foreign tourists needs to be done little by little, Sivlin suggested that, in the initial stage, the government also promote air travel connections with neighboring countries and also focuse on tourists from countries with large numbers of vaccinated people.
"We need to attract tourists from countries whose COVID-19 situation has become better," Sivlin said. "We cannot wait for COVID-19 to end."
Even though the vaccination of people in Siem Reap Province will be critical for reopening the province to foreign tourists, priority has been given to areas of the country most affected by the current community spread such as Phnom Penh and Kandal Province. And the vaccination campaign currently is going according to the government's existing plans.
Top Sopheak of the Ministry of Tourism confirmed that the ministry will set up a program to vaccinate tour operators before reopening the country to fully vaccinated tourists by the end of this year. "Since the government has rushed to vaccinate people in Phnom Penh first, there is not a big amount of vaccine doses left," he said. "We hope this will be completed in two months.
"Then the government will distribute vaccines in other target provinces including Siem Reap," he said. "I think it's okay to reopen by the end of this year in accordance with the government's provisions. So, we need to wait."
Actually, restoring tourism in Siem Reap Province has been one of the government's top priorities up to now.
In late March 2021, Prime Minister Hun Sen approved the "roadmap" to restore tourism during and in post-COVID-19 times, which includes the master plan for tourism development in Siem Reap Province 2021-2035.

In this master plan, the government has outlined seven strategies. These include promoting the development of new tourism products, and quality and sustainability of tourism development, environmental protection and infrastructure.
According to the Ministry of Tourism, if all goes as planned, Siem Reap Province will be able to attract 10.9 million tourists based in Cambodia by 2023 and 9.5 million tourists from abroad by 2025. The revitalization of the tourism sector should bring $6 billion in revenues in the Cambodian economy and turn the area around the province into a quality tourism destination.
The Ministry of Tourism data show that, in 2019, Angkor Park attracted more than 2.2 million foreign tourists, generating nearly $100 million in revenues. But with the COVID-19 pandemic that struck the world in 2020, tourism revenues that year dropped 81.17 percent to around $18 million with 400,000 foreign tourists coming to the country.
Related Articles