Cacao Plantation Gains Attention from Farmers in Siem Reap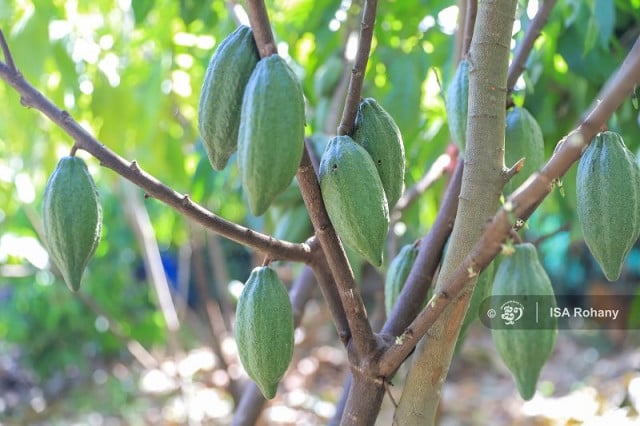 Siem Reap farmers increase their cacao production while the global market is expanding
SIEM REAP – The planting of cacao trees, which fruits are at the base of chocolate fabrication, is gaining interest from farmers in Siem Reap province after the first plantations in the area turned out to be successful.
Un Pichey, a farmer in Khnar Sanday commune of Banteay Srei district, is one of the few pioneers. He planted 500 cacao trees two years ago as family farming and, since last April, can now harvest between 50 and 80 kilograms of cocoa beans weekly, he said.
His production will likely increase in the near future as cacao trees will produce more fruits when they will be four to five years old, he said.
Pichey started to grow cocoa with the support of Family Cacao Cambodia (FCC), a local company importing young cacao trees from Thailand. Despite having little knowledge about the plant, which doesn't originally come from South East Asia, he decided to take a chance and learned everything he needed on social media. He also negotiated a purchase contract with FCC, to be sure that he would be able to sell his crops.
"Although it's a new kind of plant in Cambodia, the world's market is good [and keeps increasing]. The company provides a contract to purchase the cacao back, once it is ready to be harvested. It gives the farmers a lot of stability who don't have to worry about selling their yields," he said.
"The first 10-year contract specifies that the company purchases cacao at the price of 1,200 riels (about $0.29) per kilo," he added.
With the global increase of chocolate consumption or any other products derived from cocoa beans, the cocoa market has been constantly expanding. According to a study made by the International Institute for Sustainable Development, the export of cocoa beans had a total value of $8.6 billion in 2017. But it is expected to nearly double by 2025, reaching $16.32 billion.


While Cambodia's cocoa production is insignificant compared to the largest producer countries like Côte d'Ivoire or Ghana, Cambodian laborers can benefit from the world's thirst for chocolate.
Yoeurn Yoeurm, another farmer from Preah Dak village, started to grow cocoa two years ago on an empty plot of land he had behind his house. He planted his first cacao trees near other fruit crops he already grew such as bananas and coconuts.
He first started by planting 20 cacao trees, but then decided to plant another 30 and later on, an additional 50 trees. His land now hosts a hundred cacao trees.
"I planted my first cacao trees less than two years ago, but they ripened quickly. I sell my production to the company, sometimes twice a month, sometimes only once … it depends whether fruits are ripened or not," Yoeurm said, adding that he can get harvest between 15 to 30 kilograms.
Thus far, eight families are growing over 1,000 cacao trees in Preah Dak commune. According to Yoeurm, other farmers in the area are also interested in growing cocoa. But they lack land or resources, as cacao trees are quite expensive–$3 for a young one ready to be planted.
A plant fitted for Cambodian tropical climate
Nevertheless, farmers who have already planted and successfully harvested the fruitful cacao tend to encourage other farmers to follow their path, as the crop is resistant to bad weather conditions, requires low maintenance, grows on most of Cambodia's soils and can bear fruit for up to 60 years.
"I used to plant coconut trees, which require around 10 years to give their first fruits. But now that I chose to plant cacao trees, it only took one year and eight months to harvest the first cacao beans. I am happy because we get the fruits so fast; this year, it bears more fruits, so it is easy for me and my family," Yoeurm said.
"Despite being easy to grow, it still requires a lot of water. If we don't water it enough, it'll never bear fruit," he added. "Another thing is to pay attention to the fertilizing – the more we use it on the trees, the more fruits the tree will bear."
Pichey recommended the farmers who have unused land at home to grow cocoa as a family farming.
"In Cambodia, many farmers are now concerned because there is no market for their crops [like mango growers who have been on a struggle this year], some of them are even considering leaving the country. But with cocoa, we can earn quite well," he said.
Sum Sorangsey, the director of the Family Cacao Cambodia (FCC), started to import young breeding cacao trees from Thailand to Cambodia in 2018. She used to be a farmer who has been having a hard time selling her yields at a decent price. So she tried to study and find opportunities to invest and process cocoa locally.
Although she knew the market was promising, she struggled to find clients for her first trees, as farmers didn't know the plant at that time.
"It was very difficult because they thought they would be disappointed by cacao trees as they have been with other crops. But the principle of my company is to carefully study the area where trees will be planted before selling any breeding tree to the client. We look to see if there will be enough water to irrigate the plants, if the land is not flooded and if cacao trees will receive enough care in the plantation," she said.
"Because our business model is special, we don't only focus on the quantity of sales, but also on the quality of the crops: my company gets only 70 percent of the price of the trees sold to the farmers, and will receive the other 30 percent after harvesting. Therefore, when there's a loss of crops due to natural disasters, such as floods or wildfire, we consider the remaining 30 percent of payment as invalid," she added.


FCC is selling cacao trees in 20 provinces across the country, where farmers decided to turn themselves to this new crop. These include Kampong Cham, Tbong Khmum, or Pursat provinces.
Sorangsy said that, regardless of the very recent presence of cocoa in the country, her company is able to monthly collect between 500 kilograms to three tons of cocoa beans, provided by the farmers.
She plans to soon start a processing facility in the district, to produce beverages from cocoa beans.
Sorangsy also signed a memorandum of understanding agreement with a Thai company, to establish a factory to process fertilizer, oil, powder, and tea in Svay Leu district, so the cocoa industry slowly gets developed in Cambodia. But no establishment date has so far been set.
Related Articles