Cambodia: 27 New COVID-19 Cases, More Chinese Vaccines Scheduled to Arrive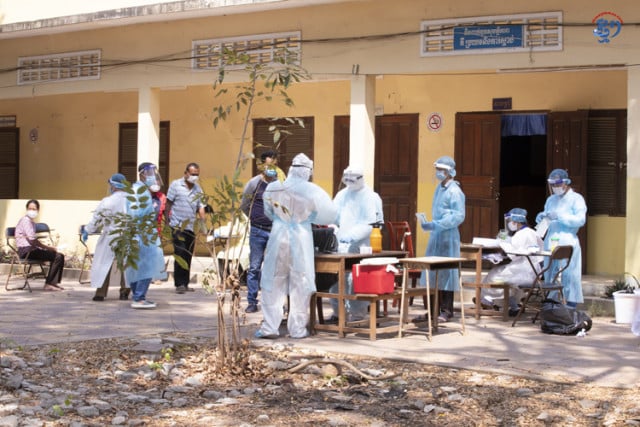 Phoung Vantha
March 24, 2021 4:20 AM
While Tbong Khmum Province found its first COVID-19 case since the Feb. 20 outbreak, the number of cases is very gradually dropping and more Chinese-made vaccines are en route this week.
PHNOM PENH--The Ministry of Health reported on March 24 that another 27 new locally transmitted cases of COVID-19 have been discovered, including Tbong Khmum Province's first case linked to the Feb. 20 outbreak.
The majority of the new cases were found in Phnom Penh, where 22 people have tested positive for COVID-19, but three were found in Koh Kong Province and one case each in Kandal and Tbong Khmum provinces.
According to health authorities, 20 of the locally transmitted cases involve Cambodians, whereas four are Chinese nationals, two are American and one is a Nigerian.
Additionally, there were two new imported cases—an Indonesian man and a Filipino woman who arrived in Cambodia on March 22 have since tested positive for the virus.
However, 35 people have been discharged from hospital after testing negative twice for the virus, including 34 people who contracted COVID-19 in relation to the Feb. 20 outbreak.
The vaccine rollout continues, despite much confusion over both the registration process and eligibility for the WHO-approved AstraZaneca vaccine, but as of March 23, authorities estimate that 222,726 people have had their first dose of either the Chinese-made Sinopharm vaccine or the Indian-made COVISHIELD—an approved producer of the AstraZaneca COVID-19 vaccine.
However, just 58,397 people have had their second dose in Cambodia since the vaccination program began on Feb. 10 and a gender gap is beginning to appear. Of the people who have had their first dose, just 34 percent are women—this drops to 25 percent for people who have had their second jab, according to the Health Ministry's statistics.
Meanwhile, Prime Minister Hun Sen recently announced that the remaining AstraZaneca vaccines should be reserved for people aged over 60 in low income families in Phnom Penh. This comes after Defense Minister Tea Banh said China donated another 300,000 Sinopharm doses that will arrive in Cambodia on March 31.
Similarly, another Chinese-made vaccine, Sinovac, will be available in Cambodia with 1.5 million doses expected to arrive on March 26.
So far the government has signaled interest in purchasing the US-made Johnson & Johnson vaccine—the first single-shot vaccine that has been found to have an efficacy of 72 percent in the US, but 66 percent globally.
Foreigners seeking vaccines approved by their home countries remain in limbo as diplomatic staff continue to seek meetings with the Ministry of Health to establish vaccination procedures for foreigners living in Cambodia.
Since January 2020, Cambodia has recorded 1,817 COVID-19 cases, but 777 of them remain active, five people have died and the rest have since been released from care.
Related Articles