Cambodia Aims to No Longer Be a Least Developed Country within Two Years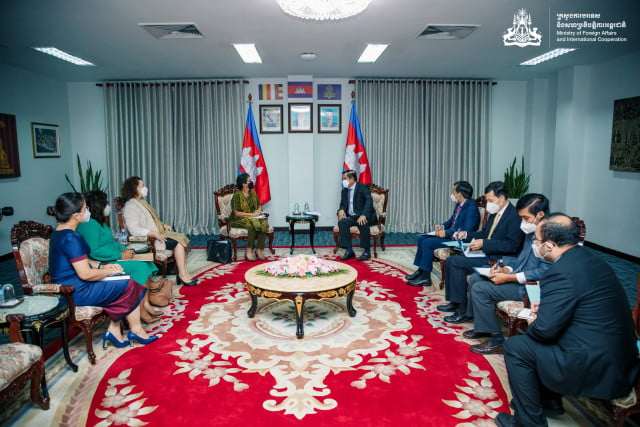 September 10, 2022 3:51 PM
PHNOM PENH — Cambodia will have to fulfill three criteria by 2024 as the country had done in 2021 in order to no longer have the Least Developed Country (LDC) status, said Ouch Borith, minister delegate attached to Prime Minister Hun Sen and standing secretary of state at the Ministry of Foreign Affairs and International Cooperation, according to a ministry's press release on Sept. 9.
"Cambodia has fulfilled its three required criteria and needs to do the same for the second time in 2024 to completely graduate from the LDC status," Borith said on Sept. 9 during a meeting with Kanni Wignaraja, assistant to the United Nations Secretary-General and regional director of the United Nations Development Programme (UNDP) for Asia and the Pacific.
Borith added that he hopes the new Country Programme Document 2024-2028 between the Cambodian government and UNDP would assist the country to realize this goal, the press release said.
At the meeting, Wignaraja praised Cambodia for the rapid pace of development in all fields. Noting the good level of cooperation between the country and UNDP, she said that she hopes to work even more closely with the Ministry of Economy and Finance, the Ministry of Foreign Affairs as well as other stakeholders to help make Cambodia more competitive in the region.
In 2021, Cambodia fulfilled two of the three basic criteria necessary for graduation from the LDC status: the Gross National Income per capita that stood at $1,377 and therefore above the $1,222 threshold, and the Human Assets Index that, at 74.3, was higher than the graduation requirement of 66. However, the country's Economic and Environmental Vulnerability Index was at 30.6 and did not meet the requirement of at least 32.
The Committee for Development Policy of the U.N. Economic and Social Council will assess Cambodia again during the second triennial review in 2024. If all criteria are met, then Cambodia will request graduation from LDC status, which would then take effect three years afterwards, that is, as early as 2027.
Related Articles