Cambodia allows VOA to resume broadcast through local FM frequencies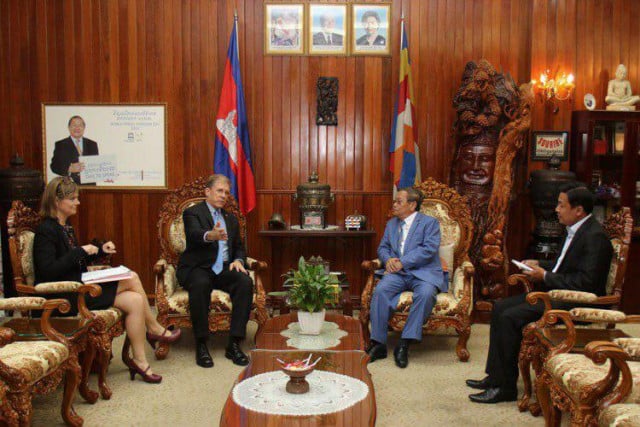 Phoung Vantha
November 15, 2019 12:14 PM
The U.S.-based radio Voice of America (VOA) will be allowed to resume its broadcast through local FM frequencies across Cambodia again after it was shuttered for the last two years, officials said Friday.

Meas Sophorn, spokesman of Ministry of Information, said VOA, which is based in Washington D.C., can resume feeding news through FM105 and FM102 like before as soon as its representatives complete filling out all the legal formalities.
He said the decision followed the meeting between Information Minister Khieu Kanharith and Patrick Murphy, U.S. ambassador, on Friday.
VOA was shuttered in 2017 as the government implemented a tax and registration push. The government at the time said that VOA was scrutinized over its broadcasting licenses and tax records. Radio Free Asia, another U.S.-based radio, also closed its operation in Cambodia in September the same year, claiming that a crackdown on the media had made it impossible to continue operations in the Kingdom.
Meas Sophorn, the Information Ministry's spokesman, said RFA will not be allowed to reopen its office in the country as long as it keeps using phrased "Phnom Penh regime" in referring to the Cambodian government.
Ambassador Murphy was quoted as saying in the embassy's Facebook post that "the recent re-registration of Voice of America was an important step forward and expressed his hope that soon all Cambodians will be able to hear local radio broadcasts of Voice of America and Radio Free Asia's important international and domestic reporting."
Related Articles