Cambodia and China Are Set to Sign a Free Trade Agreement prior to August 12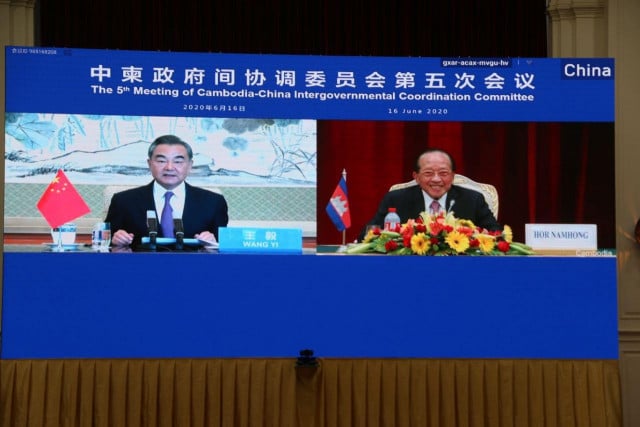 Phoung Vantha
July 24, 2020 12:00 PM
Cambodia intends the agreement to take effect before the EU reduces tariff preferences
PHNOM PENH--Cambodia and China will sign a free trade agreement before the European Union's partial withdrawal of the Everything-but-Arms (EBA) tariff preferences takes effect on Aug. 12, according to Deputy Prime Minister Hor Namhong.
"I am required to sign the free trade agreement before Aug. 12, as the EU (European Union) will withdraw 20 percent of the EBA of Cambodia," he said. "So we have to sign the free trade agreement before August 12. China also agreed." Last February, the European Commission decided to withdraw part of Cambodia's EBA trade scheme as of Aug. 12 due to serious concerns over violations of human rights and fundamental freedoms.
Speaking to reporters after chairing a meeting during which was discussed the action plan for the China-Cambodia Community of Shared Future at the Office of the Council of Ministers, Namhong said that Prime Minister Hun Sen will travel to China to preside over the signing of the free trade agreement between the two countries.
This agreement will enable Cambodia to expand its export market to China, thereby allowing the country to diversify its export market, especially in the case of agricultural products such as rice, mangoes, bananas, cassava, sugar, rubber and other products, Namhong said.
"The Chinese have been investing in Cambodia, but we want more Chinese to invest in [the country]," he said.
On July 20, Commerce Minister Pan Sorasak and his Chinese counterpart Zhong Shan issued a joint announcement to the effect that the free-trade agreement negotiations between China and Cambodia had been completed.
As the next step, the two sides will implement their respective internal procedures leading to the signing of a bilateral free trade agreement this year, the Cambodian Ministry of Commerce said in a statement, adding that the conclusion of a free trade agreement in such a short period of time shows the willingness of the leaders of the two countries to strengthen relations.
In its statement, the Cambodian Ministry of Commerce said that, with this agreement, people in both countries will gain economic and social benefits through the liberalization of trade in goods and services, the promotion of comprehensive investment as well as cooperation in other areas.
The Chinese Embassy in Cambodia said that both countries have reached a mutually-beneficial free trade agreement, which will give a new impetus to the building of a common strategic community between China and Cambodia.
China and Cambodia began the first round of negotiations on a free trade agreement in January 2019, signaling that Prime Minister Hun Sen was committed to moving Cambodia further into China's orbit, both economically and politically.
From January through September 2019, exports to China represented 7 percent of Cambodia's exports, while imports from China amounted to 39 percent of the country's imports, according to the Ministry of Economy and Finance's data.
Economic cooperation between the two countries has increased exponentially in recent years, with China becoming by far Cambodia's largest trading partner: bilateral trade between Cambodia and China was worth about $ 7.4 billion in 2018. The two countries aim to reach $10 billion in trade a year by 2023.
Related Articles