Cambodia and South Korea Complete Negotiations on a Free Trade Agreement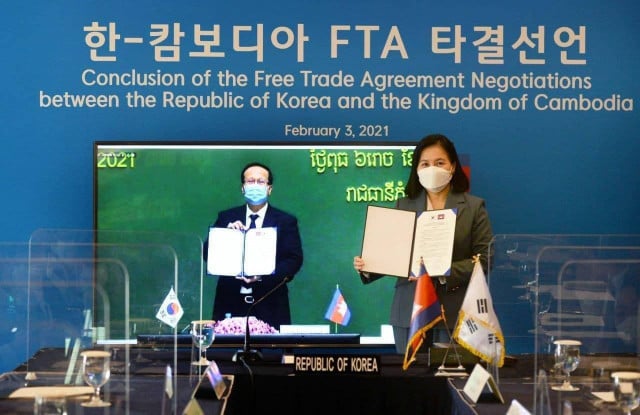 Ou Sokmean and Phoung Vantha
February 4, 2021 7:37 AM
The two countries expect the agreement to be signed and go into effect in mid-2021
PHNOM PENH--Cambodia and South Korea on Feb. 3 concluded talks on a bilateral free trade agreement that is expected to increase by as much as 25 percent the trade volume between the two countries.
During a meeting held virtually, Minister of Commerce Pan Sorasak and his South Korean counterpart Yoo Myung-hee ended negotiations with plans to hold the official signing ceremony in mid-2021, the Cambodian Ministry of Commerce said in a press release dated Feb. 3.
According to Seang Thai, secretary of state at the Ministry of Commerce, this agreement is expected to considerably boost trade between Cambodia and South Korea.
"In the future, when we have a free trade agreement, we expect trade volume between our two countries will increase by 20 to 25 percent," he said on Feb. 3.
The goods and products exported by each country will complement what is available in the other, Thai said, adding that Cambodia will strive to boost exports in agricultural products and other products.
The trade volume between Cambodia and South Korea has been growing by 15 to 16 percent every year except in 2020 when it dropped by nearly 18 percent due to the COVID-19 pandemic, Thai said.
As a result, the bilateral trade volume between the two countries went from about $1 billion in 2019 to around $885 million in 2020, he said.
Through this free-trade agreement, Cambodia expects to increase its exports of goods previously exported such as garments and textiles, footwear, travel bags, spare parts, electronic equipment as well as agricultural products. And South Korea will export to Cambodia products including automobiles, electronics accessories, domestic appliances, beverages, pharmaceuticals and plastic products.
According to a Feb. 3 news report of the Yonhap News Agency in South Korea, the two countries have agreed that Cambodia will lift tariffs on 93.8 percent of all products from South Korea while South Korea will eliminate duties on 95.6 percent of all exports from Cambodia.
Related Articles