Cambodia and South Korea Discuss More Business between the Two Countries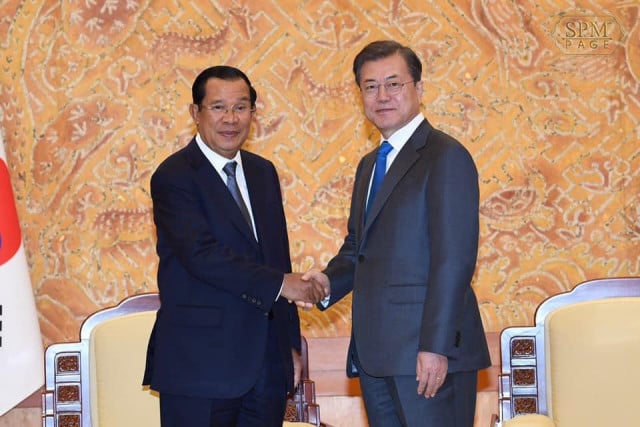 PHNOM PENH--Prime Minister Hun Sen Tuesday met with the South Korean President Moon Jae-in in Seoul, asking him to call for an increase in South Korean business involvement in Cambodia.

Speaking of the double-taxation avoidance pact the two countries signed last year, Hun Sen said this should pave the way for more South Korean investments in the country.
"The reform will provide new opportunities for investors and [we] hope that President [Moon Jae-in] will encourage more Korean investors to invest in Cambodia," a post on the Facebook page of Prime Minister Hun Sen read Tuesday night.
A double-taxation avoidance agreement between countries ensures that a company or worker based in a foreign country does not have to pay tax at home as well as in that foreign country.
Hun Sen was in Seoul to attend the World Summit 2020 of the Universal Peace Federation.
During his meeting with Moon, he said investors should consider getting involved in agricultural products, mentioning that Cambodia has exported mango products to South Korea. Moon responded that there were opportunities for cooperation in agriculture and rural development in Cambodia, according to the Facebook post.
Hun Sen also said that South Korea should maintain the agreement with Cambodia on tourism in order to further strengthen bilateral ties.
Thanking the South Korean government for providing the country with infrastructure financial support as well as supporting human resource development, he asked Moon to consider helping to fund the construction of a bridge in the country. Moon said that he would encourage investors and companies to look into this, the Facebook post read.
According to the Yonhap News Agency in South Korea, two-way trade volume reached $1.3 billion in 2019 compared to $870 million two years earlier.
Related Articles