Cambodia and Sweden Say the Swedish Embassy Will Not Close Due to a Diplomatic Breach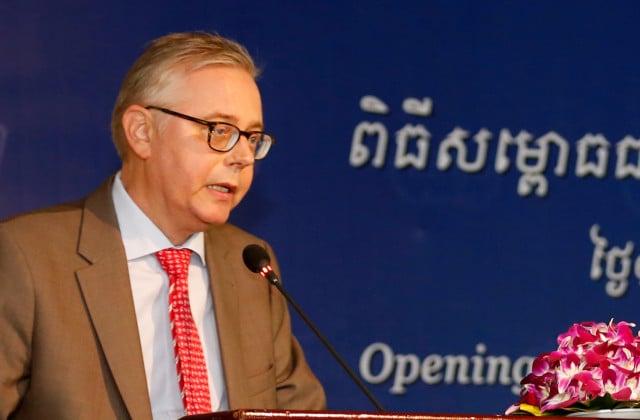 Phoung Vantha
November 27, 2020 12:43 PM
This is an administrative decision, they say
PHNOM PENH--The Cambodian government on Nov. 27 said that the closing of the Swedish embassy in Phnom Penh at the end of 2021 is not due to deteriorating relations between the two countries: This is an administrative decision on the part of Sweden.
Government spokesman Phay Siphan said that Swedish government's decision to close its embassy and handle matters relating to Cambodia from its embassy in Bangkok is an administrative decision on its part.
"We have no conflict with Sweden," he said. "We continue strengthening cooperation." Siphan added that some other countries also do not have embassies in Cambodia, which does not prevent Cambodia from having good relations with those countries.
The Swedish Ministry for Foreign Affairs on Nov. 26 announced that its embassy in Phnom Penh will close its doors at the end of 2021.
Contacted, Swedish Ambassador Björn Häggmark responded that "[t]he changes in Sweden's diplomatic presence in Cambodia…are part of Sweden's continuous adaptation of the Foreign service's organisation abroad to external changes and new service requirements. This is a constant process of change, and involves Sweden sometimes closing embassies.
"Sweden will continue to be a partner to Cambodia in areas of common interest, not least relating to cooperation in multilateral and regional forums on global issues," he said.
Earlier this year, Sweden had announced its intention to halt bilateral aid to Cambodia due to what it considered the country's failure to comply with international standards of human rights, democratization and to allow full freedom of expression in the country.
However, Häggmark said on Nov. 27 that "Sweden's development cooperation with Cambodia will continue as decided by the Government in June 2020. Development cooperation focusing on human rights, democracy and the rule of law will continue, and also in the future be carried out by the Swedish aid agency Sida.
However, he added, [w]hat form Sida's continued presence in Cambodia should take is currently under review."
In 2019, Sweden's development assistance to Cambodia based on bilateral development cooperation strategy amounted to nearly 230 million Swedish kronor (SEK), that is $24 million, in grants. In addition, support to Cambodia was provided through Sweden's regional strategy for Asia and the Pacific Region as well as its global strategy for research.
Sweden's aid to Cambodia started in 1979 with humanitarian efforts and expanded into long-term development cooperation in the 1990s.
Related Articles